New range added to the Floris Hotel Luxury Collection portfolio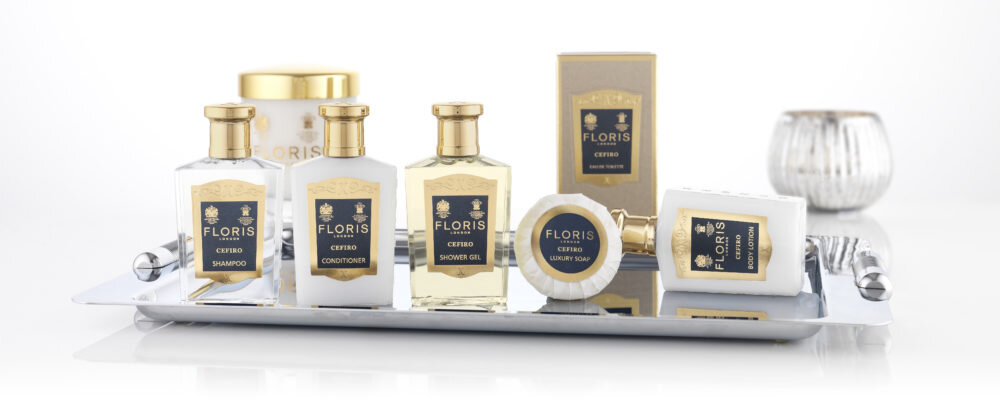 Discover a new range of luxury amenities brought to you by Pacific Direct in partnership with British perfumers Floris. The collection features elegant bottles modelled on the brand's iconic fragrance flacon, complete with 'Floris' embossed on the sides, and a gold cap bearing the brand's delicate logo. The fragrance heritage and know-how has been transmitted from generations and is reflected in this classic bottle shape. This new addition to the Floris amenities range features the brand's bestselling fragrance Cefiro, which is perfectly suited for men and women, with crisp lemon and lime, warmed by spicy notes of cardamom on a fresh floral jasmine heart, leading to a clean, musky, woody base.
The range is available in 50ml luxuriously designed clear bottles, accompanied by a 30g pleat-wrap soap showcasing Floris' traditional floral design dating back from 1800s. To this day, this pattern is still used on the brand's retail soaps. Other sizes such as 30ml and 100ml can be made available on request.
The Floris Story
British family perfumers since 1730, Floris London has been providing uncompromising fragrances for stylish generations. The oldest independent family perfumer in the world and the only appointed Perfumer to Her Majesty the Queen, Floris is the original and authentic fragrance house. Discover a world of exquisitely crafted perfumes and own a piece of history that will stand the test of time.
By combining classic fragrances, all created before 1900, with a carefully developed range of new product innovations, Floris offers it's customer craftsmanship, trust and expertise through products created with love for detail, inspired by respect and dedication.