Rapeseed oil producer from Northern Ireland named Britain's favourite local food hero following national search by Hotel Indigo®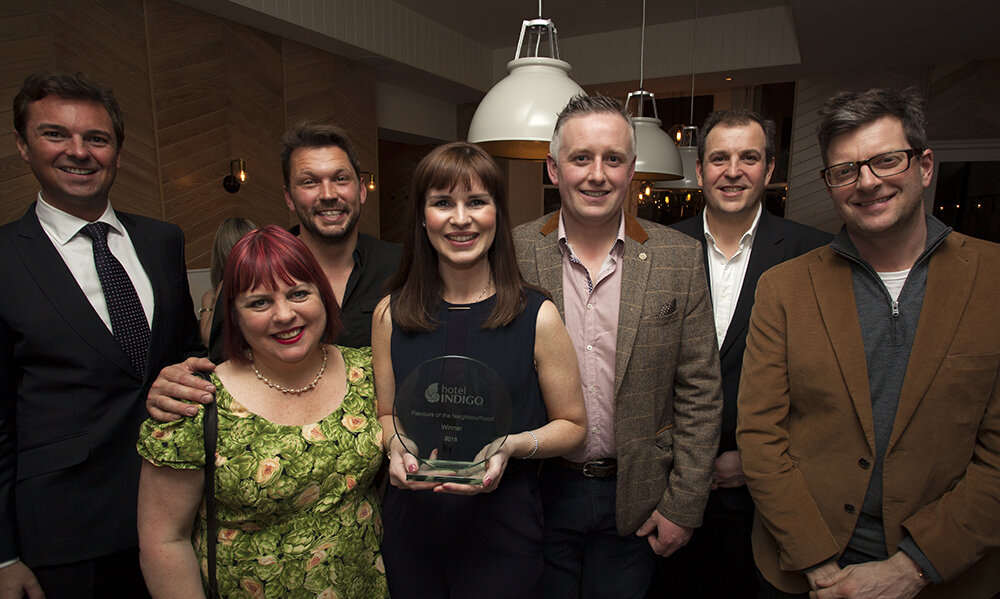 Hotel Indigo®, InterContinental Hotels Group®'s (IHG®'s) boutique brand, and a judging panel of food experts including farmer and TV presenter Jimmy Doherty, has announced Leona Kane from Limvady in Northern Ireland as the winner of Flavours of the Neighbourhood 2015, a nationwide search for Britain's favourite local food hero.
Leona Kane, founder of Broighter Gold, who produces various infusions of rapeseed oil, was awarded at an event in London last night, following a rigorous process that included a public vote and a tasting by the judging panel. Leading the judging panel for this exciting initiative was Jimmy Doherty, who was joined by William Sitwell – award-winning food writer and editor of Waitrose Kitchen Magazine, Kerstin Rodgers – food blogger as Ms Marmite Lover and pioneer of the supper club scene, and Simon Burdess – Vice President Food and Beverages Europe at IHG. Leona's prize includes £1,000, a professional photography shoot for their business, and inclusion in Hotel Indigo's foodie guide to the neighbourhood.
Hotel Indigo has a real connection with the communities around its hotels and is passionate about delivering a refreshing and inviting guest experience that is truly reflective of the local community. The search coincided with the launch of Hotel Indigo's new F&B philosophy; "Locally crafted", which is designed to celebrate, showcase, as well as serve the local communities as well as the hotels' guests.
Leona saw off tough competition from more than 100 other food producers to be crowned the nation's favourite. The search began in January with Hotel Indigo calling on local, independent vendors, producers and artisans to fly the flag for their business and enter the search via the brand's Facebook page. A week of public voting then saw the entrants narrowed down to six regional finalists, which included three independent bakers, a rapeseed oil specialist from Northern Ireland, an authentic Indian food producer from Hove, and a cured meat specialist from Scotland.
Each finalist was visited by a member of the judging panel who taste tested their products, before Leona was selected as overall winner.
Leona Kane, Founder of Broighter Gold said, "I was absolutely amazed to be named a finalist in Hotel Indigo's Flavours of the Neighbourhood search so to be selected as the winner of this fantastic award is a massive achievement for a small family producer from the North West of Northern Ireland. We are very proud of our milder, single variety of cold pressed-rapeseed oils but to be recognised in this way by William, Jimmy, Kerstin and Simon, who are ambassadors of the food world, is a great achievement for us alone. We honestly can't describe how much this means to our team at Broighter Gold.  We really look forward to using our reward to expand our business!"
Judge Jimmy Doherty said, "The Flavours of the Neighbourhood search has taken us on a fantastic culinary journey where we have really seen some of the best local produce the UK has to offer. It was very hard to choose a winner. In the end Leona really demonstrated what the judges were looking for – a mixture of an excellent product that represents both the landscape and enhances the local community."
Tom Rowntree, Vice President Upscale & Luxury Brands, IHG Europe, said, "At Hotel Indigo, we believe travel is about experiencing a city as a local, and food and drink is central to this. We recently launched a new food and drink philosophy designed to celebrate and showcase the best producers around our hotels, helping guests immerse themselves in our communities. Through Flavours of the Neighbourhood we have uncovered some of the UK's best local artisans and we're excited to share these discoveries with our guests."