The Penultimate Instalment of 'Room With A View' Debuts at Andaz Liverpool Street Hotel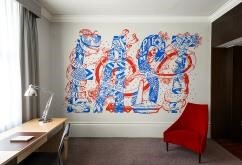 Multi-disciplinary English Artists, ILoveDust's "East My Dust" Street Art Room Now Unveiled
With a proud connection to its East London neighbourhood, the five-star lifestyle hotel, Andaz Liverpool Street London is delighted to introduce its latest installation, East My Dust, by ILoveDust, as part of the year-long street art series, Room With A View. Demonstrating its links with the hotel's local surroundings, the ever creative ILoveDust have created an artwork representing East London's life and heritage.
East My Dust by ILoveDust is an artistic expression that typifies the soul of the East End, oozing the character and personality that this diverse and colourful part of town emits.
Illustrated through the art of typography, the strikingly bold British blue EAST is engulfed by a red intricately designed backdrop. Together with the white wall behind the artwork, the colour combination within the creation acts as a metaphor for East London patriotic pride. The detail within East My Dust takes guests on an abstract journey through Liverpool Street's surrounding area. Specifically, the mural hones in on the unique culture and people of East London, making reference to the East-End's iconic Cockney dialect through an unravelling leafed apple inscribed with apples and pears (Cockney rhyming slang for "stairs").
Representing Andaz Liverpool Streets' neighbouring diversity and proximity to the City and other renowned East London areas, East My Dust contrast a deal securing handshake amongst blooming flowers, which sprawl across the artwork, detailing the bright stalls at Columbia Road Flower Market. The famous Brick Lane is represented simply yet boldly by a brickwork pattern and a stack of bagels alluding to the world-famous 24-hour bagel bakery.
ILoveDust's artwork brings a sense of theatre and drama to Andaz's guest room as independent aspects of East London are unified through a sprawling eel, one of the East-End's culinary quirks and delights, as well as the iconic pie & mash dish.
A global icon that epitomises London and particularly the East End, is the Hackney Carriage or Black Cab, which is parked snugly next to the recently revived Old Truman's Brewery– two archetypal London symbols harmoniously linked through abstract presentation.
In recognition of East London's new status as a mecca for street artists, a hooded figure can be seen painting over the graffiti within East My Dust. Other aspects of the artwork include a chiming Bow Bell and a roped anchor, in reference to East London's St Mary-le-Bow church and the once thriving centre of trade, the Isle of Dogs.
ILoveDust create fresh, innovative and captivating illustrations and graphic designs. The creative team, which have previously worked with Nike, Karl Lagerfeld and Yahoo!, was founded in 2003 on the South coast of England, and has since been drawn to the iconic culture hub that is East London.
ILoveDust shared, "East London has become a global hub for street art, so we wanted to bring elements of this to Andaz Liverpool Street, creating a piece that would be equally as fitting on Brick Lane, as in the hotel. We see the East-End as an ever evolving modern day culture, thriving with versatility, creativity, and history being proud of its roots and also being packed full of character and personalities.
When we were contacted by the hotel, with the opportunity to create an ILoveDust "Room With A View" we knew in an instant we had to be involved. It has been an absolute honour to work within such a beautiful building, and a landmark of East London, to create an ILoveDust depiction of the area.
Otto Steenbeek, the hotel's General Manager said about the project "Andaz Liverpool Street has been inspired by ILoveDust's enthusiasm and passion for "Room With A View", which mirrors our own for the hotel's neighbourhood. We're very excited to unveil East My Dust to our guests so they can see East London from a different angle."
Third in the four-part artwork series, East My Dust, comes after the success of artists, Patrick Vale and Paul Davis' One Day Walk, and Chris Price's Pearly Room, each portraying their artistic interpretations of East London.
Guests can now experience East My Dust along with One Day Walk and The Pearly Room, with bookings on an ongoing basis. Bookings are available via www.andazliverpoolstreet.com
The Final Room With A View will be created by Patrick Morgan, an internationally renowned British Artist from the Royal College of Art. Patrick's works explore various themes from pop culture to modern living, previously working with high-profile clients – including, Transport for London, Starbucks, Smirnoff and Waitrose – Patrick's Room With A View will debut on 3rd April 2015.
Andaz Liverpool Street's Room With A View Large King rooms is now available to book from £378 including VAT (£315 ex VAT) on weekdays (Sunday to Thursday night) and £252 including VAT (£210 ex VAT) on weekends (Friday & Saturday), subject to availability.
For further information about Andaz Liverpool Street telephone 0207 961 1234 or visit www.andazliverpoolstreet.com