Hotel Indigo® launches new 'locally crafted' food and beverage philosophy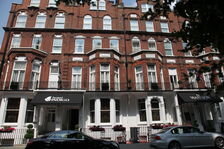 Hotel Indigo®, InterContinental Hotels Group (IHG®)'s boutique brand has launched a new food and beverage (F&B) philosophy to create a local landmark by bringing the best food and drink artisans from the community into the hotels.
Every Hotel Indigo property is designed to reflect the local neighbourhood; from the building design and the hotel's artwork, to partnering with local food producers. Each Hotel Indigo property is unique to its surroundings. This locally crafted F&B philosophy further extends Hotel Indigo's brand essence through partnering with local foodie artisans.
Simon Burdess, VP Food and Beverage, Europe said "Restaurant s and bars are the heart and soul of any good neighbourhood. The Hotel Indigo F&B philosophy demands that you don't have just another hotel restaurant. The key to this is using a retail element tailored to your community to help create a local landmark. If you are a hit with your locals, your guests will feel that they have got the inside line on the neighbourhood."
Having piloted in Hotel Indigo® Kensington, this locally crafted F&B philosophy will be going in to every new hotel starting with Hotel Indigo® Helsinki which opens this spring.
To raise awareness of the new F&B philosophy, Hotel Indigo has joined forces with an esteemed panel of food experts including farmer, foodie and TV personality, Jimmy Doherty to launch a nationwide search to uncover the UK's best artisan food vendors and producers.
From now until Sunday 15 February Hotel Indigo is calling on local vendors, producers and artisans across Britain to enter the Flavours of the Neighbourhood search via Hotel Indigo on Facebook by uploading information and images about them and their products. Following this, vendor entry will close on Monday 16February and the public will have the chance to get behind their favourite entry and vote for a finalist from each of the six regions of the UK.
These finalists will be judged by the prestigious panel of esteemed food experts including, farmer and television presenter, Jimmy Doherty, Editor of Waitrose Kitchen and Broadcaster, William Sitwell and, Ms Marmite Lover food blogger and chef, Kerstin Rodgers. The winner of Hotel Indigo's 'Flavour of the Neighbourhood' search will be announced on 17th March and win £1,000, national and regional recognition, a photo-shoot for their business and will appear in Hotel Indigo's local foodie guide.
IHG, one of the world's leading hotel companies, has a broad family of nine brands in nearly 100 countries and territories to meet the needs of guests, whatever the occasion. The Hotel Indigo brand, which was launched in 2004, offers guests the individuality of a boutique hotel but with the benefits and reassurance of a big hotel company.  There are 17 Hotel Indigo properties in Europe, including 8 in the UK, and 11 in the pipeline.