GALVIN RESTAURANTS APPOINTS NEW EXECUTIVE CHEF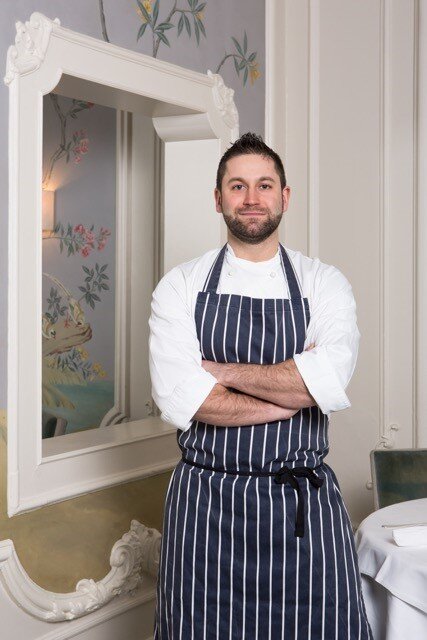 Fraser Allan returns to Waldorf Astoria Edinburgh – The Caledonian to head up Brasserie and Pompadour
Chris and Jeff Galvin are delighted to announce the appointment of new executive chef Fraser Allan. Fraser began his role earlier this month, working with Chris and Jeff in London to develop new dishes, and this week begins overseeing the kitchens of Galvin Brasserie de Luxe and The Pompadour by Galvin, both within the 5-star Waldorf Astoria Edinburgh – The Caledonian.
Fraser previously held the role of head chef at Galvin Brasserie de Luxe, from its opening in 2012 until 2014 when he left to pursue another role. During his time at the Brasserie, Fraser led the team to win a Michelin Bib Gourmand in the 2013/14 guide, the only new award issued by Michelin in Scotland that year. He was also instrumental in the Brasserie being awarded Restaurant of the Year at the Scottish Hotel Awards 2014.
Jeff Galvin commented: "I am thrilled to welcome Fraser back to the Galvin restaurants in Scotland. We worked particularly well together in the past when Fraser opened Galvin Brasserie de Luxe for us in Edinburgh in 2012, achieving a Michelin Bib Gourmand. Fraser will be at the helm of The Pompaour by Galvin where we are looking forward to welcoming our loyal guests back after our winter break"
Both dining outlets were formed by Michelin-starred chef brothers Chris and Jeff Galvin as part of the hotel's £24m refurbishment in 2012.
This Thursday, The Pompadour by Galvin will re-open following a 3-week holiday, revealing a new winter menu featuring dishes developed by Fraser and the Galvin brothers in London earlier this month. The a la carte menu, previously costing £58 for 3 courses, will now offer 5 choices per course, each priced individually. The 7-course menu gourmand (£68) will remain, as will the 3-course seasonal menu (£29) available on Wednesday and Thursday evenings, and until 7pm on Fridays and Saturdays. The Pompadour's opening times have changed, with the restaurant now open for dinner from Wednesday to Saturday only.
Fraser's appointment follows the departure of former executive chef Craig Sandle at the start of the year.