The Roaring 20's Bar at The Milestone Hotel, London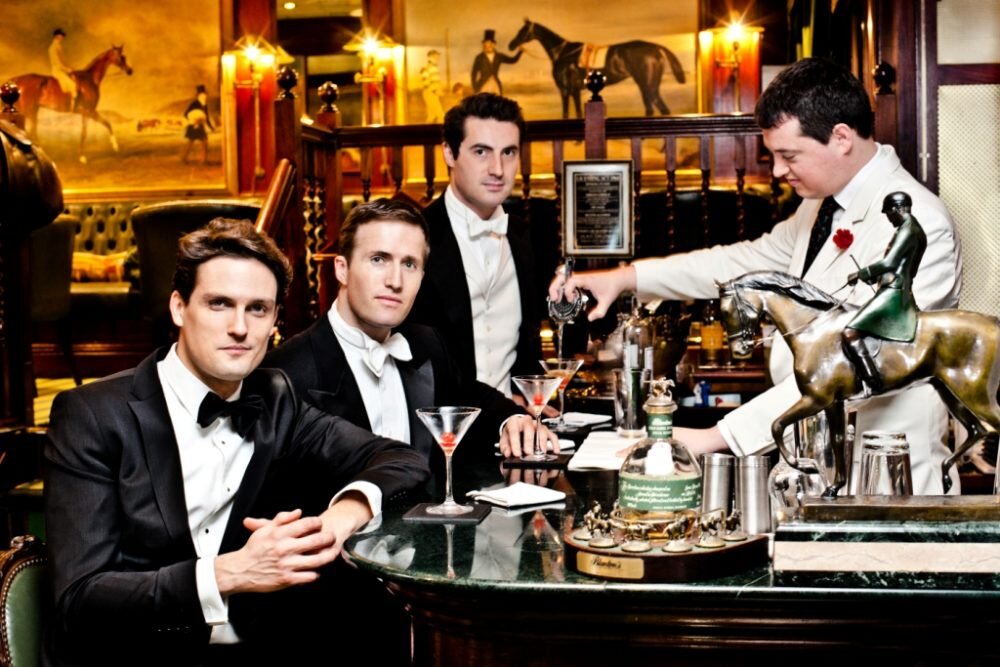 This Spring, as The Great Gatsby movie is unveiled a new Roaring 20's cocktail menu at The Milestone Hotel will transport visitors back to a time of decadence and emerging prosperity where, when consumers wanted something they went out and got it!  The Milestone Hotel located opposite Kensington Palace, is home to the intimate setting of the Stables Bar & The Conservatory; both ideal destinations to recharge in an environment offering exceptional service.
Stephen Bowman, Ollie Baines and Humphrey Berney of the Brit Award winning vocal group Blake were on hand to taste the cocktails "We Blake boys certainly enjoy a little 1920's glamour; the fashions, the music and importantly the drinks! It was a very fun era, so it feels right to celebrate it in style."
Martinis go hand-in-hand with the jazz age and the general boom atmosphere of the 1920's. The two new cocktails inspired by The Great Gatsby available from April are:
'The Gatsby' – Using gin and vermouth this Martini is impeccably styled! Add a dash of maraschino liqueur, bitters and dose of absinthe, and you have yourself The Milestone Hotel's version of 'The Tuxedo'.
'The Daisy' – A simple brown spirit-and-ginger ale highball was a common order during the 1920's.  The Milestone Hotel recommends mixing your favourite bourbon with a ginger beer. Created for drinkers to capture their inner independent spirit just like Daisy Buchanan!
To accompany these new cocktails a 'Flappers Platter' will be served referencing some 1920's favourites including three very diverse items; Crab Stuffed Mushrooms with Parmesan, Waldorf Salad, Rinktum Diddy (This dish includes onion, tomato and cheese with Paprika, Tabasco, Worcestershire sauce, all mixed together with two beaten eggs and cooked on a low heat.)
The cocktails are priced £14.50 each and the platter which serves two is priced £20.00.
A selection of speakeasy events will also be unveiled by The Milestone Hotel to further celebrate the styles and flavours of the 1920's including a dinner with leading fashion editor Hilary Alexander on 27th June on fashions of the 20's and their comeback. On 3rd July The Cocktail Lovers will host a cocktail tasting and masterclass on 1920's cocktails at a reception at the hotel.
The cocktails will be available at The Milestone Hotel from mid-April to September 2013.
www.milestonehotel.com  020 7917 1000 1, Kensington Court, London W8 5DL