NEW BELGIUM'S VOODOO RANGER LAUNCHES LIMITED EDITION BEER FOR CULT VIDEO GAME, BACK 4 BLOOD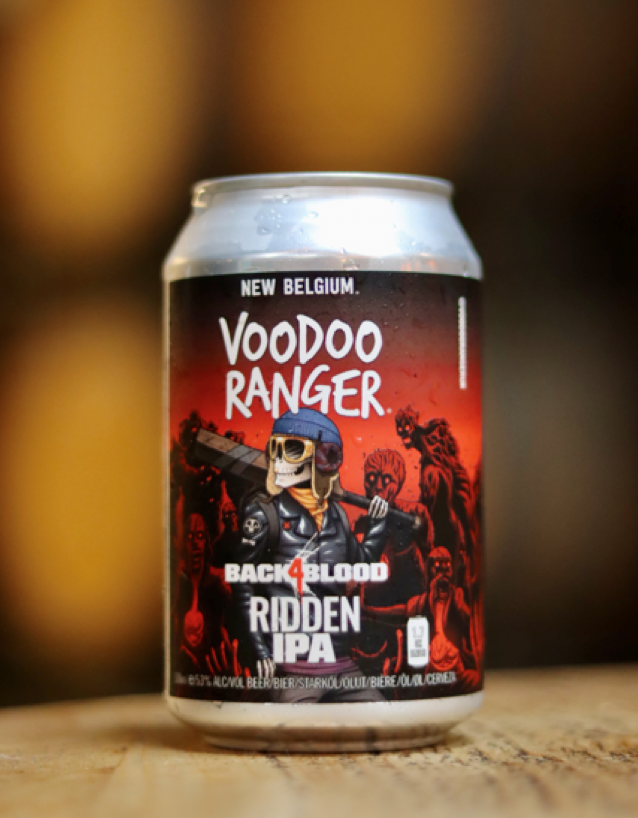 Craft beer brand Voodoo Ranger has partnered with new Warner Brothers video game, Back 4 Blood, launching limited-edition beer Ridden IPA, to mark the launch. The brew takes its name from the monsters characters fight in the game and will launch at the same time as the game on 12th October 2021.
Introduced to the UK last November, Voodoo Ranger already enjoyed real credibility and a good standing with US gamers as their go-to beer. The brand was passionate about translating this for British gamers and, despite launching here less than a year ago, is already gaining a reputation with the esports community. To date, Voodoo Ranger has run interactive Twitch campaigns, partnered with Dungeons & Dragons live streams and taken its Voodoo Ranger arcade machine on tour to festivals and on-trade accounts, taking advantage of experiential opportunities both on and offline.
A

s part of the limited edition launch of Ridden IPA, Voodoo Ranger will be working with Dalston's Loading Bar to give gamers the chance to play the game before it's released while enjoying Ridden IPA on draught. The activation will take place from Thursday 7th October to Sunday 10th October before the game officially launches on the 12th October. As well as the on-trade activation, Voodoo Ranger will be offering its brand fans the opportunity to win gaming gear when they buy beer online through its web shop. The online competition will apply for all pre-orders of Voodoo Ranger's Ridden IPA packs from 1st October – 11th October. Competition will end Sunday 17th October.
Chris MacRae, Voodoo Ranger Brand Developer, said: "Left 4 Dead is iconic and to have the chance to create a collab beer for its spiritual successor, Back 4 Blood, has been awesome and a very natural fit for the Voodoo Ranger brand. Our marketing strategy is all about giving something back to brand fans and that's the whole idea behind the partnership with Dalston's Loading Bar and giving gamers a pre-release chance to play."
More information can be found at https://voodooranger.co.uk.