SEX TALKS: HER HUSTLE X THE LONDON EDITION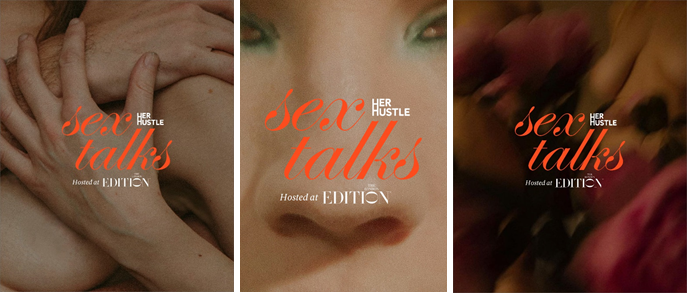 The new monthly series kicks off on Thursday 21st October
Launching on 21st October, The London EDITION have teamed up with Her Hustle to introduce SEX TALKS; a new monthly event series and live podcast recording hosted by the women's media platform in Punch Room at The London EDITION.
Every month, Emma-Louise Boynton, presenter and Her Hustle co-founder, will host a fireside chat with an expert in the sex and pleasure field, followed by a sex therapy-inspired activity to get guests all talking and thinking more openly about our sexual desires. Tickets will be on sale to the public from £12.
The first session will take place on Thursday, 21st October and will focus on Sex and the Female Pleasure Taboo. For the first month, Her Hustle are joined by Lucy Litwick, CEO of Coco De Mer, the luxury lingerie and erotica company whose mission is to champion female pleasure in all its forms, and Billie Quinlan, co-founder of sexual wellness app, Ferly.
We're all aware of the deleterious impact porn has had on how many view sex, particularly when it comes to the primacy of male pleasure and orgasm during heteronormative sex. If only we'd all grown up seeing a sex therapist like Jean Millburn (Sex Education) then perhaps there wouldn't still exist so much shame and so many taboos around a topic of such universal relevance.
The aim of SEX TALKS at The London EDITION is to have more honest, open, and vulnerable conversations about sex. Conversations that explore the link between eating disorders and sexual disconnect, how to rebuild sexual confidence after sexual trauma, what open communication looks like during sex, how to explore what you do and don't like during sex and what on earth 'mindful' sex is…
Confirmed dates for upcoming events are outlined below:
DATES
21st October: Sex and the female pleasure taboo… what's new? with Lucy Litwick and Billie Quinlan (Tickets here)
25th November: F*ck the orgasm Gap (Special guests TBA)
16th December: The virginity myth… and other sexual fallacies (Special guests TBA)
Tickets prices are from £12 and are open to the public, this includes a welcome drink on arrival in Punch Room. Events will take place from 6:30-8:30pm.
Book through Eventbrite here.