Hand Sanitising Door Handle designed by Oxford University Team launches in UK – to coincide with 'Eat Out to Help Out' initiative @OpenCleanTech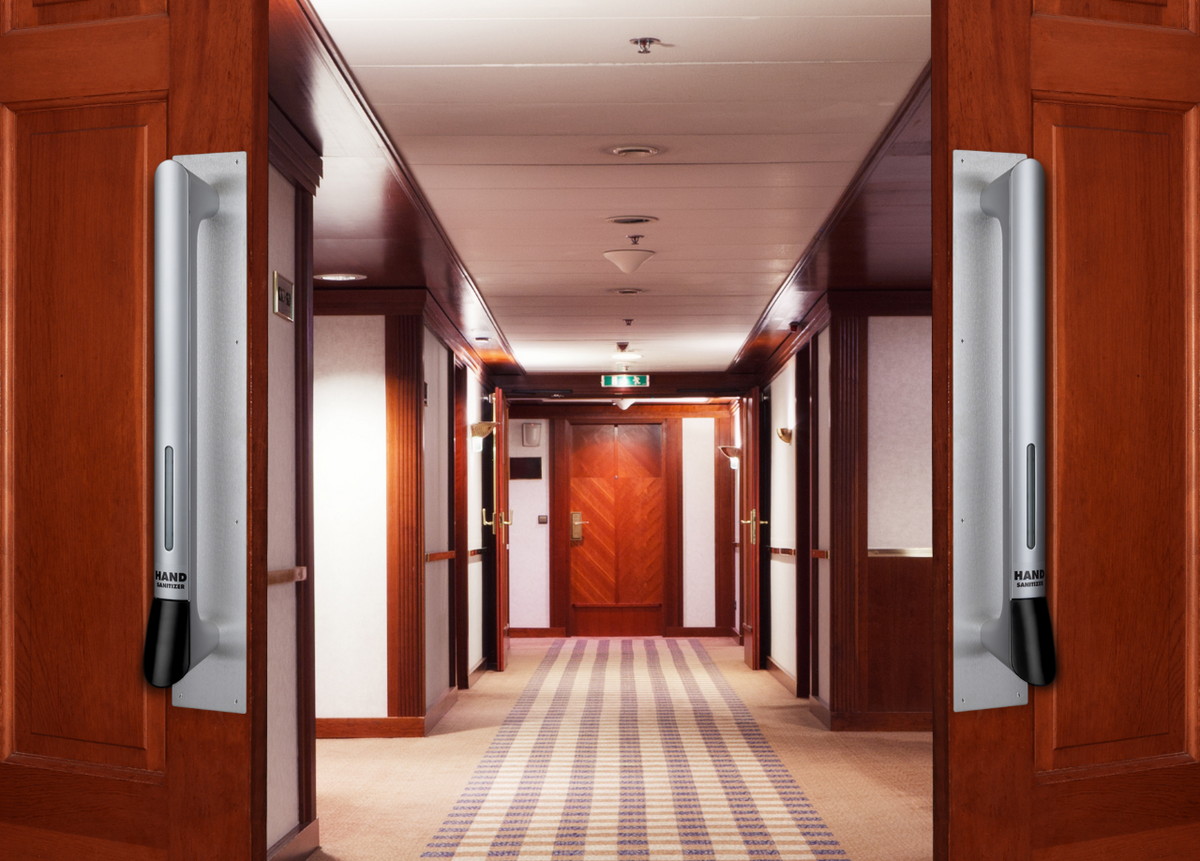 Founders of OpenClean™ Technologiessay installation will more than TRIPLE hand-sanitation rates in Bars, Restaurants, Hotels as well as clinical settings, offices – and more*
Two Oxford Academics invented the PullClean® Door Handle with the aim of permanently changing human behaviour around hand sanitisation, already winning a prestigious design award,**  featuring in the global Superbugs Show at the Science Museum and nominated for more awards***
Each PullClean® cartridge is filled with a medical grade sanitiser, based on a formulation recommended by the WHO and the NHS that kills 99.99% of germs
In a recent ONS report around the impact of Covid-19 on the hospitality industry**** only 27% adults said they'd be comfortable eating out at a restaurant – 52% said uncomfortable or very uncomfortable. With many of the latest outbreaks happening in pubs, the handle offers a simple and  long-term solution to reduce the chances of contamination
DID YOU KNOW:
Recent studies show coronaviruses can last between two hours and two days on a variety of surfaces, which has given new emphasis to the NHS's recommendations to keep door handles clean
OpenClean™ Technologies is officially open for business with the launch of their hero product: the PullClean® hand-sanitising Door Handle.
The innovative Door Handle design was invented by two Oxford Academics, including a Doctor who felt he did not have the opportunity to wash or sanitise his hands enough on busy shifts and who needed a solution – quickly.
PullClean® replaces the door handle in its entirety. The product can be accommodated by virtually any bathroom / lavatory door and also fits to hallway and office doors. Ease of installation was a priority for the team with each PullClean taking less than 10 minutes to have up-and-running.
To use, a tube-shaped cartridge is placed in the centre of the door handle, which releases sanitiser when the paddle is pushed upon exit of the door. A PullClean® cartridge provides 400 uses.
Founder and Inventor Dr Jake Mcknight, an expert in hand sanitation and hospital management says, "Originally we designed the Door Handles to be used in a clinical setting, yet now we're seeing demand rocket in the hospitality and leisure sectors as governments attempt to get the spending economy back on track. We've a track record of success, operating in hundreds of hotels and restaurants internationally – including some global names. With the UK government pushing Eat Out to Help Out we've sped up our launch here so as to help as many businesses as possible. Our mission is to make hand sanitising intuitive and not something we will forget, are too busy or distracted to do, and to educate around Critical Contamination Points. There's a lot we still don't know about the virus at this stage, but all the evidence suggests that keeping hands clean is a really important way of reducing infection."
General Manager Matthew Tuffee says, "By installing PullClean owners and operators of bars, restaurants and hotels can show they care about their customers' health and wellness, as well as their staff. There has never been a greater need to restore customers' confidence and make sure team members feel safe and looked after coming back to work. It's all well and good having a bottle of hand sanitiser on the bar now, or even a 'station' set up, but what about in 6 months time, a year even? A product such as ours shows that establishments have long-term plans in place to ensure customers and staff stay safe and hand sanitisation remains as part of our daily routine."
Ed Grimes, who has 28 years experience in Operations and Retail Management and is previously of  Pret A Manger and EAT is opening a Lebanese Fast Food Restaurant, Za'ta, with his business partner at 55 Baker Street, London – in September. Grimes says, "Originally we were opening in June and we've now delayed to September in light of current events. It was imperative that we implemented as many things as possible to make our customers and staff feel safe. I felt a pump bottle of hand sanitiser looked temporary and inadequate so by installing the PullClean solution we could assure patrons and members of the team that we are planning for the long-term. The handle reminds us to sanitise our hands every time we go through a door and it will soon become second nature."
Andrew Hall, is the owner of the Rose and Crown – a well-loved independent pub in North Oxford. His team have undertaken a series of changes to their facility to reduce the potential for transmission of the coronavirus. Andrew says, "We've done everything we can think of to reduce the chances of one of our patrons becoming infected. We've reduced seating, introduced an order and pay app, added shielding between tables, all our staff wear masks and we've moved entirely to table service. We installed the PullClean handle on the front door not only because it's the best way of ensuring everyone cleans their hands, but also because it lets all of our customers know that we're going to extra lengths to keep them safe. Our customers love it  – it gets mentioned 5 times a day!"
To discuss installing an PullClean® handle on your premises, the team can be contacted on (0)345 073 9696 or [email protected]
Follow OpenClean™ on Social
Twitter – https://twitter.com/opencleantech
Facebook – https://www.facebook.com/OpenCleanTechnologies
LinkedIn – https://www.linkedin.com/company/OpenCleanTechnologies