PUTTSHACK: A HOLE NEW NIGHT OUT AS WORLD FIRST IN MINI-GOLF LAUNCHES IN WEST LONDON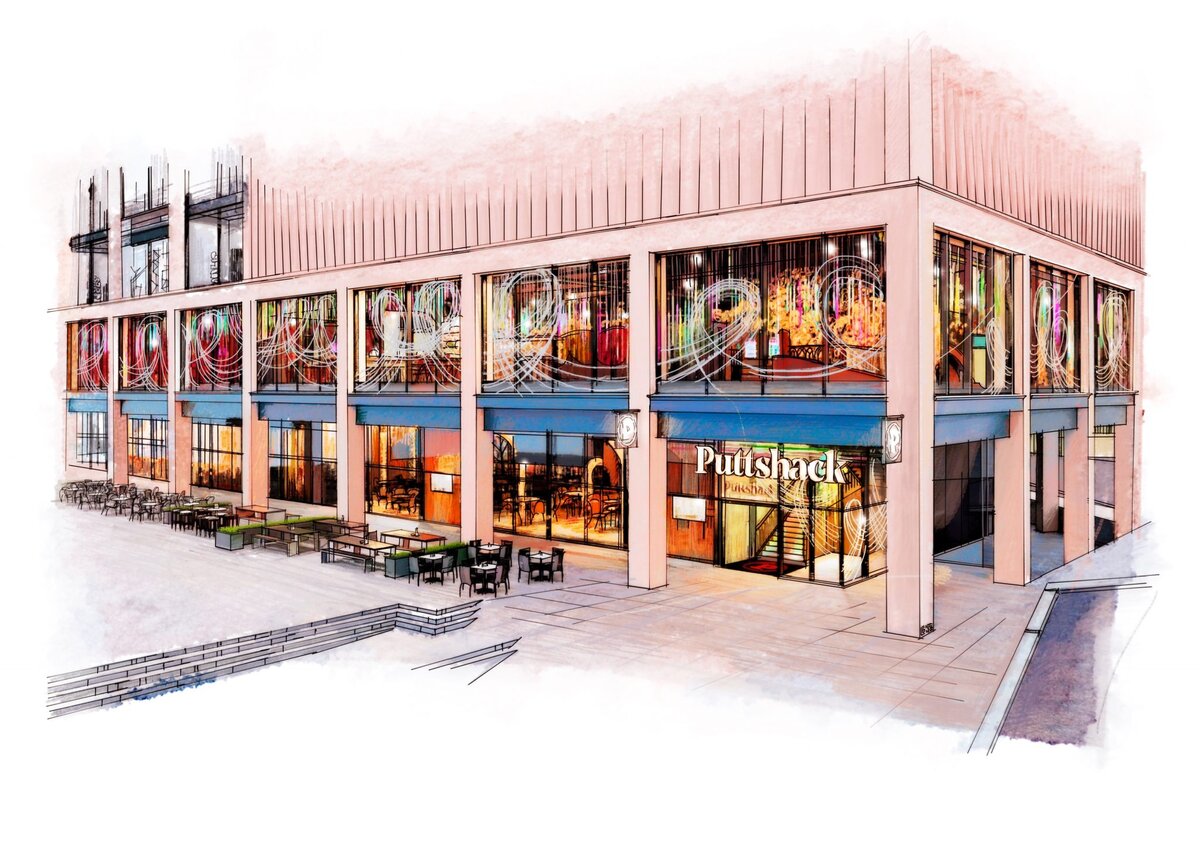 PUTTSHACK, the world's first super tech indoor mini-golf experience is launching in March 2018, shaking up the social entertainment scene in the capital.
Catapulting mini-golf into the future, the £15m food, drink and technology concept has been co-created by the masterminds of pioneering ping pong venue, Bounce and global phenomenon, Topgolf. Sprawled across 20,000 square feet, Puttshack will form part of Westfield London's £600 million expansion to become Europe's largest shopping centre, in an external location with sweeping panoramic views overlooking Relay Square, a new outdoor events and entertainment space.
Taking seven years to perfect, the ground-breaking new concept will comprise of four courses of nine holes; each one a rich immersive experience inspired by computer, arcade and fairground games, new and old. Holes include an interactive quiz hole and a giant pinball themed hole – where the ball activates lights and sounds in order to rack up high scores.
Puttshack has patented its sophisticated ball tracking and scoring technology, Trackaball©, which will unlock a whole new level of gameplay – from prize holes to Super Tubes. Scorecards and cheating are a thing of the past thanks to the high powered mini-computer inside the ball that also monitors and shares video highlights from each round.
Puttshack's 750 capacity venue will boast a huge island bar and restaurant with a refined menu designed for sharing, with plenty of indulgent 'guilty pleasures' alongside beautifully crafted healthful meals, including an extensive range of premium vegetarian and vegan dishes.
To highlight the refined aspects of the experience, Puttshack will proudly offer London's social set access to a flavour overload of cocktails crafted from some of the rarest rums in London.
Adam Breeden, Founder and CEO of Bounce said, "It has been our ambition to create the best mini-golf experience in the world and we believe Puttshack delivers just that. Our world first Trackaball© technology has enabled us to take mini-golf and transform it into something completely revolutionary.
 "In addition to this awesome tech, we have fused a best in class food and beverage offer with stunning design to create the most immersive social entertainment experience yet."
Keith Mabbett, Director of Leasing, Westfield UK and Europe added, "Puttshack is placing innovative tech and experience at the heart of entertainment and dining, making this world-first concept the perfect fit for Westfield London. We are thrilled to be able to announce Puttshack as one of the most exciting new concepts we're bringing our visitors in 2018."
Within 12 months of opening, two further Puttshack sites will be revealed in London, another flagship 21,000 square foot venue in the heart of the City, and a site part of the £73 million extension at intu Lakeside.
Rebecca Ryman, Regional Director of intu, said: "Puttshack is a key letting at intu Lakeside's 175,000 sq ft leisure extension. We're very much looking forward to welcoming this fabulous new brand to our centre where it will provide another compelling leisure experience that will encourage people to visit intu Lakeside from further and for longer."
Puttshack is the brainchild of the industry leaders in revolutionising traditional sporting activities with technology to create truly immersive social gaming experiences. The creators have previously pioneered the fusing of tech with social entertainment in concepts such as Top Golf, Flight Club and more recently at Bounce, Wonderball: a video mapping meets smart-ball game which switches-up the way we experience ping pong and socialising.
The first release of tickets to book Puttshack will be from Tuesday 12th December. To enquire, please visit www.puttshack.com.
Prices for tickets start from £12.
For further information and press materials please contact Talker Tailor Trouble Maker: [email protected] / [email protected]