BREXIT THREAT TO THE HIDDEN ECONOMY KEEPING HOTELS AND RESTUARANTS AFLOAT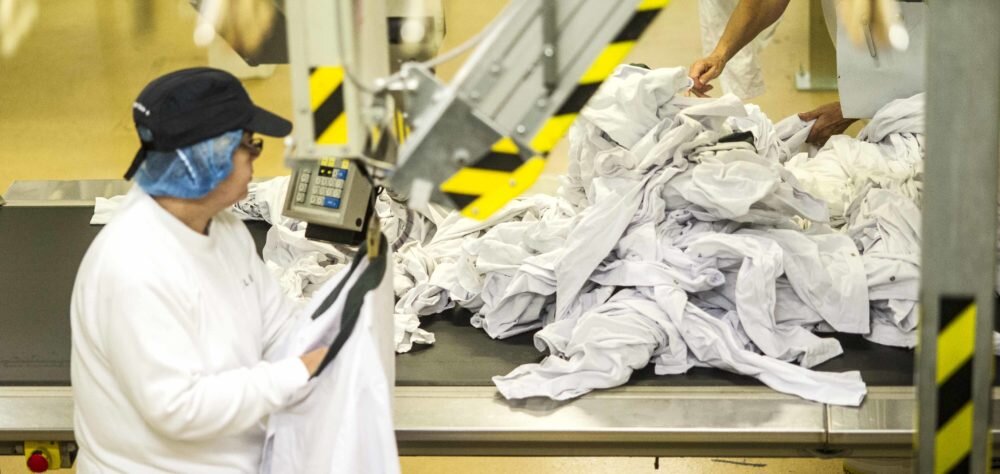 Revealed today in an exclusive report, textile services (the commercial laundry sector) are one of the hidden engines driving the UK's hospitality sector processing 24 million bed sheets, towels, tablecloths and uniforms a week. However a cocktail of challenges runs the risk of bringing the hospitality sector grinding to a halt.
Small and industrial-sized textile rental and laundry firms enable the UK's 45,000 hotels with 730,000 beds to function – providing bed linen, towels, table cloths and employee uniforms; critical at a time when a record 40 million tourists visited the UK in the last year.
Clean textiles are critical to the hospitality industry with a Clean Linen Services survey finding 89% of consumers were put off a return visit by badly made beds and dated linen.
Research has found that 10% of textile Production Operative roles are unfilled and there is a national shortage of HGV drivers needed to deliver clean linen to hotels.
 Monday 13th November: The textile services industry, which provides rental and commercial laundry services, is the hidden engine behind UK's hospitality sector according to an independent economic report commissioned by the Textile Services Association (TSA) – the body representing small and industrial-sized laundry firms. The findings show the industry faces Brexit-related challenges which could force hotels and restaurants to close.
TSA members play a critical service for the hospitality industry, providing the bed linen, table cloths and uniforms, not only for the every major hotel brand, but also the 70,000 restaurants, 800 spas, and 18,850 serviced apartments across the country. Brexit presents challenges to the textile services sector's ability to recruit new employees according to the report – authored by Regeneris for the TSA – with 40% of its workforce made up of non-UK EU nationals fearing uncertainty, and 62% of laundry firms saying they had unfilled vacancies.
 Commenting Dr Philip Wright, Chief Executive of the TSA said:
"The report proves that the textile services industry is a key engine keeping hotels and restaurants afloat. TSA members are proud of supporting the £126 billion hospitality industry, and ensuring that tourists from all over the world continue to come to the UK.
"The short and medium term challenges such as recruitment is a particular issue that we share with hospitality businesses. TSA members call on the Government to make the right choices during Brexit negotiations to ensure access to labour and vital machinery and chemicals remain affordable after we leave the European Union."
Commenting in the report, national hotel chain Radison Blu said:
"Clean linen is vital to our operations. If we don't have clean linen, we can't make beds. If you can't make beds, you can't sell rooms. Without it, you can't survive."