La Suite West Responds to Solo Travel Trend and Partners with Women's Business Travel Network Maiden Voyage offering female guests a number of 'female friendly services'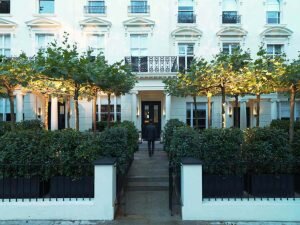 La Suite West is delighted to announce its partnership with women's business travel network maiden-voyage.com, becoming their newest addition to its collection of Female Friendly hotels. With solo travel continuously on the rise, La Suite West is pleased to be recognised as a safe destination for solo female travellers and businesswomen in London.
In addition, with the hotel's broad wellness offerings from vegetarian and vegan cuisine at Nosh Garden Kitchen, to In-Room Spa Treatments, La Suite West is placing itself firmly on the map as one of the top London destinations for solo female travel.
James Jude, General Manager, said "We've recently noticed that progressively more female guests were staying at the hotel and we wanted to be able to create a warm and welcoming atmosphere and to ensure they felt at home whilst staying with us. We are delighted to partner with Maiden Voyage and be understood as a hotel that recognises and caters for the needs of lone women travellers."
Accommodation
La Suite West is located on the edge of London's favourite Hyde Park, within a two-minute stroll from both Bayswater and Queensway tube stations. This means that the hotel is easily accessible from the West End, the greener side of the city, perfect for businesswomen looking for a place to stay.
Decorated by British designer Anouska Hempel, La Suite West offers a range of elegant and contemporary bedrooms and suites that are swathed in black and white with Asian infusions creating a minimalist and glamorous ambiance. Teamed with sleek marble bathrooms with a range of White Company amenities and an ultra-powerful hairdryer, the rooms are perfectly equipped for businesswomen or shorter trips to London. The hotel has also passed the stringent security inspection imposed by maiden-voyage.com for all of its partner hotels, which include double-locking doors, 24×7 manned reception and ultimate discretion when discussing room numbers.
Nosh Garden Kitchen
Following La Suite West's recent collaboration with Nosh Detox to create their Nosh Garden Kitchen restaurant, the hotel offers a delicious range of vegetarian and vegan friendly gourmet and fresh juices. Using superfoods and products which are additive, egg and preservative free, high in vitamin content, naturally flavoured, dairy and gluten free and not heat treated, Nosh Garden Kitchen provides the perfect location for wellness-orientated female diners.
In-Room Spa and Beauty Treatments:
With businesswomen in mind, the hotel's in-room spa service allows relaxation in the comfort of a suite bedroom. Guests can relax and unwind in the comfort of their room during their stay and treat themselves to in-room spa treatments and therapies including facials and massages. For those more active, personal training sessions are also available.
In addition, beauty treatments including manicures, pedicures, hairdressing and makeup finishes can be organised with ease for ladies who like to be pampered.
 La Suite West offers rooms from £129 per night. Bookings through hotel website www.lasuitewest.com. Maiden Voyage members are entitled to a 10% discount off BAR, complimentary breakfast and will receive a complimentary smoothie or juice upon arrival. For more information on Maiden Voyage please visit www.maiden-voyage.com.