Portlebay Popcorn Celebrates 5th Birthday with news that Popcorn is more popular than ever!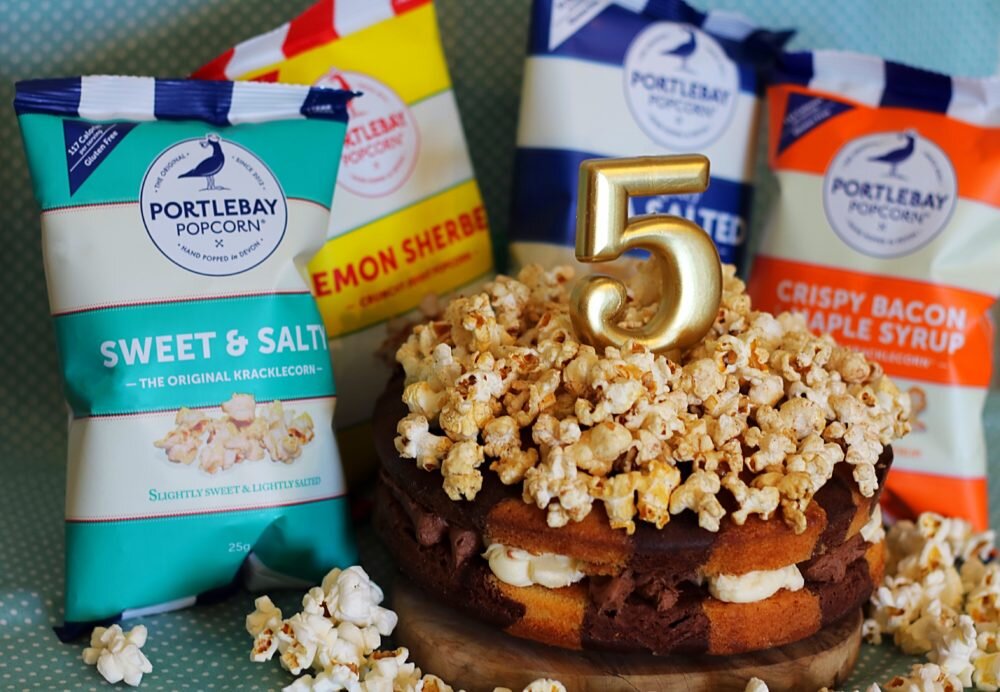 As Devon-based producer, Portlebay Popcorn, celebrates its fifth year in business, the company is popping with positivity with the news that popcorn is more popular than ever.  Portlebay Popcorn reports that this September's sales increased by 50% when compared to the sales from the same month of 2016.
Challenging the nation's much-loved snack of choice, potato crisps; popcorn is seen as a healthier but equally as hearty alternative and convenience stores, supermarkets, cafes and restaurants are all offering popcorn as an accompaniment to a main meal or lunchtime snack.  One particular upmarket supermarket chain, Booths, has reported that August 2017 saw an increase of 183% in sales of Portlebay Popcorn, which demonstrates significant growth for the small Plympton-based manufacturer.
Neil Adams of Portlebay Popcorn commented:  "We are delighted to be marking the milestone of our fifth birthday at a time when popcorn is more popular than ever before, having continued to win over consumers with its versatility.
"As a premium manufacturer, we are constantly innovating and offering consumers new, exciting flavours and textures.  Sweet & Salty combinations are very popular at present and we have found that contrasting notes such as this, and, for example, Crispy Bacon & Maple Syrup and Cinnamon Swirl, which joins warming spicy cinnamon with a hint of sweet, tangy apples, are what our customers are seeking.  While we don't believe that popcorn will ever fully replace potato crisps for British snack lovers, we do see it as a lighter, flavoursome alternative.
"Each of our varieties is also 100% natural, gluten free, filled with fibre and lower in fat compared to a packet of crisps, which makes it a great option for the more health-conscious consumer."
Portlebay Popcorn is handmade at the Poppery in Devon and it produces a wide variety of standard and more exotic-flavoured popcorns, including the company's signature and much-copied Crispy Bacon & Maple Syrup flavour.
Portlebay Popcorn, which was started in 2012 in Plympton, Devon, has recently had its products listed in Co-op stores across the Devon area and export sales have grown by 50%, which includes a new national listing in Denmark.