Introducing OOOMEGA: brand new flax seed drinks for the UK market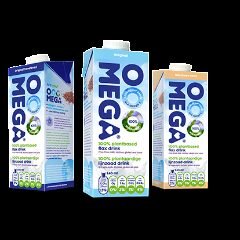 New healthy drinks brand OOOMEGA has launched a range of 100% plant-based flax seed rinks – the first of its kind in the UK.
Already hugely popular in The Netherlands, this new and exciting product range consists of three variants: Original, Original Sweetened and Macchiato, and is aimed at consumers looking for a healthy and nutritious alternatively to both dairy and the multitude of plant-based drinks currently available. The OOOMEGA range also taps perfectly into the growing veganism trend, which shows no sign of slowing.
OOOMEGA is made from flaxseed oil, making it one of the healthiest plant-based drinks on the market. Flax seeds have many unique health benefits and are known to be one of the richest plant-based sources of Omega 3(ALA). OOOMEGA is also packed with vitamins such as calcium, vitamin K, B12 and D2 and has the lowest calories content of any of the other dairy alternatives.
A versatile dairy-free staple, OOOMEGA is intended to be used in much the same way as regular dairy milk and can be added to porridge, smoothies, cakes and pancake mixtures, as well as to teas and coffees.
Guido Teekamp, Founder of OOOMEGA comments, "We're thrilled to be able to introduce UK consumers to OOMEGA, our innovative plant-based flax seed drinks range which is not only delicious, but also very beneficial to your health as well.
"We very much believe that substitutions doesn't have to mean compromise, therefore we're confident that our three delicious flavours will suit all tastes. Whether you're vegan, vegetarians, gluten free, suffer from a lactose intolerance, looking for a healthy and delicious diary free alternative, or simple want to try a new plant-based drink, OOOMEGA ticks all of the above."
OOOMEGA is available from nationwide Waitrose stored and retails at £1.99.