MICHELIN STAR RETAINED – Restaurant 'Hrishi' at Gilpin Hotel & Lake House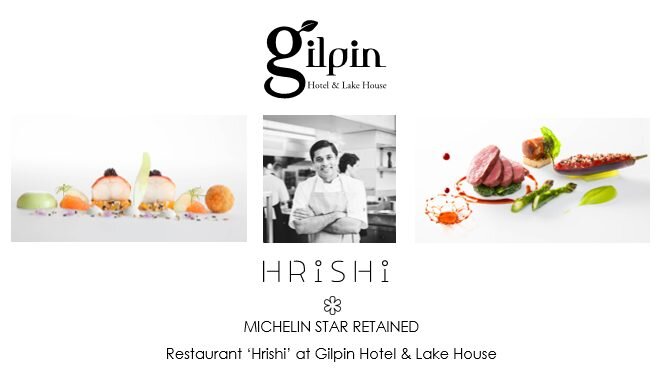 Gilpin's Executive Chef, Hrishikesh Desai, at the five star Lake District Hotel has retained his 1 Michelin Star for the second year running. Awarded his first Michelin Star in last year's guide, Hrishikesh continues to showcase spectacular dishes and culinary artistry.
This Monday, the day of the Michelin 2018 announcements, is a pretty intense one for chefs, but this year even more so for Hrishikesh Desai, executive chef at Gilpin Hotel & Lake House. His very pregnant wife Aga was rushed to hospital with high blood pressure just an hour before the Michelin announcements began, and so began a whirlwind of a day. A few hours later Hrishikesh's second year of holding a Michelin Star for 'Hrishi' was confirmed, and he was able to concentrate on his burgeoning family, and by the early hours or Tuesday his second daughter Erin was welcomed into the world to join big sister Eleanor.
"A Michelin star for two years and now two daughters. Once he's had some sleep he'll be celebrating! The family and all the team at Gilpin are so incredibly proud to have Hrishikesh on our team and we wish him and his family lots of love and all the very best at this incredibly special time." (Barney Cunliffe, MD).
Try Hrishikesh's food in either the Michelin starred main restaurant, 'Hrishi', where he combines great Lake District produce and classic methods to deliver unbelievable textures and flavours – modern British cuisine with a twist. Or in the casual two AA Rosette 'Gilpin Spice' with an open kitchen serving tapas-style pan-Asian dishes inspired by countries along the spice trail – spanning the Philippines, the Indian sub-continent, Malaysia, Thailand, Indonesia, Japan and China. 
Winner of Alex Polizzi's BBC2 Chefs on Trial, his background includes Institute Paul Bocuse, Les Maison de Bricourt (2*), Le Chateau do Bagnol (1*), French Laundry (3*), and Lucknam 'The Park' (1*). He is one of the very few chefs to have won the Roux Scholarship (2009), the Craft Guild of Chef's National Chef of the Year (2010) and a Michelin Star (2017).