GIN WITH 'BUILT-IN' TONIC HITS UK HIGH STREET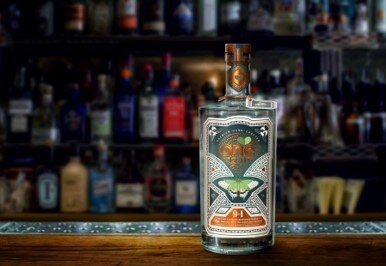 Profits from the sales of One Gin support clean water projects worldwide
Award winning hand-crafted Sussex gin will soon be available in Harvey Nichols
This week is London Cocktail Week, the world's biggest cocktail festival, celebrated in over 250 bars across London
A new British Gin, produced by ethical brand One Drinks, is the first to contain a 'built-in' tonic.  The tonic in this case, is the profits which help fund clean water projects worldwide.
At present, there are an estimated 663 million people without access to clean water.  One Gin aims to be a part of the solution to this global problem.  Using 9 botanicals, plus one signature botanical, fresh sage, foraged from the forest surrounding the Distillery, One "Sage" Gin is hand-crafted in small batches, then seven times filtered for a distinctively smooth finish.
The gin was awarded a Gold at this year's International Wine & Spirit Competition in June, just four months after launching – described by the IWSC judges as "complex, original and delicious".
Not only does the sage provide a unique flavour profile to One Gin, but the genus name of the plant is in fact derived from the Latin word 'salvare' meaning to save. One Gin, it can be said, therefore ties in with The One Brand's overarching vision to channel profits into helping those without access to clean water.
It's unique and delicious taste has also led to One Gin being selected for this month's 'Cocktail Of The Month' at The Gibson. Situated in London's Shoreditch and listed as one of the world's best bars, The Gibson is renowned for bringing together some of the most celebrated bartenders in the industry and developing new and exciting mixes with the top spirits on the market.
One Gin will soon be launching in Harvey Nichols stores but is already available in World Duty Free stores nationwide, premium off-licenses and online stockists priced at around £39, plus selected bars and Hogarth's Gin Palaces via national wholesalers. In the lead up to Christmas, One Gin is also proud to be featuring in The Gin Foundry's 'Ginvent' Calendar for 2017. This advent calendar is every gin-lover's dream – 24 different gins selected from around the world and packaged in miniature bottles. Find out more at thespiritofone.com
Ian Spooner, Managing Director of One Gin, said: "One Gin supports our global charitable efforts and yet the product stands on its own as a premium example of a contemporary style British craft gin.  The evolution of One Gin has been a fantastic experience.  With the help of experts in the industry, we have developed a unique craft gin, distilled in Sussex but inspired by the world.  So why not choose a great tasting gin which makes a difference and funds life-changing water projects in some of the world's poorest communities."
One Gin Tasting notes (from the judges at The IWSC 2017):
Nose:              Soft dill and fennel. Herbaceous, leafy, with a cushiony feel.
Taste:          A berry fruitiness somewhat reminiscent of blueberries, strawberries and cherries, followed by a gentle          herbaceousness with notes of caraway, dill, and a hint of nigella seed. Complex, original, and delicious!