Comesto joins with BlueCart to lead a revolution in the hospitality industry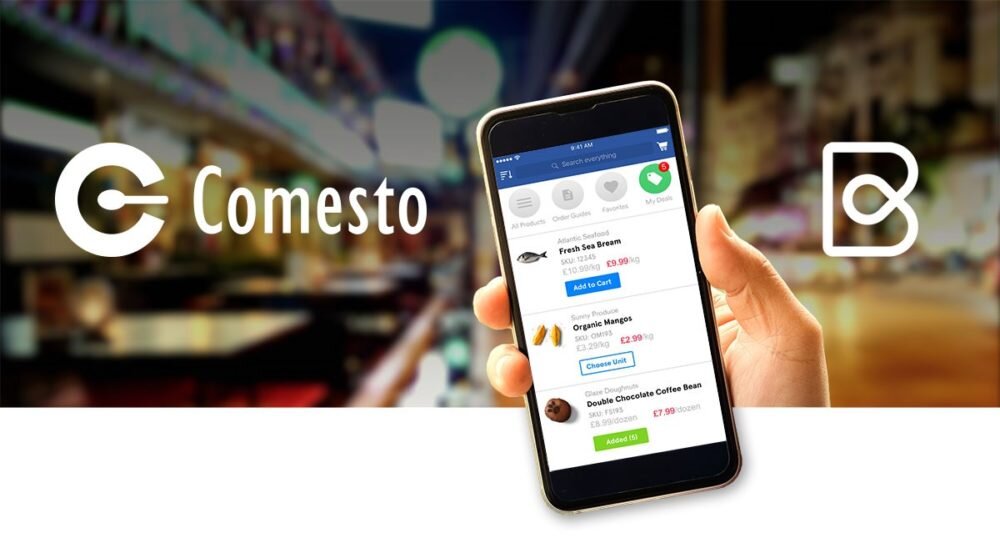 Comesto, the innovative new British hospitality supply chain platform, has formed a strategic partnership with US hospitality tech giant BlueCart to create a totally new hospitality tech solution for the UK which will turn the industry upside down.
Both systems are simple and intuitive, but smart in both features and reach.

Comesto's platform for increasing range and quality and comparing prices, for everything an operator needs to purchase, partnered with BlueCart's app-based ordering and stockroom management service is unique in providing equal benefits for buyers and suppliers.
It brings them together, offering buyers price comparison and a simple, direct way to view and contact a large but programmatically targeted range of suppliers. For suppliers, it's a direct trading and marketing platform which connects them to buyers who are actively looking for products and services like theirs. With a dedicated online profile and eCommerce facility as part of the deal, it gives them the tools to pitch and sell directly, minimising spend on sales activity, advertising and marketing.
BlueCart has a viral propagation facility which encourages suppliers to sign up to BlueCart if an order comes from a BlueCart buyer (and vice versa). This facility will now be offered to Comesto customers to provide all members with better buying and frictionless business growth.
Comesto's USP is that it is a B2B membership platform offering an industry-wide proposition. No similar platform offers this breadth. Customers are effectively members of a trade club – but one which covers the whole industry. This gives them a safe, legal environment in which to market, advertise, buy and supply directly, with no wasted effort and with minimal costs. This will come in very useful when European data protection rules (prohibiting emails to potential customers unless they have 'opted in') are enforced from 25 May 2018; Comesto buyers 'opt in' to contact from suppliers when they sign up.
Valentine Smith, Comesto CEO, said: "We  believe that the time is right for a comprehensive service of this kind, and the UK is the best place to launch it. With a growing eat-out culture and the unique British gastropub offer, savvy operators have invested heavily in front-of-house tech such as booking and shift software. However the back end operations often lag behind, with operators too busy to chase the best deals. What is needed is a total solution to drive and professionalise back end operations."
BlueCart's stockroom and ordering software solution has grown exponentially across the USA since it started in 2015, with more than 20,000 major restaurant chains, wholesalers and producers using the platform to drive business efficiency. With a complete suite of services, simple to set up and to use, BlueCart increases efficiency and cuts waste, putting better management in the hands of all users, from single high street venues to major chains and from small artisan producers, to the biggest distributors.
"We are looking forward to working with Comesto to offer wholesale restaurant and supplier mobile platforms that increase order efficiency and supplier transaction volume to their customers.  We are excited about our expansion efforts into the UK market as BlueCart's 32,000 customer base continues to grow globally,"  said Konstantin Zvereff, CEO of BlueCart.
If you are a buyer, the combined Comesto and BlueCart service provides a purchasing and stock management tool which is simple to setup and use. It's like a wholesale catalogue you design and own – your selection, your prices, your order quantities and your delivery schedule – putting you in control. Upload your current supplier's catalogue, and if Comesto alerts you to a better price or higher quality from another supplier, just swap it. And if you need a new stock item, simply search Comesto, check out prices and quality, get samples if you wish and drop your selection into your BlueCart shopping basket.
For suppliers, Comesto's unique marketing and buyer search service markets your brand and goods to a huge client base, supplies and converts enquiries into orders.
BlueCart processes your orders, arranges special pricing and deliveries and gives you a free eCommerce platform for direct sales..