Flat Three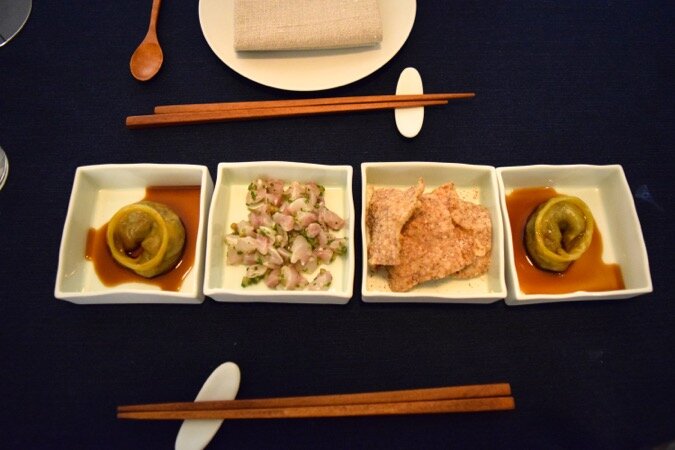 Holland Park has witnessed a culinary revolution, as Flat Three's ever-changing menu of seasonal sharing dishes, inspired by the minimalist aesthetics and flavours of Japanese, Korean and Nordic cuisine, continues to thrill and delight all who dine there.
Flat Three is the creation of operations manager Juliana Moustakas and chef Pavel Kanja, whose culinary credits include such impressive names as Wabi, Roka and Nobu. Prior to opening their own restaurant, the duo collaborated on a series of dinners at Juliana's Kensington home that tested many of the meticulous and deceptively simple dishes that inspired the menu, hence the origin of the name – Flat Three.
To this day quality remains the team's top priority, whilst Flat Three's intimate setting is reflective of its origins.
Much of the food as well as drinks are made in-house from a wide variety of fermentations that are a common thread across the cultures that Flat Three embraces.
Dishes change often, sometimes daily, to take advantage of the freshest seasonal produce available. Choices might include bass, scallop sashimi & wild fennel; diver scallops with Mexican marigold leaf; 40 day aged sirloin, charred onion, miso garlic & teriyaki style jus and tofu, basil seeds & wood ants.
Flat Three also specialises in a selection of "plant-based" dishes that transform humble vegetables into something extraordinary. Sample dishes include porcini, brick pastry & green chilli; kabocha, sorrel, almond miso & jus and cabbage, gochujang & buckwheat noodles.
Pavel's menu draws heavily on British-grown produce, sourced as locally as possible. Suppliers include Namayasai, a Japanese farm in Lewes specialising in produce that had previously only been available via import, and from Miles Irving and the Forager team in Kent, sourcing a wealth of little-known but delicious wild vegetation. When time allows, Juliana and Pavel even do some foraging of their own, including seaweed harvesting along the Kentish coast.
To savour the experience fully, diners can choose a seven course chef's choice tasting menu featuring seafood, grilled meats and vegetables, or a full vegetarian version, both at £69 per person. Alternatively, sharing style plates allow the creation of a bespoke menu.
For lunch or mid-week pre-theatre dining before 6.30pm, guests can enjoy three courses of Flat Three's seasonal favourites for £33 per person.
Similar care and attention has been spent on the drinks offering, with a selection of house-pressed juices, teas, infusions and ferments available to order individually or as pairings alongside the tasting menu. Sample drinks include lovage & ginger; yuzu & lemon verbena and omija tea & peppercorn.
A carefully curated wine list puts a focus on small producers, with a special emphasis on aromatic Rieslings and Pinot Noirs, alongside a selection of sakes and a range of cocktails crafted with house-made tonics, tinctures and blends.
Flat Three's culinary influences extend to its décor. The spacious, elegant and comfortable 40-cover dining room combines Japanese and Danish influences with its neutral tones, mid-century vintage wood furniture and delicate glassware. A large open kitchen is the focal point of the space, with a chef's table available for bigger groups.
Offering the warmth of a welcoming home, it is no surprise that Flat Three's reach is expanding to becoming a destination dining experience as well as a much loved local haunt.
Private hire and group bookings are available upon request.
The Principals
Pavel Kanja – Head Chef
Pavel's extraordinarily varied career has spanned nearly 22 years. Inspired by his mother and her artisan approach to the food he ate growing up near Australia's Margaret River, he started as an apprentice in Western Australia under the training of classic French chefs. Pavel then set about mastering Japanese food via positions in Perth, Melbourne, Dubai and the UK.
Following a stint at Nobu Melbourne, he was brought in as part of the opening crew at the Mirai Dubai, to help oversee staff training and menu creation.
After three years working with his old friend Scott Hallsworth at Wabi, first in Horsham and then in central London, Pavel moved to Roka in July 2013.
Juliana Kim Moustakas – Operations Manager
A graduate of Harvard, Brown University and INSEAD, Juliana spent over 15 years as a Managing Director at Deutsche Bank, Bank of America and Nomura International. In 2013 she decided to switch to a culinary career, working at Wabi where she met Pavel, followed by a pastry stage at Alvin Leung's one Michelin star Bo London as well as experience at the three Michelin star Benu in San Francisco.