Serving up the ultimate Christmas cake! Bidvest Foodservice and Thomas Leatherbarrow join forces to create a Christmas cake worth over £1,000 in support of Hospitality Action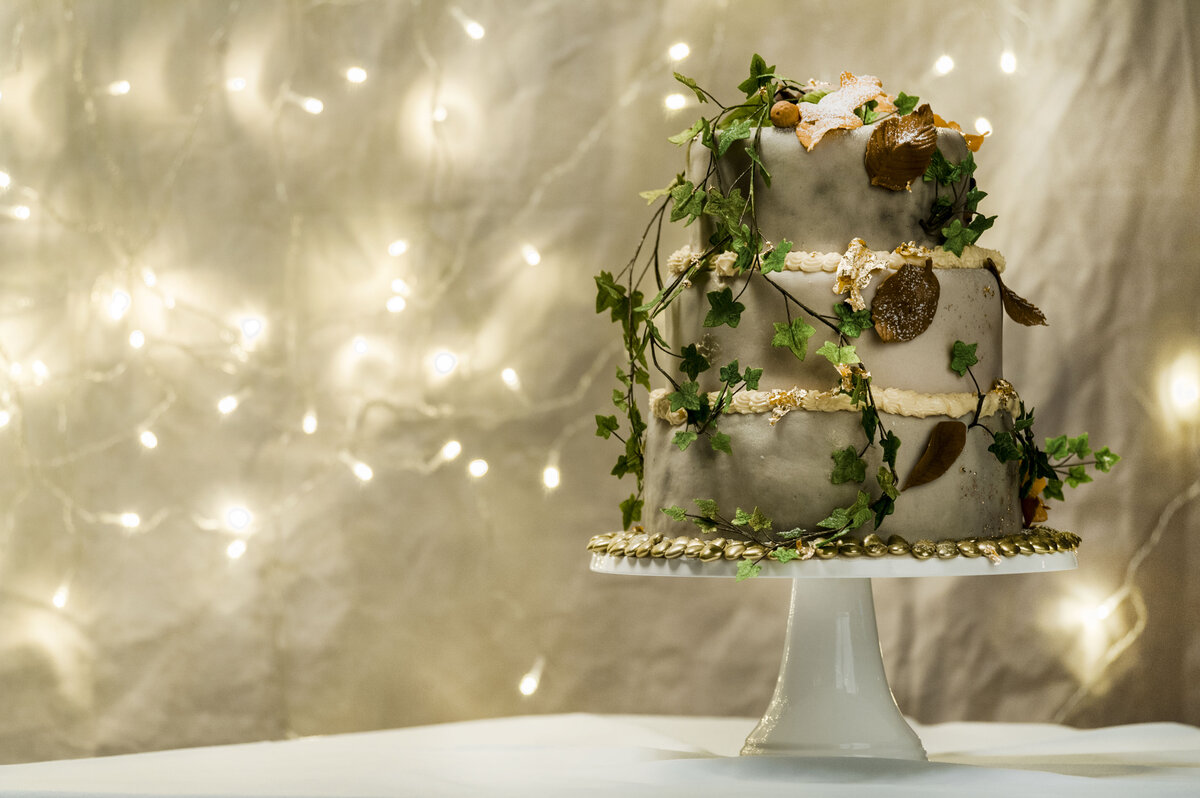 To kick-start the festive season, Bidvest Foodservice has joined forces with award-winning patisserie chef, Thomas Leatherbarrow, to handcraft a show-stopping, artisan Christmas cake, with scrumptious ingredients worth over £1,000. The one-of-a-kind cake, which has been developed and baked by the leading foodservice provider's team of expert chefs and decorated by Leatherbarrow, will be auctioned off in aid of the industry's own charity, Hospitality Action.
The impressive list of ingredients includes aged cognac, 15-year-old rum and Manuka honey, along with Voss water, French glace orange and lemon strips and organic flour and eggs.  And, to add that extra special sparkle, Thomas Leatherbarrow has decorated the cake with 150 sheets of edible gold leaf, 23 gold flakes and gold Madagascan vanilla butter cream. Weighing a whopping 35lbs, this is a Christmas cake like no other!
Bidding is expected to be fierce for the cake, which will raise money for those in hospitality who find themselves in crisis this Christmas. The initiative has seen industry organisations such as the Craft Guild of Chefs and TUCO join support and promote the project to their members and followers, in order to boost interest and get bids underway. The auction is open from 1 – 9 December, when the lucky winner will be announced.
Thomas Leatherbarrow, chef owner and founder of Pasty Developments Ltd and Natalie Bance, Bidvest Foodservice
Pamela Maclean, Food Development Manager at Bidvest Foodservice and creator of the Christmas cake, said: "Christmas will be here before we know it and this festive season we've created this very special cake for one lucky bidder to enjoy with their friends, family or colleagues, whilst also raising funds for a worthwhile cause. Myself and the team of expert chefs at Bidvest Foodservice have carefully tried and tested the recipe and we're confident that we have created a truly ultimate Christmas cake!
"Christmas can be a hard time of year for many and we want to give back to Hospitality Action who do so much for people in our industry year round. If you can, we urge you to show your support and bid for this edible masterpiece!"
Thomas Leatherbarrow, chef owner and founder of Pasty Development Ltd, adds: "I'm delighted to have worked with Bidvest Foodservice on this project. Decorating this unique cake has not only given me the chance to work with some of the finest festive ingredients, but it also allowed me to have a lot of fun and use some challenging and intricate pastry skills for a great cause."
Penny Moore, CEO at Hospitality Action, said: "Proceeds from our online auction can really make a difference in the lives of the people that we help. The support from the foodservice industry is crucial and this innovative and fun creation from Bidvest Foodservice is a great way to add that extra bit of festive cheer. The funds we raise help us to offer vital support to those who find themselves in crisis, including grants for basic essentials such as food and central heating, or support to the many isolated and lonely retired hospitality workers."
To bid for the £1,000 Christmas cake in aid of Hospitality Action, please visit: www.hospitalityaction.org.uk The online auction will be live from 1 – 9 December 2016.