How to enjoy all the benefits of natural flame lighting, without the hassle.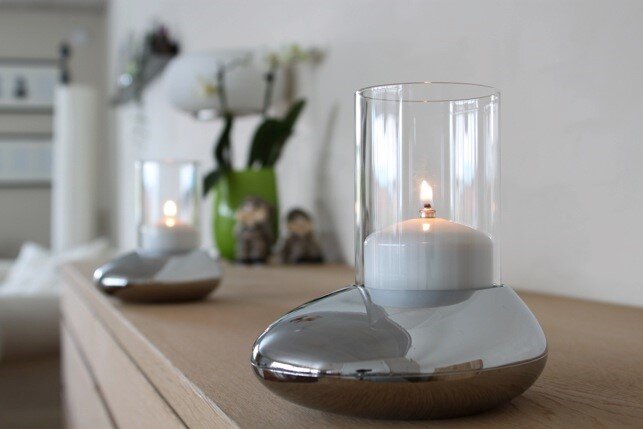 Candle light has always been the perfect way to create a relaxing, warm and intimate ambience. So it's no wonder that the flickering of a natural flame has featured as the centrepiece for so long on so many restaurant tables.
But there are downsides to using an old-fashioned candle. For a start there's the cost. There are safety issues too. And however lovely they may look, candles drip and leave messy wax to clear up. That's why TDL, the leading supplier of table lighting to the hotel and restaurant trade, have gone out of their way to source new alternatives that offer all the benefits of the traditional candle without the drawbacks.
Their best selling ranges of table lighting from Candola of Austria and Heliotron of Germany, for example, come in a wide choice of designs and use fuel cells to provide a long-lasting natural flame with no dripping wax and a built-in mechanism that extinguishes the flame if the lamp is accidentally knocked over.
TDL has also recently added some new designs to its range of fuel cell lighting, to fit in with the latest fashions in restaurant décor. Right on trend is the Copper Circle range, reflecting the growing popularity of copper as a design statement. For a cool, contemporary look, influenced by the clean lines of a zen garden, there's the new Rock range. For understated elegance with a hint of luxury there's the Madrid Diamond range. And coming in August there's a stunning new range of simple coated glass fuel cell and tea light holders.
The technology of fuel cells themselves has come a long way too and TDL is always ahead of the pack with new ideas to make table lighting safer, easier and more cost efficient. The latest addition is the CleanLight range of environmentally friendly bio fuel cells. Suitable for a wide variety of table lamp designs these fuel cells are the ideal alternative to petroleum-based lamp oils. The fuel is produced from purified vegetable oils and won't cause any harm even if accidentally ingested. Sustainably sourced, CleanLight fuel cells are a great way to do your bit for the environment.
TDL can even help you create the atmosphere of candle light, without any flame at all. The new Table Tech range uses a technically advanced double LED to reproduce the kind of flicker you get from a candle. They come in a natural wax setting designed to look just like a real candle and offer significant cost savings compared with tea lights and fuel cells. They even come with a remote control to set timings, brightness and flicker rate.
"You just can't beat the subtle warmth of real candle light" said Richard Hogg, TDL's Managing Director, "and with these exciting new products we've set out to make it even easier to achieve the effect of a natural flame without the attendant costs and inconvenience. They would be a beautiful addition to any table setting."
For more information about TDL's ever expanding range of table lighting, call 01386 833643 or go to www.tabledl.co.uk