Stay in City of London's Newest Private Members' Club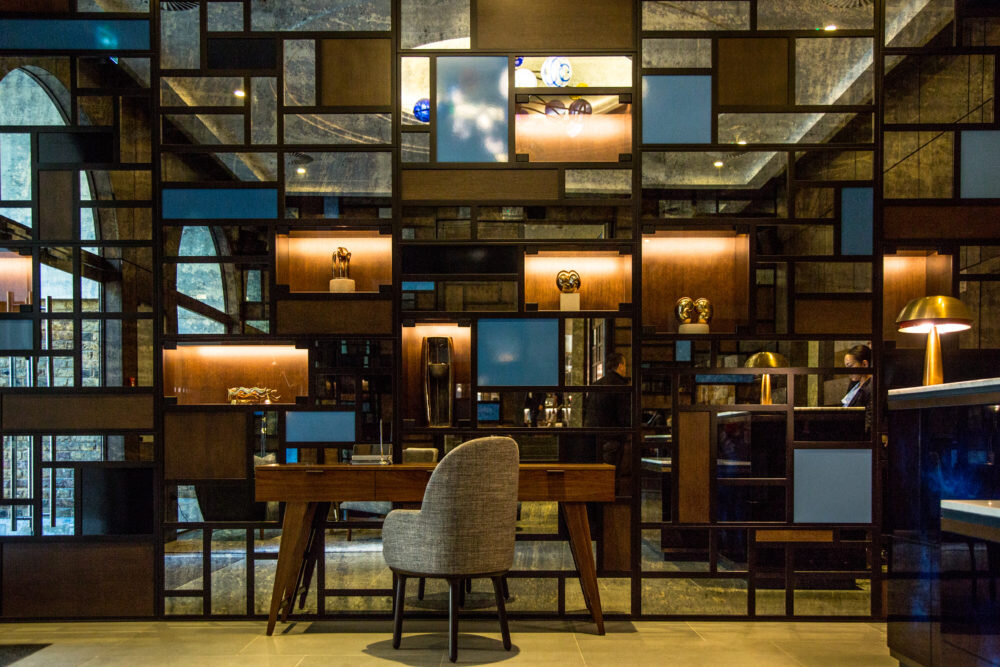 The City of London's most glamourous private members club, the Devonshire Club opens its doors this month after a £25 million renovation of its site in Devonshire Square, one of the City's most iconic business and leisure destinations.
Located just a few minutes' walk from Liverpool Street Station, this exclusive haven is spread over 58,000 square feet and occupies six floors of a listed 19th century Regency warehouse.  It offers 68 luxury bedrooms and suites, which are now available for booking by both Club members and non-members.
Each of the luxurious rooms is beautifully appointed with elegant 1950s designs featuring soft fabrics and authentic wallpaper, and Hypnos beds with 300 Purcell Irish cotton bed-linen.  Amenities include large flat screen TVs with mobile phone connectivity, super high-speed Wi-Fi, Nespresso coffee machines, Elemis bathroom products, complimentary mini bar and 24 hour room service, as well as valet parking and concierge facilities.
Guests will have the choice of two super king size suites, six superior suites, 23 super king size rooms and 37 king size rooms, which range in price from £200 to £1,200 per night (room only, excluding VAT).
Guests will also have use of the Club's impressive facilities including a 110-seat brasserie, which is one of only 12 restaurants in the UK to have been awarded a certificate from the Hyogo Prefecture allowing it to serve authentic Kobe beef.  It offers a seasonal menu which includes specialities from the Côte d'Azur and favourite British club dishes, as well as a large oyster bar serving an array of shellfish, ceviche, sashimi and caviar.
In addition, there are four private dining rooms, a screening room, three bars (Champagne bar, Library bar and Cocktail bar), a beautiful internal winter garden with cigar terrace, an external garden, plus a private gymnasium with Pilates studio and weights room, and beauty salon with four private treatment rooms.
The Devonshire Club, which is expected to become one of the hottest spots in town, is run by CEO Brian Clivaz, one of the most celebrated figures in the industry, and General Manager Ian Palmer, with whom Brian formed a successful partnership opening Home House and reinvigorating The Arts Club.  Their aim is to make it one of the leading private members' Clubs in the world.
With a large focus on its culinary offering, Devonshire Club's Head of Food & Beverage will be Simon Whitley, former chef at Home House and opening chef at The Arts Club in Dover Street. Having cooked for all members of the Royal Family, the last 3 Prime Ministers and other Premiers from around the world, Whitley is a rare jewel in the industry. William Best, former Premier Sous-Chef at The Ritz, has been appointed as Head Chef. Supporting the talented Best will be Sous-Chef Lorant Baratki and Executive Head Chef Oliver Lesnik, with experience at White's, the Cadogen Hotel in Knightsbridge and most recently at Clivaz's L'Escargot.
Tiziano Tasso has been appointed Bars Manager, with international experience in member's clubs and prestigious venues, and will be working closely with the General Manager of Brassiere, Rodney Chidgey. Having worked in some of the most renowned and distinguished restaurants in the world, Chidgey bring with him experience from the Four Seasons, Caprice Holdings and Corbin & King, to name a few.
With 68 luxury bedrooms and suites on offer to members and special guests, looking after customers will be Head Concierge, James Malone. Having grown-up in the hospitality industry, Malone has adopted a lifetime of hotel and tourism experience from across the world, most recently working at Café Royal Hotel.
Founder membership is £2,400 per year; a 10 year Debenture membership is priced at £24,000.
For room bookings visit www.devonshire.club or call +44 (0)20 3750 4545.  The Devonshire Club Rooms and Suites can also be booked by travel agents via GDS.