THE UK'S FIRST-TO-MARKET HONEY WATER BRAND CELEBRATES SUCCESSFUL FIRST YEAR IN BUSINESS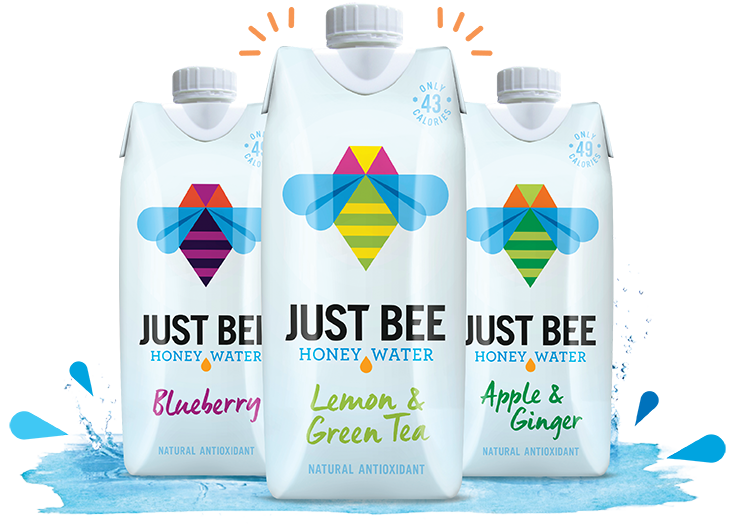 Just Bee marks anniversary with rebrand championing 'supernatural hydration' message
Success attributed to low calorie, natural sweetness from honey as consumers flock to low sugar alternatives·
First year saw listings in host of premium and health focussed outlets from Selfridges to Holland & Barrett to Fortnum & Mason
Just Bee – the UK's first-to-market range of honey water drinks – is marking a successful first year in business by launching a new packaging design, championing its 'supernatural hydration' message.
The company founded  by third-generation beekeepers has seen huge success in its first year of trading. In just one year it has confirmed listings in premium outlets Selfridges, Fortnum & Mason and As Nature Intended, as well as a large number of independent retailers and will be available from Holland & Barrett from Spring 2016. This is a notable start for a company in its infancy, and the founders are now expect to triple sales in 2016, with a number of other major listings in the pipeline.
Co-founder Joe Harper (who works alongside business partner Andy Sugden) attributes Just Bee's success to the growing demand for low-sugar alternatives, a hugely prevalent topic reflected by the recent sugar tax announcement. "Consumers are increasingly focused on sugar content, which makes the properties of soft drinks and flavoured waters all the more important. We noted the move from fizzy drinks to flavoured water alternatives ahead of launch and that shift has only intensified, with the growing spotlight on high sugar levels. Consumers are responding well because Just Bee is a simple and natural drink offering a genuinely authentic solution to something that is a growing concern."
In 2015, aside from developing its number of retail stockists and successfully launching a Foodservice offering, Just Bee won the Lunch! Gold Innovation award in September 2015, acknowledged by industry experts as a pioneering addition to the UK's FMCG market. The company was noted for its unique and low sugar ingredients, which include an infusion of a single drop of honey, spring water and fresh fruit juices (in three versions: Blueberry, Apple & Ginger and Lemon & Green Tea). Each drink is fewer than 50 calories (less than 4g of sugar per 100ml), and uses no refined sugar or artificial sweeteners. 
The duo are now shifting their attention to the year ahead, which will start with a packaging rebrand – a cleaner design reflecting the bees and honey theme of the brand whilst emphasising its refreshment and natural sweetness credentials. The plan for growth includes a presence a number of key trade events, from the forthcoming Food and Drink Expo to the BBC Good Food Show, as well as at a variety of online and social media marketing campagins. Just Bee will also continue its mission to help save the bees, donating 10% of profits to charity 'Friends of the Honey Bee' whilst giving away free bee-friendly wildflower seeds.
Just Bee is available in a 330ml carton and is sold in Selfridges, Fortnum and Mason, As Nature Intended and many independent retailers across the UK, as well as online via www.justbeedrinks.co.uk. Pricing starts at £1.80 per carton but varies according to individual retailers.