The challenges facing Independent Hotels in the Digital age…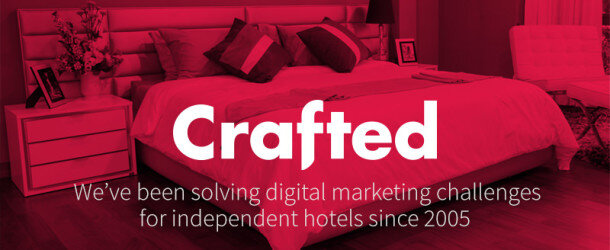 It's a fact that some independent hotels simply don't have the resource or financial firepower to compare with those owned by larger groups, at Crafted we understand the need to make every penny of your online marketing budget count.
Crafted are digital specialists in the hospitality industry, we work in partnership with independent, boutique hoteliers to outsmart the competition online, reduce costs and boost their direct business.
Generating success in new and existing markets
From developing digital marketing strategies for boutique hotel groups working across Europe and the USA to devising OTA-outwitting search campaigns for luxury wellbeing brands, we deliver compelling online customer experiences that turn visitors into hotel guests and hotel guests into advocates.
Digital campaigns as bespoke as your brand
With highly targeted SEO techniques that eke out every last drop of value from long tail keywords, unique fresh content that your customers will digest and share and a multi-platform user experience that articulates your exclusive offering on any device and any screen size, it's possible to cut through the noise and make your brand sell for you.
Come and pick up your free guide from Stand 313 at the Independent Hotel Show on the 20th and 21st October 2015 at Olympia West in London.
Let us help solve your online marketing challenges with digital strategies informed by data that help generate you more traffic and convert browsing into bookings.
Let's talk
Further information: call 0333 920 1600; e-mail [email protected]; tweet @craftedmedia; or visit our website.