Boyds Grill & Wine Bar Launches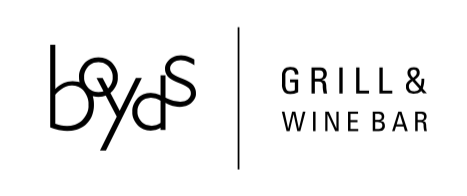 Boyds Grill & Wine Bar on Northumberland Avenue, Trafalgar Square, will launch on the 24th of February with a striking layout and great menu that embraces contemporary London dining trends.  Displaying a distinctive personality, Boyds Grill & Wine Bar prides itself on sourcing the best possible British produce and great wines from around the world.
Boyds Grill & Wine Bar, created by Charles Boyd, has been designed so that diners can enjoy the beautiful contemporary space, set in a stunning, marble-clad and historic Victorian interior, in a way that suits however they want to eat or drink.  The new layout means diners can sit wherever they're most comfortable; at the new Kitchen Bar serving the best quality British cured and potted meats and cheeses; relax in the Lounge and bar area on comfortable sofas; in the Dining Room at the white-clothed tables, or at the striking Central Bar area which specialises in top wines by the glass.
No matter where you sit, the same menu will be offered.
Fabien Babanini, the General Manager of the restaurant, says that the rigidity of formal dining is less relevant to diners today, who want a more personalised service:  "We are offering something very different here, whether you're looking for a casual nibble; a business lunch, pre-theatre meal, somewhere to take friends and family; or maybe more of an occasion meal.
"We want diners to feel that our restaurant accommodates everything they could want, whenever they come in, and all under one beautifully decorated ceiling.  Our lives are so varied now, one person can be squeezing in a speedy mid-week business lunch, enjoying the perfect glass of wine whilst winding down after work, or indulging in an unhurried dinner in great company, just days apart."
Boyds Grill & Wine Bar's Executive Chef Nate Brewster's menu showcases international cooking techniques applied to British artisanal top quality ingredients at all times.
British meat, fish and poultry, including Broughton Water Buffalo from Stockbridge and Scottish Black Gold Beef, will be grilled to perfection on the new state of the art Synergy Grill, and the kitchen will celebrate sharing dishes, all using British produce.
The Boyds Grill & Wine Bar menu includes cold small plates such as Sipsmith Cured Salmon, Buttermilk Sorbet and Daikon; hot small plates such as Fish and Seafood Goujons, Beer Batter, Curried Hollandaise; Rib-Eye & Bone Marrow Faggot, buttery Mash, Bordelaise Sauce and Seven Hour Braised Lamb Leg, Tandoori Spice, Carrot & Citrus Puree.
Diners will be able to enjoy outstanding cheeses and cured and potted meats from top UK producers such as White Lake Cheese and Trealy Farm.  These will be prepared at the Kitchen Bar by one of the Boyds chefs.
As well as their great British food offering, Boyds Grill & Wine Bar will be serving the very best of wines at good value prices. Many of these wines can be enjoyed at the Central Bar or in the Lounge and bar area.  All the wines can be enjoyed by the glass, thanks to the newly installed 'By the Glass' machine which preserves the wines at their peak.  Curated by Babanini the wine list has been carefully selected from the Old and New Worlds.  There is also an extensive cocktail list from Boyds' masterful mixologists, and a choice of craft beers.
Boyds Grill & Wine Bar is situated through the entrance to 8 Northumberland Avenue, within a stunning historical setting, a true London Victorian gem with magnificent marble-clad walls, double height ceilings.
The restaurant by Trafalgar Square is moments from The Strand, Charing Cross and Whitehall.
The restaurant is open all day and evening Monday to Saturday from 8:00am – 11:30pm.
Boyds Grill & Wine Bar
8 Northumberland Avenue, London, WC2N 5BY
Tel: 0207 808 3344
www.boydsgrillandwinebar.co.uk