BELVEDERE VODKA LAUNCHES POP-UP MARTINI BAR AT WHOLE FOODS MARKET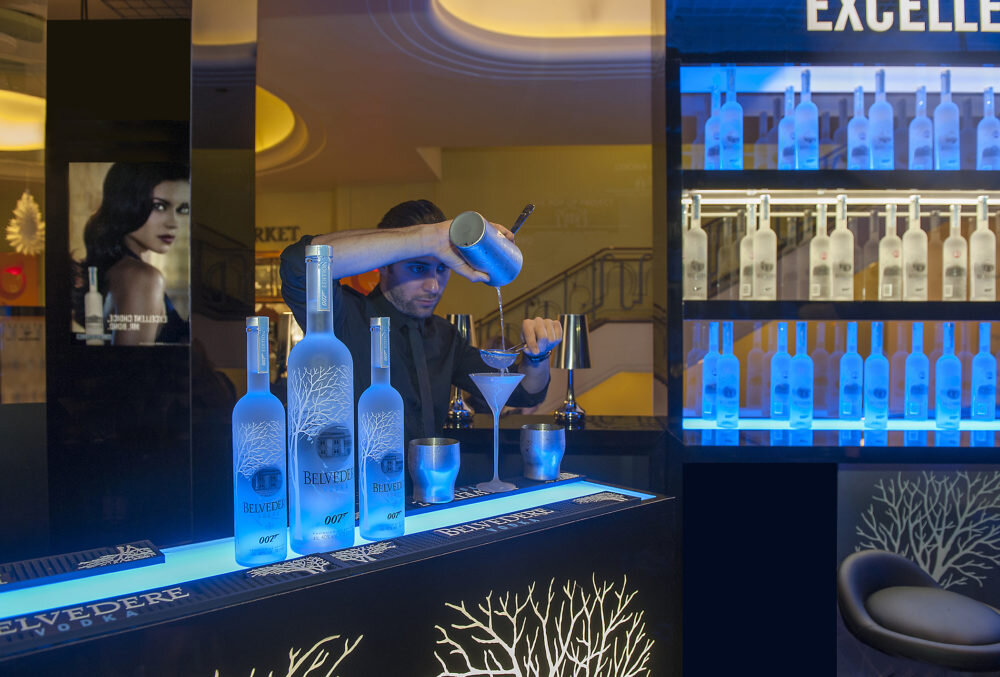 #SHAKENNOTSTIRRED
Belvedere Vodka has opened a classic, pop-up martini bar in the window of Whole Foods
Market, High Street Kensington, open until November 30th in the run-up to the festive period.
The martini bar is an extension of Belvedere's recent partnership with the newly released
James Bond film, SPECTRE. The bar, open Monday – Saturday (4-8pm) and Sunday (2-6pm)
will welcome customers to enjoy Bond's drink of choice in the glamorous, sleek pop-up bar.
Choose between the Belvedere 007 Martini and Belvedere SPECTRE 007 Martini for £7
each, sit back and enjoy the experience.
Customers will also be able to purchase the 70cl Belvedere 007 Limited Edition bottle in the
bar at the promotional price of £32. Celebrate Bond at home by mixing your own Belvedere
SPECTRE 007 Martini
· 60ml (2oz) Belvedere Vodka
· 10ml (1/3oz) Dry vermouth
· Sicilian green olive
· 5ml (1/6oz) Sicilian green olive brine
Gently muddle olives in base of mixing glass. Add remaining ingredients and shake hard with
ice. Double strain into a chilled martini glass.
ABOUT BELVEDERE VODKA
Belvedere Vodka was the first to create a new standard for excellence in the vodka category
and is credited with creating the luxury vodka segment. Today, Belvedere's distinctive
character and uncompromising integrity are recognised internationally by discriminating
vodka enthusiasts, who appreciate its all-natural, additive-free character. Made entirely from
Dankowskie Gold Rye and blended with water from its own pristine source, Belvedere
Vodka's taste profile is distinctively soft with a subtle sweetness and naturally smooth, clean
finish.
ABOUT WHOLE FOODS MARKET
Since the opening of its first store in the US in 1980, Whole Foods Market has been known
for its commitment to its stringent quality standards. The grocer offers the highest quality
natural and organic foods – all free of artificial flavours, sweeteners, colours, preservatives and hydrogenated fats – with bakery, meats and more prepared fresh in store.
A cryptic message from the past sends James Bond on a rogue mission to Mexico City and
eventually Rome, where he meets Lucia Sciarra (Monica Bellucci), the beautiful and
forbidden widow of an infamous criminal. Bond infiltrates a secret meeting and uncovers the
existence of the sinister organisation known as SPECTRE.
Meanwhile back in London, Max Denbigh (Andrew Scott), the new head of the Centre for
National Security, questions Bond's actions and challenges the relevance of MI6, led by M
(Ralph Fiennes). Bond covertly enlists Moneypenny (Naomie Harris) and Q (Ben Whishaw)
to help him seek out Madeleine Swann (Léa Seydoux), the daughter of his old nemesis Mr
White (Jesper Christensen), who may hold the clue to untangling the web of SPECTRE. As
the daughter of an assassin, she understands Bond in a way most others cannot.
As Bond ventures towards the heart of SPECTRE, he learns of a chilling connection between
himself and the enemy he seeks, played by Christoph Waltz.
SPECTRE is directed by Sam Mendes and produced by Michael G. Wilson and Barbara
Broccoli from a script by John Logan and Neal Purvis & Robert Wade and Jez Butterworth.