COUNTER – London's longest bar & brasserie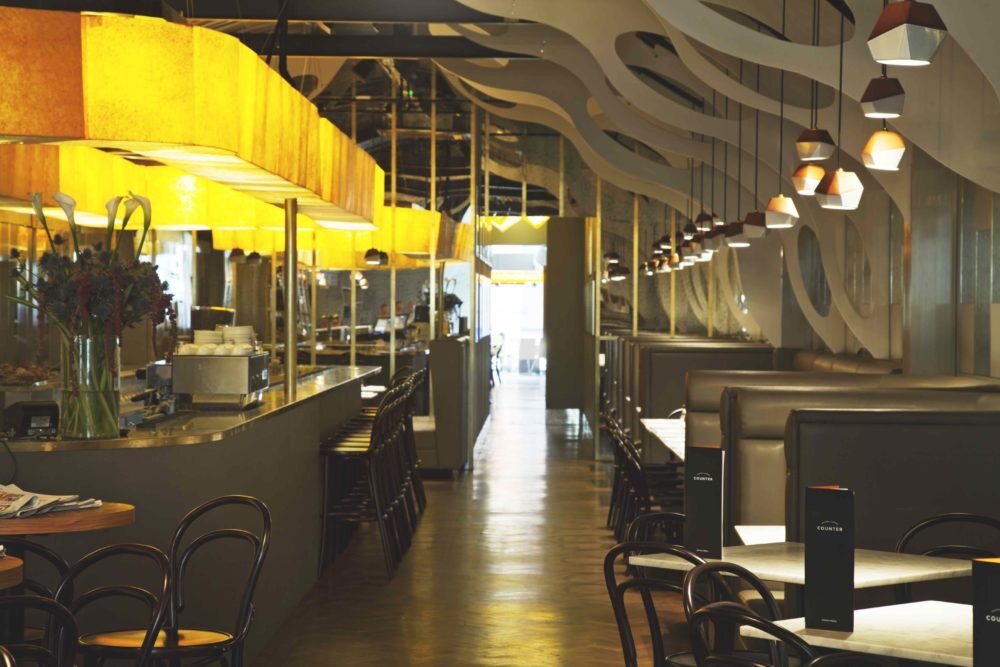 Leave London and arrive in Manhattan (in a New York Minute)
Officially London's longest restaurant housed in a 200-foot long arch (which could easily accommodate Nelson's Column), COUNTER Vauxhall Arches, is the NEW snappy all-day brasserie and bar goes from strength to strength with the launch of its all-new summer menu.
Located just seconds from the main line and Victoria Line stations in rapidly changing Vauxhall, COUNTER brings a touch of New York's 'happening' Meatpacking District to what is Europe's largest urban regeneration area and is the top casual dining destination in this exciting neighbourhood. This 175-cover restaurant serves up an eclectic feast of freshly made (and seasonal) French and American inspired dishes priced from £12-22 for main courses and £6-10 for hot breakfast meals.
Whether it's breakfast, brunch, lunch or dinner the brand new summertime menu packs a culinary punch. Starter / small plates include scallops with fennel puree, tarragon and tangerines and buttermilk fried rabbit with slaw and ranch dressing while main course highlights include poached halibut with spiced coconut puree, red peppers and coriander and blackened chicken, rainbow carrots and charred corn.
Also check out the new additions to 'the sides' such as mac and cheese Balls with chipotle Sauce. For lighter bites, a summer salad menu features five healthy choices which are all available in starter and main sizes, including the summer Caesar with smoked turkey, anchovies and polenta croutons. Dessert-wise, opt for the poached peach, meringue with elderflower jelly and honey vanilla syrup or go retro with the banana split served with chocolate sauce, toasted hazelnuts and vanilla ice cream.
Leave the worries of the day at the door and indulge as our mixologists prepare you the perfect cocktail at our impressive four-sided, brass-topped bar middle of the restaurant. Or ask for our carefully curated wine list comprised exclusively of French and American wines as well as an extensive list of cocktails and mocktails and laid back craft beers to quench your thirst.
Dubbed 'Deco meets Disco', the look and ambiance is a trend-setting take on glamour – bringing the traditional brasserie firmly into the 21st century. Combining the heritage of Vauxhall's historic reputation for pleasure-seeking with its emerging skyline and recent development projects in the area, glittering antiqued mirrors and a palette of lacquered grey tones are highlighted with brass detailing and custom-made lighting set off against reclaimed teak floors.
Weekend brunch at COUNTER is a weekly 'must' where diners are invited to 'Build their own Bellini' alongside live entertainment on Sundays.
For those in search of a bit of COUlture, COUNTER is hosting COUNTERculture events every Tuesday which include meet and greet with aspiring local artists as well as cocktail master classes for those looking for something far more exciting than voddy 'n' coke in a plastic cup – here's where you can learn cocktail knowledge from the COUNTER pros!
New to the green is COUNTER Cricket Club– offering special craft beers and food menu for cricket fans stopping en-route for games at the Oval, home of Surrey County Cricket.
Finally, BackCOUNTER, COUNTER's little gay brother (open Thursday to Sunday as the BackCOUNTER Lounge) provides a much-needed new 'hangout' at a time when many iconic bars are being closed or licenses not renewed. BackCOUNTER is also getting ready to launch a series of live DJ and music evenings, including Friday Night Fever and So Sunday in collaboration with the Harmony Collective. Watch this space…
Twitter: @eatatCOUNTER
www.facebook.com/eatatCOUNTER
Where?
Counter
Vauxhall Station
7-11 South Lambeth Place
London SW8 1SP
When?
Monday – Thursday: 7am – 12:30am
Friday: 7am – 1:30am
Saturday: 8am – 1:30am
Sunday: 8am – 12:30am
Telephone
+44 20 3693 9600