FIN & TONICS ALL ROUND AS BACARDI BROWN-FORMAN BRANDS UNVEIL MARKETING PUSH FOR FINLANDIA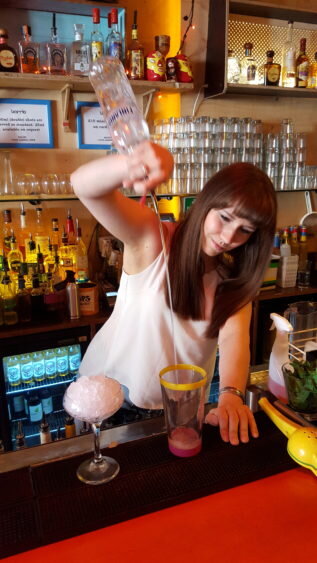 Bacardi Brown-Forman Brands has appointed its first-ever UK Brand Ambassador for its premium vodka brand, Finlandia, as it embarks on a new experiential campaign around the UK this summer.
Elsa Holmberg who is of Finnish descent, will be responsible for all education and training for Finlandia in the UK On Trade and is tasked with helping to drive brand awareness and affinity amongst the bartender community. Elsa's role will see her working closely with bartenders across the country, running training sessions, masterclasses, consumer and trade tasting events, as well as partnering with bartenders on bespoke projects. As Brand Ambassador, she will be responsible for educating the trade on the unique qualities that differentiate Finlandia from other premium vodka brands.
Finlandia uses the finest quality Finnish ingredients of six-row barley and pure glacial spring water produced through a state of the art distilation process. The distinct brand personality is built on the laid back nature of the Finnish people that translates into a delicious range of drink serves that are perfect for relaxed occasions.
Holmberg's appointment forms part of a larger investment in the award-winning Finnish vodka brand, aimed at increasing the brand's market share in the On Trade. The investment also includes a series of consumer events taking place in various On Trade outdoor terraces throughout the UK this summer, named 'The Finlandia Midnight Sun Sessions', a subtle reference to the 73 days of continuous daylight in Finland during which the barley used in the production of Finlandia vodka ripens and benefits from the sun's special nurturing.
Designed to bring a relaxed Scandinavian summertime vibe to the UK, the Midnight Sun Sessions launched on Sunday 21st June at West London's, Broadway House in Fulham. Top British DJ, Becky Tong entertained the crowd with a chillout set as they enjoyed Finlandia's 'Fin and Tonic' signature serve – a refreshing blend of Finlandia Grapefruit topped with tonic – along with traditional fare from a Finnish barbecue.  Additional Midnight Sun Sessions events will be held in Liverpool, Edinburgh and Manchester throughout July and August with DJ turns from Crazy P and Nightmares on Wax.
Nidal Ramini, Head of Advocacy at Brown Forman said, "With consumers and bartenders increasingly opting for brands with real authenticity and excellent quality, there's a great opportunity for Finlandia. We're delighted that Elsa is joining the team to help raise consumer awareness and, of course, to engage the all important members of the On Trade in masterclasses and other bespoke sessions. With Elsa on board and our new Midnight Sun Sessions now underway, we're looking forward to appealing to new consumers with the Finlandia story and increasing brand affinity as a result."
Holmberg takes on her new role as Finlandia UK Brand Ambassador following a six-year career in the bar industry, which has included bartending roles at Nottingham's Junkyard and Brass Monkey along with a promotional tour of the USA for Swedish brand, Rhuby Liqueur.