Tailor-made Kolarz gold plate and crystal lights installed at Aladino's – one of London's most sophisticated new restaurants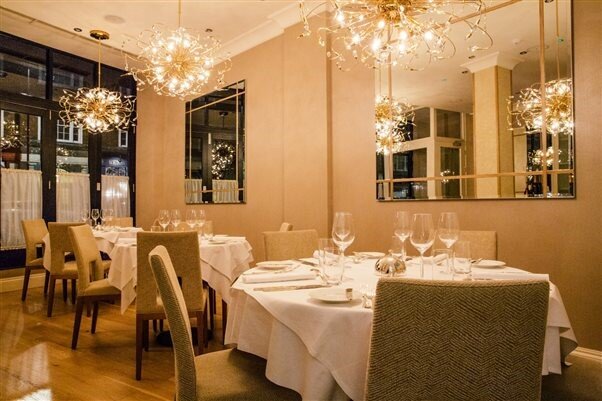 Aladino's, the newly opened Egyptian restaurant in London's Kensington Church Street, has installed tailor-made versions of Kolarz's Twister chandelier lights in its beautiful five star-reviewed restaurant.
The multi award winning international interior design team of Dorin & Coppel chose to work with KOLARZ® after a visit to the Austrian showrooms. The designer saw the lights with the original ceramic roses but at KOLARZ's suggestion used pointed oval shaped Swarovski crystals throughout the chandeliers to add glamour and drama.
"We love the fact that the lights are tailor made and there is nothing like these lights elsewhere in London. This is the client's flagship restaurant, and they really to make an impact with the décor. It's clear from the feedback that we've achieved this and a big part of it is the lights", says Christian Dorin of Dorin & Coppel.
The designers have made the lights one of the main design features of this two floor restaurant, and in the intimate ground floor space the designers have hung them at different heights over the tables, this cleverly adds interest and increases impact. The golden colour and glow from the crystals of these intricate and ornate lights add ambience and warmth.
Strategically placed mirrors throughout reflect the lights so that from any position you might see up to eight chandeliers reflected in the mirrors, making the room look like it is lit by many more than the three lights actually hanging over the tables.
"We played with the height of the lights; the one at the back is low over the table and the middle at medium height and the front higher. We really maximised all we could do with the mirrors and put a lot of thought into the decision about where we placed the lights to enhance the decor. Each table has its own chandelier, making the interior glamourous and intimate at the same time, especially at the back of the restaurant", says Dorin.
Time Out Magazine also commented on the lights in its review of Aladino's which serves Modern Alexandrian Cuisine and described them as "intricate and glamourous".
"It's been great working on this project with such a highly talented team of designers. They really have used the lights to stunning effect, by making them a feature and ingeniously using the mirrors to increase the impact of lights they have created an inviting and sophisticated space", says Kristina Griffith, Managing Director of Kolarz-UK.com.
Ends
Please also visit our Pinterest site to see more KOLARZ® lights.
https://www.pinterest.com/Kolarzlighting/
For stockists call: Susan Hestbech on 01483 726052 extention 1