zeo announces major re-launch supported by multi-layered brand campaign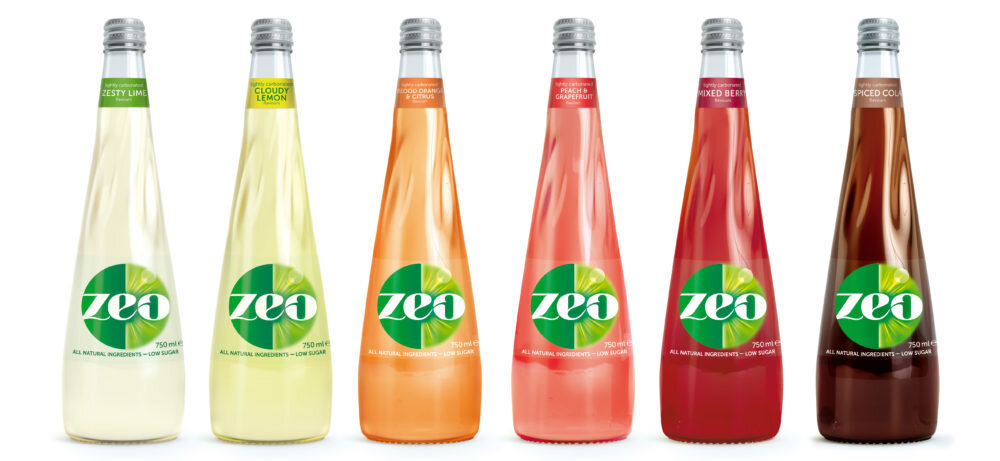 Premium soft drinks brand zeo is undergoing a 360° major brand re-positioning and re-launch this April 2015 which will see the low sugar drink embrace a brand new look with six exciting new flavours, shifting the brand's target focus from premium carbonated soft drink consumers to light-to-medium carbonated soft drink consumers.
A complete new range of six lightly carbonated, low sugar flavours is set to launch with a sleek glass bottle and brand new Masterbrand signature green logo depicting the brand's natural identity, available in 275ml and 750ml variants:
The all-new zeo collection:
Peach & Grapefruit (275ml bottle; 275ml bottle 4x pack; 750ml bottle)
Zesty Lime (275ml bottle; 275ml bottle 4x pack; 750ml bottle)
Blood Orange & Citrus (275ml bottle; 750ml bottle)
Mixed Berry (275ml bottle; 750ml bottle)
Cloudy Lemonade (275ml bottle)
Spiced Cola (275ml bottle)
In line with consumer demand and mainstream health trends, zeo aims to challenge the conventional soft drinks market and change the way consumers think about soft drinks. The new range contains just 30kcals per 275ml bottle allowing consumers to enjoy the taste without the guilt.
zeo expertly blends natural stevia from South America with pure cane sugar which forms the base of its natural sweetness.   Its impressive low sugar content will categorise the soft drink as an FSA green traffic light with only 2.2g of sugar per 100ml – a considerable amount less when compared to other soft drinks such as coconut water (5g of sugar per 100ml), Coca Cola Life (6.8g of sugar per 100ml) and This Water (10g of sugar per 100ml).
The refreshingly crisp flavour range has been created at zeo's own flavour house in Holland, where the highly experienced team specialise in producing sweet and natural flavours. The flavour house only uses naturally sourced ingredients for zeo and has spent over five years perfecting its secret combination of 32 fruits and botanicals which form the basis of every drink. The flavours are crafted in small batches, distilled and blended with mineral-rich spring water from the heart of England. Even zeo's bright shimmering colours are extracted from nature. Meticulous planning has gone into creating the six new flavours, to ensure the perfect low-sugar, crisp, dry and ultimately great taste.
Initial listings for the new range have already been confirmed nationwide with Tesco, Co-op, WHSmith, Ocado and One Stop, with the new zeo Peach & Grapefruit being championed as the hero flavour along with Zesty Lime. Other new SKUs include Blood Orange & Citrus and Mixed Berry, with zeo launching Cloudy Lemonade and Spiced Cola later in 2015.
zeo's Marketing Director Ian Greengrass comments: "At zeo we are committed to producing a unique, exciting soft drink that not only satisfies consumer demand but also really challenges the category and conventional soft drink norms. We know that soft drink lovers today are savvy and actively seeking out low sugar alternatives to the soft drink selection typically available on the supermarket shelf. Our ultimate goal is to make it the new standard in carbonated soft drinks.
We've listened to our audience and are proud to reveal a new flavour range which not only tastes great, but also contains just 30kcals per 275ml bottle. Retail stockists confirmed include Tesco and Co-op and we look forward to securing further listings post re-launch and as we further grow and develop the range."
The major multi-layered interagency brand campaign will see six agencies working collaboratively across branding (1HQ), media (Blue 449), consumer and trade PR (See.Saw Communications), social media (Born Social), digital strategy (Alchemy Digital) and promotional staffing (Ambient) for a cohesive ten month campaign centralising around the 'release your brighter side' strapline. The agencies will also collectively support further limited edition flavour launches throughout the year for charitable initiatives and selected brand partnerships which all fall within zeo's three consumer focus points: wellness, food and fashion.