The Bingham's rising talent enhances a reputation for accessible well-being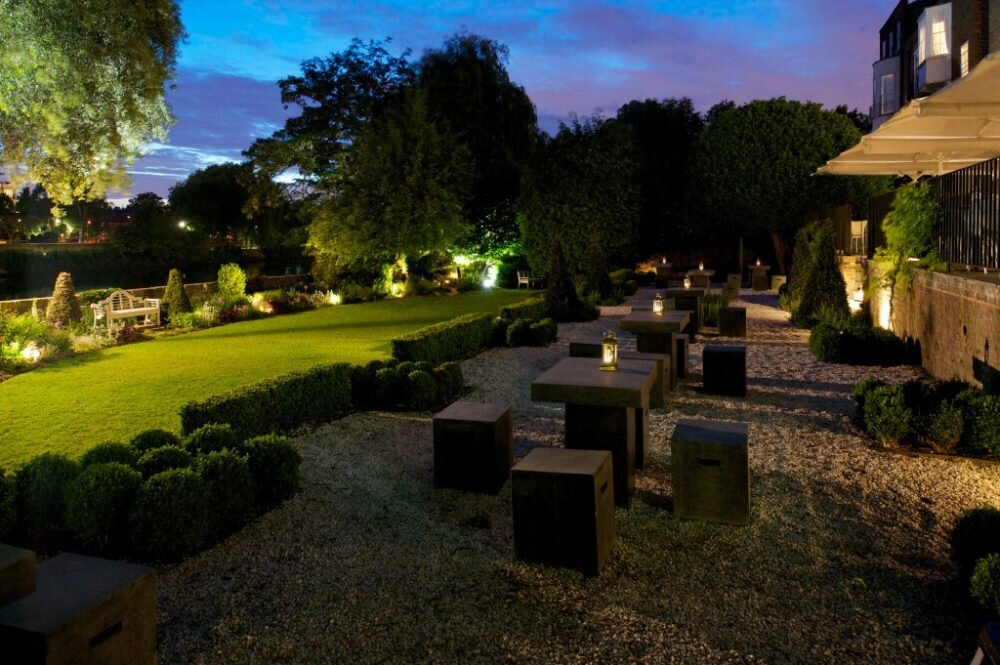 The Bingham — one of London's most elegant, tranquil riverside 'restaurants with rooms' — expands its offering of accessible relaxation to a growing family of leisure, business and wedding guests with a new menu from incoming Head Chef Andrew Cole, plus a raft of special events.
A rising young talent in the Bingham team, Andrew brings a special holistic focus to the hotel's kitchen. His newly-created dishes emphasise natural flavours, freshly-sourced quality ingredients and subtle simplicity.  Andrew's arrival also hails the return of the Binghams's renowned Market Lunch Menu at just £15 for 2-courses and £20.00 for 3-courses.
"Health-consciousness and a memorable dining experience needn't work against one another," he says. "The most interesting ideas come when they work together. At The Bingham we're creating a menu where our guests can indulge themselves and come away feeling healthy as well as relaxed."
Mixing tradition with invention, Andrew's new menu includes beef rump with salt-baked celeriac, fillet of lemon sole seasoned with natural sea salt from a garnish of seaweed and mussels, an effortlessly beautiful butternut squash creme brûlée, and other Modern British innovations. And the Bingham's distinctive standards of warm personal service complete a memorable dining experience. "Good service changes the taste of the food," says General Manager Erick Kervaon . "It is every bit as important as the menu."
This attention to detail complements The Bingham's continuing focus on personal harmony and wellness, from the hotel's contemporary yet welcoming bedrooms, restaurants and meeting facilities to its program of events for mind and body.
Every month, well-known yoga teachers (including Stuart Gilchrist) lead a unique two-hour Yoga Supper featuring meditation and an organic, vegan dinner. The Bingham's regular series of Love Lunch events showcases inspirational speakers — including  celebrity make-up artist Sarah Jagger and TV presenter Linda Duberley
The hotel also hosts unique Wine Dinners ("a friendly dinner party where we share special wine discoveries with our guests," says Erick), new floral design workshops where guests can learn the secrets of flower arranging, and regular speakers and events during the annual Richmond Literary Festival.
The Bingham also offers health and well-being facilities to help business guests get the most from their meetings and awaydays. "We want to be known for helping clients to design the best events for their own needs," says Erick, "so we've put together a new 'mindful meeting' package to help companies achieve the best atmosphere and optimum productivity. "
Low GL snacks like nuts, seeds and granola generate lasting energy levels rather than a 'sugar spike' from fatty pastries, and Neal's Yard aromatherapy oils promote optimism, vitality and focus during meetings. The hotel's high-specification technology and on-site client support team ensure that The Bingham meets business needs while creating a supportive environment for discussion and innovation.
"Wellness is increasingly important in everything we do," explains The Bingham's visionary owner Samantha Trinder, who transformed this Georgian listed building into a secluded getaway for Londoners and a hub for the Richmond community. "Our guests are looking for healthier ways of living. Wellness should be fun and accessible, and we want The Bingham to be a place where you'll feel relaxed and welcome — but above all, happy."
Also joining The Bingham is new Restaurant Manager Ricardo Barros, formerly senior head waiter at London's renowned Ritz hotel, who brings 12 years experience in fine dining and high-end service at venues across France, Spain, Portugal and the UK. Ricardo is inspired by The Bingham's unique family ethos to combine the highest standards of hospitality with the warmth of Richmond's original boutique hotel.
"The atmosphere here is uniquely calm and peaceful," says Ricardo. "When we work in a beautiful location like this, with a soul of its own, we will always be driven to exceed our guests' expectations."
BACKGROUND
The Bingham, a beautifully restored riverside Georgian townhouse in the heart of Richmond-upon-Thames, is a chic retreat for romantic getaways. A gourmet bolt-hole for gastronomes who can enjoy the à la carte menu or sample a six course tasting menu. A great value set lunch menu is served from Monday to Saturday with a lazy Sunday lunch available until 4pm.  Award-winning Afternoon Tea is offered daily, while the Salon Bar menu is also served Monday to Saturday.
The critically acclaimed boutique hotel stands on the bank of the Thames and offers superb panoramic views across the water from its garden and terrace. It is conveniently situated within easy reach of some of London's top attractions including Hampton Court Palace, the Royal Botanic Gardens at Kew, Syon House, Ham House and Ham Polo Club.