Refreshingly delicious Tg Green Teas, the first (and only) RTD iced tea range that scores "GREEN" on all nutritional traffic lights!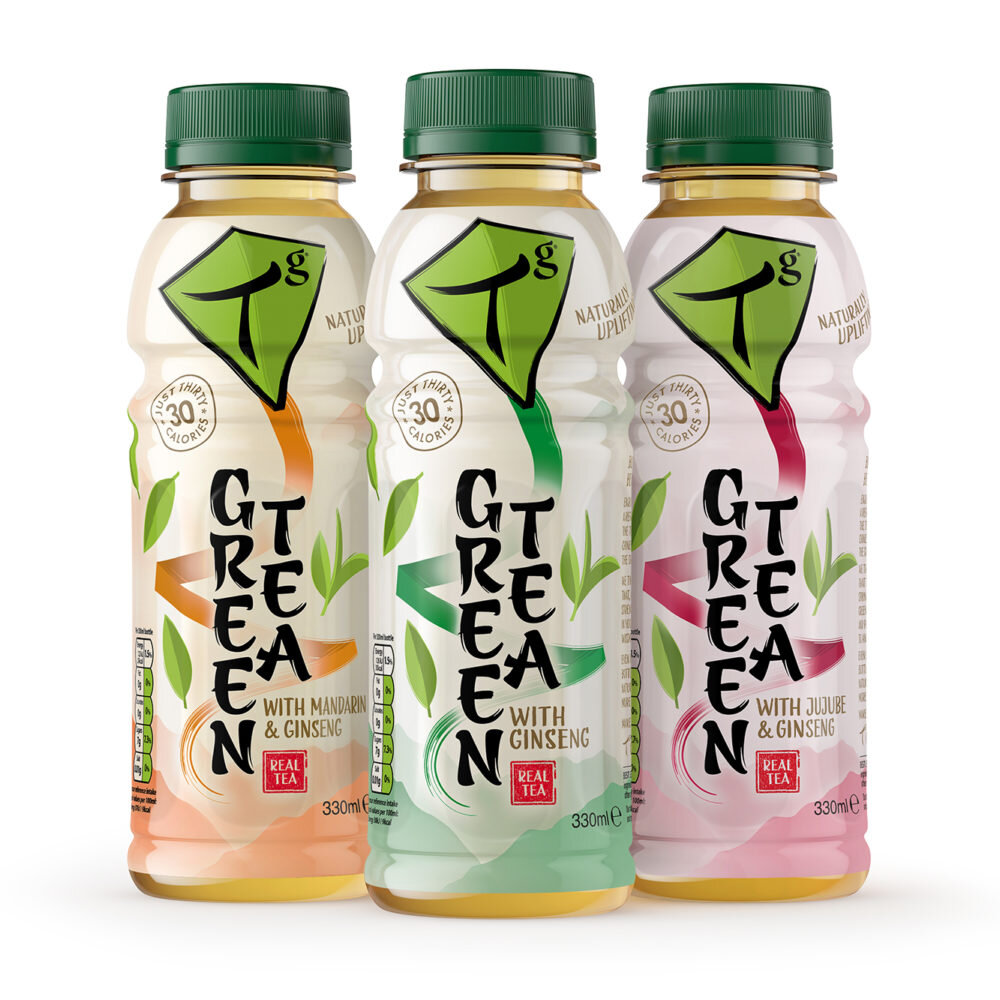 Iced teas are comin' home
Ready to drink iced tea has been the fastest growing soft drink category globally in recent years, outperforming CSDs, juices, and even bottled water. Still the UK, one of the tea drinking capitals of the world, has lagged behind this trend, mainly due to limited availability, in particular of healthier options that more closely match green tea's innate functional benefits. However, in 2014, the RTD iced tea segment seemed to have finally woken up! After all, it was a Brit, Richard Blechynden, who many say introduced iced tea to the world back in 1904. Won't it be nice if finally we could say "iced teas are comin' home"!
Tg Green Teas are here – you just have to taste to it to discover how delish it is!
Disappointed by years of ambiguous on-pack labelling and RTD iced teas loaded with calories & sugar, Dr Hua He, a qualified medical doctor, and Sophia Nadur, a former global marketer/ innovator for leading FMCG companies, jointly set about to create a special range of RTD iced teas that's high on great tasting tea and low on sugar!
The launch of Tg Green Teas (pronounced "Tea-G") will be the first of its kind here in the UK. Each 330ml PET bottle contains no more than 30 calories per bottle and 7g of sugar so GREEN on all nutritional traffic lights and about a fifth of the calories and sugar in the leading RTD iced tea brand! As the lowest calorie/sugar containing RTD iced tea range anywhere in the UK, Tg Green Teas will be a "must stock" range in the soft drinks aisle of any corporate canteen or other hospitality outlet that is serious about ensuring more "better for you" products are available for their customers.
Real tea and special ingredients….all from the Middle Kingdom!
Also great news is the fact that Tg Green Teas are made with real green tea leaves, not with added tea flavours / extracts, so folks get to enjoy a true healthier alternative. The packaging graphics also reflect the brand's inspirations i.e. ancient Chinese practices, nature's wisdom and – more unconventionally – London street art!
Each drink in the Tg Green Teas range (developed and bottled right here in the UK) is free from artificial colours, flavours, preservatives and sweeteners, and available in three refreshingly delicious blends: Green Tea with Ginseng, Green Tea with Mandarin & Ginseng, and Green Tea with Jujube & Ginseng.
All of the major ingredients – including the exciting Jujube super fruit which will be new to most UK consumers – have been carefully chosen for their long use by millions of people in the Middle Kingdom (China) for maintaining good health and vitality. RRP £1.39-£1.59.
About the Co-founders
The hot & cold ranges of Tg Green Teas were developed by Dr Hua He, a Chinese born medical doctor, and Sophia Nadur, a British marketer with global food & drink companies. This London-based beverage venture is a great example of "small can be beautiful too". Funded 100% by the two founders, the company has benefited from wonderful advice and support by GrowthAccelerator and experts within the global tea & beverage industries.
For more information about Tg Green Teas,