London Marathon Runners Get A Head Start At DUKES ST JAMES LONDON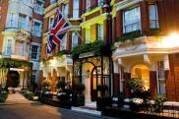 This April, DUKES ST JAMES LONDON, Mayfair's quintessentially British five-star hotel, is delighted to offer hopeful marathon runners an unbeatable London Marathon package at the exclusive nightly rate of £210 with late check out, offered at this exceptionally tempting rate for all runners putting themselves through this once in a lifetime experience from the 25th to 27th April 2015.
DUKES' central location close to the marathon finish line on Pall Mall makes it the ideal place for runners and their supporters to base themselves during this memorable occasion. Guests booking the London Marathon package can enjoy a good night's sleep the night before the big day in one of DUKES' Classic, Superior or Luxury bedrooms. As DUKES knows well, maintaining energy and stamina on the day is vital to a successful run, which is why DUKES' Executive Head Chef, Nigel Mendham, has carefully created a nutritional meal for guests to fuel up on the night before, in DUKES' signature restaurant, THIRTY SIX. This high carbohydrate meal of authentic Tortellini with goat's cheese, red pepper and pine nuts is designed to fill athletes with as much energy as possible in the run up to the event, whilst delivering Nigel Mendham's signature high quality British cuisine.
On Marathon day, runners can indulge in a hearty breakfast at DUKES, before setting off for the start line, either a 30 minute journey from nearby Green Park tube station, or a hassle free journey via private car transfer which DUKES' concierge team can arrange for guests in advance. Upon completing the 26 mile mammoth journey and reaching The Mall in Mayfair, guests can make their way back to the comfort of DUKES Hotel, just minutes away, where they can wind down with a much-deserved pampering post-run massage to ease any aches and pains following their big run, and can freshen up in their bedrooms, making the most of a late 5pm check out.
DUKES Hotel understands that taking part in the London Marathon requires tremendous effort, which is why this much-loved five-star hotel is committed to delivering budding runners with as stress free an experience as possible ahead of the big day, at the exceptional price of £210 inclusive of VAT from 25th to 27th April, including late check out!
Nightly rates for Marathon runners in a Dukes room at DUKES ST JAMES LONDON start from £210 inclusive of VAT, available from the 25th to 27th April. For more information please call 020 7491 4840 or visit www.dukeshotel.com.