First edition of PUB15 proves to be the passport to generating pub profit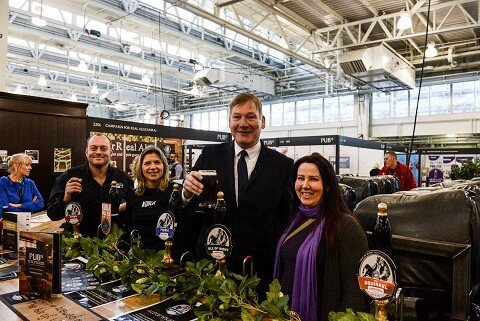 As time is called on the first PUB15, the only dedicated trade show for the UK pub industry, publicans and suppliers are already expressing delight at this new event, with its new approach to bringing together the industry, focusing on sharing ideas, experiences and knowledge.
Exhibitors and visitors have been quick to praise the show for its 'premium atmosphere', thought provoking and inspirational speaker programme, and innovation-fueled exhibitor line-up. PUB15 featured 164 suppliers from across the pub trade, specialising in everything from bar snacks, spirits, beers, wines and soft drinks, to refrigeration, EPoS, finance, marketing and training; all of whom were on hand to meet owners and operators from pubs from across the UK. Attendance was high, with 65% of those who had pre-registered visiting the two-day show, held at Olympia London on 18th and 19th February 2015.
Luke Perry, PUB15 Event Director, said: "We're elated with the response to PUB15 in its first year. The industry response has been hugely encouraging with over 3,100 visitors eager to hear and see new ideas and discover techniques and products for helping improve their pub offering and their profitability. We designed the show specifically for multi-site and independent operators, aiming to create a face-to-face networking event that would deliver tangible value. Early feedback suggests this was successful and we look forward to developing and improving our offering ready for 2016."
Speaking of his experience at the show, Guy Bostock, director of pub and bar design company Concorde BGW, said: "I was one of the first to sign up and it's been a fantastic show. I've been inundated with enquiries on the stand. I've not stopped."
Jonathan Bond, partner at Oasis interior landscaping, added: "We've had some quality enquiries and a significant booking made at the stand itself, which rarely happens at trade shows and we attend quite a few."
Profitability featured as a strong theme in the on-stage interviews and panel discussions in the 'thriving local' that was the Business Theatre. This was no better demonstrated than by headline speaker and chef-owner of acclaimed pubs The Coach and the two Michelin starred Hand and Flowers, Tom Kerridge. He relayed the triumphs and tribulations of his career in the pub business, sharing his hard-earned advice on 'DIY pub management', nurturing team talent and cheffing as a lifestyle, not a job.
"Be prepared to do everything yourself. Running a pub is a marathon, not a sprint. You're never going to make loads of money overnight and you'll never 100% please everyone all the time, so know the reason you set up in business, be happy with your own business vision and be honest to yourself and your customers will respect you for it. The 'open the doors and they will come' philosophy is long gone. You have to give people a reason to come to your pub, which means you have to be proactive and attack it," said Kerridge.
Tim Foster, co-owner of Yummy Pub Co and James Chase, marketing director at family-run vodka and gin company Chase Distillery, echoed this call for publicans to think of customer service and people as the key ingredient to building a successful pub brand, during a debate about the 'premiumisation' trend – a talking point that often revolves solely around products and price points.
"We should re-term premiumisation as personalisation. People buy people and it's amazing how many people become emotionally attached to you when you thank them for spending their money with you," said Foster, whose staff offer 'free hugs' with coffee, an ice-breaker he says never fails to 'spark banter' between bartender and customer.
Elsewhere within the show, leading beer sommelier Sophie Atherton provided publicans with barrels of advice on the best brews in the UK right now at her pint-pulling pop-up, Sophie's Bar, where old favourites met lesser-known gems from breweries including BrewDog, Goddards Brewery, St Austell Brewery, Meantime Brewing Company, Dark Star Brewing Co. and more.
Another key ingredient in the show's success, The Taste Table, sponsored by British Premium Meats, inspired attendees with live demonstrations and interactive sessions. The fully booked feature included thoughts on the margin-making potential of mocktails by Frobishers Juices, educational wine and beer tastings by leading suppliers Boutinot, plus a lesson in cocktail culture with Sipsmiths and Brakspear.
PUB16 takes place on 9th and 10th February 2016, returning to London's Olympia West.
The PUB15 team would like to thank this year's sponsors and supporters:
The AA, The AMLR, The Alchemist Collection, Beer Academy, British Beer & Pub Association, BFBi, British Hospitality Association, BII, Boutinot, British Premium Meats, CAMRA, Cask Marque, Chase Distillery, Cherrypick, CPL Training Group, Denny's Uniforms, Eat.Drink.Sleep, Elliotts, The English Panelling Company, Garden Trading, GGD, inapub, Institute of Hospitality, Irish World, Meantime Brewing Company, Oasis Interior Landscaping, One From Me, Propel, Sarah Burghard Designs, Sawday's, Sky, Springboard and Vincent and Barn.