Naturally Low Calorie Ice Tea Launches Worldwide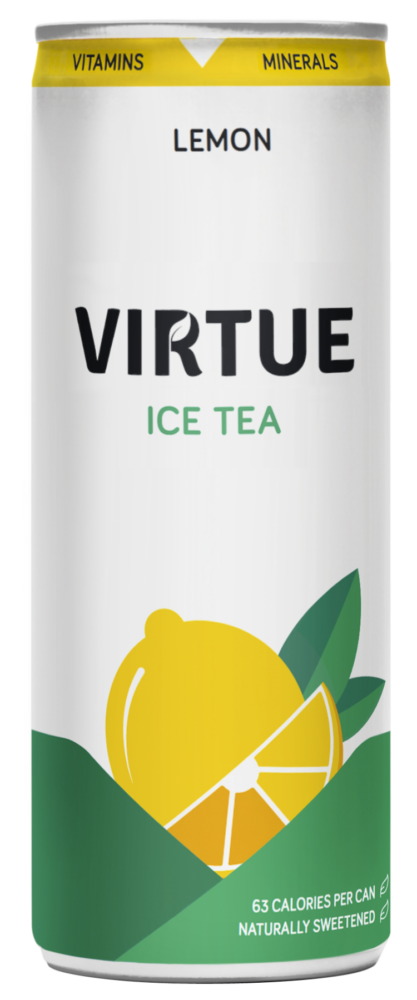 Virtue Ice Tea (www.virtuedrinks.com) is an emerging natural drinks brand with a mission: to create the UK's favourite ice tea brand.  With the aim to help Britons make healthier soft drink choices without any sacrifice on taste, Virtue is the UK's lowest calorie ice tea at only 19 calories per 100ml and the only ice tea enriched with vitamins and minerals.
From a range of two launch varieties, Lemon and Strawberry & Peach (RRP £1.35 – £1.49, 330ml can), the most popular from extensive taste tests, the ice teas are naturally low calorie, packed with antioxidants, vitamins and minerals, containing absolutely no refined sugar and no artificial ingredients. With its list of clean-label ingredients, Virtue aims to appeal to health-conscious customers looking for a refreshing alternative to fizzy drinks, sugary juices or water.
Founder, Rahi Daneshmand was inspired by his constant struggle with weight growing up, "once I lost the weight, I decided to stop drinking soft drinks altogether, as the majority do you no good whatsoever; when looking for a healthy and appealing ice tea I was surprised by the lack of options.  Most were packed with sugar, overpriced or extremely bland. I set out on a mission to improve the category in every way: taste, health, affordability & brand appeal, spending nine months developing recipes with ice tea experts and constantly testing flavours with consumers, to create the most delicious and refreshing healthy ice tea ever: Virtue Ice Tea was born!"           
Having cut his teeth in the food and drink industry, driving sales for MOMA and Danone, Rahi went on to win The Grocer's inaugural 'Top New Talent' award in November 2013, with the judges describing his ambition as "relentless".  Backed by seven private investors, Rahi projects in excess of £1m in sales for Virtue within the first two years of trading.
Rahi believes the new teas could rival the success of coconut water in terms of growth potential, "our ice teas contain fewer calories and less fruit sugars than coconut water, with far more palatable flavours".  This is something that has been reflected by Buyers globally, Rahi comments, "initial interest has been phenomenal".
The brand launched into Partridges, Revital stores and a raft of upmarket delis, cafes and health food shops across the UK, as well as online via Amazon. Virtue has also already set its sights on global expansion, exporting to the Middle East, with national UK listings confirmed for February 2015.