Sky launches free online training to keep Pubs & Clubs ahead of the game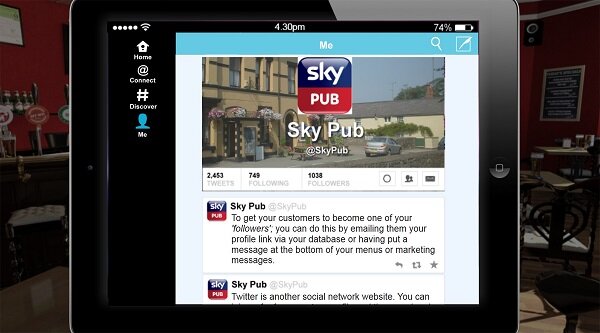 As part of Sky's ongoing commitment to bolstering its unrivalled collection of free support products and services to help licensees drive full value from  their Sky subscription, the company has launched 'Making the Most of Sport' – a free training course for pubs and clubs.
Developed in association with CPL Training Group, this engaging and interactive course is available online at www.previewlive.co.uk/training and is full of value-driving practical advice and support. It will help pub/club operators and their staff to stay ahead of the game when it comes to attracting footfall, maximising customer spend and increasing dwell time.
Making the Most of Sport
Users receive a video welcome from Jim White, Sky Sports News presenter, who introduces the three course modules – 'On Your Marks' (how to plan events), 'Get Set' (how to effectively market events) and 'Go' (how to execute well on the day). The course will keep learners entertained as they navigate their way through the modules with interactive features, including one part set in the studio of Saturday Night Football, and frequent quizzes to get them match-ready for their knowledge test at the end.
Business building best-practice advice
Licensees and their staff can expect to walk away with business building best-practice advice for planning and marketing sporting occasions, as well as guidance around running events on the day and how to make full use of all the free support tools Sky makes available to them. The training is ideal for anyone looking to drive a real difference for their business, including landlords and bar staff who are new to promoting live sport in their venues, or more experienced operators looking for fresh ideas and assurance that they are marketing their sports offering in the best way.
Key profit driver for pubs and clubs
David Rey, Managing Director for Sky Business, says: "Live sport is a key profit driver for pubs and clubs and licensees who get it right can turn their venue into 'the' place to watch live sport to drive some big returns. 'Making the Most of Sport' joins our unrivalled range of free products and support tools that drive value for licensees and serves as yet another example of our ongoing pledge to help operators make the most of their Sky Sports subscription."
'Making the Most of Sport' joins Sky's existing range of value-driving products and support tools, which include free Sky WiFi, multiple viewing cards, Sky Sports Preview Magazine and inclusion on Sky Sports Pub Finder. Sky customers also benefit from free access to the Sky Sports PreviewLIVE website, which offers free customisable branded POS, fixture posters, daily fixture updates and a weekly planner, as well as regular competitions and consumer promotions.
 'Making the Most of Sport' is powered by CPL Training Group, an international online and personal training company with a background in developing a range of licensed retail and hospitality qualifications.
To sign up, Sky customers can visit www.previewlive.co.uk/training. Existing users should log in using their PreviewLive credentials.
About Sky Business
Sky Business is the business-to-business division of Sky, the UK and Ireland's leading entertainment and Communications Company. Sky Business provides commercial customers in the UK and Ireland with comprehensive multichannel television services across a wide variety of businesses. These include pubs, sports clubs, bookmakers, hotels, offices, gyms, shops, care homes, golf clubs and oil rigs.