The 'Pairings of Perfection' campaign offers expertly chosen sake recommendations to be enjoyed with delicious seafood dishes at select restaurants
● The campaign launches on World Sake Day (October 1st) and will be available for diners
to experience throughout the month of October
● In partnership with renowned sake educator and WSET (Wine and Spirit Education
Trust) Sake Qualification Manager, Natsuki Kikuya, restaurants such as The Humble Chicken, Roketsu, and Killiecrankie House have curated the perfect sake pairings for chosen items on their menus.
September 2023: In celebration of World Sake Day on October 1st, JFOODO (The Japan Food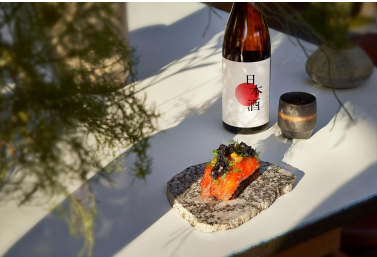 Product Overseas Promotion Center) presents 'Pairing of Perfection', part of the award-winning Sake Seafood Sensations. The campaign will select restaurants in London, Scotland Birmingham, and the Cotswolds to redefine the art of pairing sake with seafood.
While the history and taste of sake are well known to those who seek it, participating restaurants will
receive the expertise of sake educator and sommelier Natsuki Kikuya to elevate sake pairing options in some of the UK's leading restaurants.
Sommeliers in chosen restaurants such as Roketsu (London), Killiecrankie House (Scotland), Evelyn's Table (London), Pied-a-Terre (London), and The Feathered Nest Country Inn (Cotswolds) have become connoisseurs of seafood and sake pairings, but with extended training and expertise through 'Pairings of Perfection', they can ensure an elevated gastronomic sake experience for diners. The expertly curated pairings celebrate the versatility of sake's flavour while marrying its delicate notes with rich tastes of seafood.
Embarking on a mission to elevate the status of Japan's cherished native drink within the dynamic culinary landscape of London and beyond, JFOODO's 'Pairing of Perfection' campaign invites discerning diners to immerse themselves in the exquisite world of sake. This initiative, proudly supported by renowned sake distributors WSI (World Sake Imports), Tengu Sake, Tazaki Foods, and JFC, invites you to savour the harmonious nuances of sake like never before.
JFOODO is collaborating with Natsuki Kikuya, an esteemed sake sommelier and WSET (Wine and Spirit Education Trust) Sake Qualification Manager, to champion the art of sake pairing for seafood in the bustling restaurant scene. Natsuki's sake journey traces back to her family roots and truly blossomed in 2009 when she worked as the head sommelier at Zuma and ROKA.
Natsuki holds a profound knowledge and passion for sake's intricacies and aims to share her wealth of expertise to enhance culinary offerings for food and drink enthusiasts. Natsuki said "I am thrilled to collaborate with some of the UK's best restaurants to bring the JFOODO Pairings of Perfection campaign to life on 1st Oct (World Sake Day) and throughout the month of October. As a UK-based sake educator, I strongly believe sharing passion and knowledge for sake through education is the key to making this drink category closer to everyone's lifestyles, and through this campaign, I'm excited to celebrate the amazing work in the UK's food and drink industry."
ABOUT JFOODO
JFOODO (The Japan Food Product Overseas Promotion Centre) was established by the
Japanese government in 2017 as part of the Japan External Trade Organization (JETRO) with
the aim of boosting the export of Japanese agricultural, forestry, fishery and food products by
branding them and promoting them widely around the world. It aims to increase awareness and
enthusiasm around the world for top-quality Japanese food and drink products.
To find out more about JFOODO, please visit https://www.jetro.go.jp/en/jfoodo/about.html
For more information, please contact [email protected]
For more details on where you can experience 'Pairings of Perfection' please visit the microsite here.