In Sourdough September 2013, the Real Bread Campaign and Food for Life announced that caterers serving Real Bread could gain points towards their Food For Life Served Here Award and Food for Life Schools Awards.
For the past decade, this has helped to put additive-free bread on the plates of many thousands of school children, hospital patients and staff members, care home residents and many more people served each week in public and private sector eateries.
Real Bread Campaign coordinator Chris Young said: "It's great to see so many cooks, chefs and caterers show leadership around a staple of the diet by ditching additive-laden, ultra-processed industrial loaf products, in favour of delicious, nutritious Real Bread. We look forward to seeing even more people being given the chance to choose Real Bread over the next ten years and beyond."
Sophie Pritchard, Business Development Manager at Food for Life, added: "At Food for Life Served Here, we see the importance and value in Real Bread being made from a small list of ingredients and we are proud to have it as part of our Silver and Gold Food for Life Served Here Awards."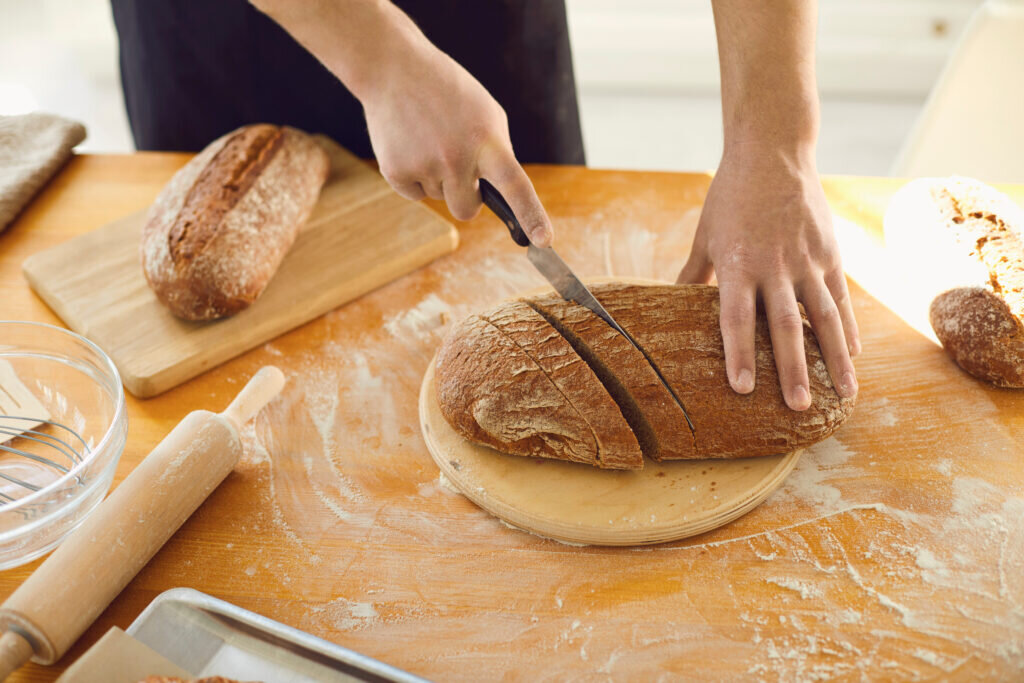 To the point
In order to gain three accreditation points towards a silver or gold FFL award, a caterer simply needs to offer Real Bread (as defined by the Campaign: made without chemical raising agents, so-called processing aids, or other additives) with each meal. The Real Bread can be made in-house or bought in.
Accessibility
Real Bread being part of meals that are subsidised, or even free at point of service, is a key element of the Real Bread Campaign's vision of everyone having the chance to choose Real Bread.
The Campaign continues exploring ways to make Real Bread accessible to more people. In August 2023, the Campaign published Real Bread For All, a free guide to help and encourage small, independent bakeries explore ways of bridging the gap between what it costs them to produce and retail Real Bread, and what people in their communities on tighter budgets can afford.
Find out more
Better bred bread
Beyond the basic Real Bread definition, the Campaign encourages all caterers to add their own criteria. These might include (but aren't limited to) one or more of the following:
The salt level should be no more than 1% and ideally at or below 0.85%, in line with the government's salt reduction targets for bread.
Plain bread should be made without the use of added fat or added sugars. This provision does not apply to any enriched breads (such as brioche, focaccia, croissants etc.) served.
A preference for wholemeal bread, or bread made with at least 50% wholemeal flour.
A preference for bread produced from wheat that has been grown and milled as locally as possible to the point of serving.
Requirement for the bread to be certified organic.
Specification of types of Real Bread that are culturally appropriate to the diners.
Requiring that some or all of the bread be genuine sourdough.
More celebrations
This month is the Soil Association's #OrganicSeptember and the 10th anniversary of the Real Bread Campaign's #SourdoughSeptember.
On 26 November 2023, the Real Bread Campaign will mark the 15th anniversary of its official launch, while 2023 is the 50th anniversary of organic certification in the UK.
The Soil Association is currently running a public consultation on potential changes to its Food for Life Served Here catering award standards. This consultation runs until Monday 13 November 2023.