Ballantine's pays tribute to music legends, Queen, by putting a rock 'n' roll twist on its world-renowned Finest bottle, for a highly collectible design.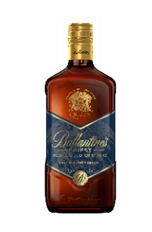 Ballantine's, the world's second largest Scotch whisky, has introduced its new True Music Icons Collection, a tribute to the world's Finest music artists, including legendary British band, Queen.
Ballantine's rich heritage and history within music through its True Music platform has positioned it as perfectly placed for celebrating timeless music artists and bands. With Queen's unwavering commitment to staying true to their roots aligning with Ballantine's ethos of celebrating self-expression, it was a natural fit for the Scotch whisky to pay tribute to this iconic band.
The True Music Icons Collection honours artists and bands that have not only contributed to music culture, but have helped define it. Queen, regarded as one of the most legendary bands of all time, have sold over 300 million records, earning them the love of millions of fans around the world.
The Ballantine's True Music Icons Queen bottle features the unmistakable crest designed by Freddie Mercury, adorning the band's iconic Greatest Hits II album cover, creating a highly collectible design that pays homage to the band's enduring legacy and artistic vision.
Chivas Brothers' Global Marketing Director for Ballantine's, Mathieu Deslandes, commented: "Ballantine's has a storied history within music, via our True Music platform, and through this collection, the finest rockstars meet the Finest whisky. We can't wait for this collectible design to roll and see it rocking shelves around the world. Ballantine's has always been behind those who do things their own way – and Queen perfectly embodies this attitude with their unparalleled music and distinctive style which has been the enduring soul of the band over the past few decades."
The Ballantine's True Music Icons Queen bottles will be available in limited quantities in selected markets around the world, and globally on www.thewhiskyexchange.com from 18 September. 
For more information on the Ballantine's x Queen collaboration visit ballantines.com or follow @Ballantines on social media.