COYA, the immersive Latin American luxury lifestyle group, has today launched the world's first bottled Passion Fruit Pisco infusion, COYA Macerado. Now available to buy
in the UK from Amathus, priced at £41.50, the blend is laced with fruity, floral notes, infused with an authentic passion fruit pulp to offer an honest Pisco full of fragrant flavour.
Crafted in collaboration with Pisco 1615 – the brand's long term distillery partner – the COYA Macerado offers a new and unique take on the original Pisco. Delivering a delicate
freshness, this global first is an exciting addition to COYA's already diverse selection of cocktails and infused Pisco blends, allowing bartenders to re-think classics and for fans
of COYA to re-create their favourite cocktail experience at home.
After celebrating its 10th anniversary last year, COYA has grown to become synonymous with unique, handcrafted pisco infusions and creative cocktails. While some cocktails have been carefully curated for each COYA location around the globe, their passion fruit pisco sour continues to remain the most popular on the menu. It was this discovery along with Peru being the world's top exporter of maracuya – or passion fruit – that prompted COYA to collaborate with their lifelong partners Pisco 1615 to produce a first-of-its kind pisco infusion in a passion fruit flavor.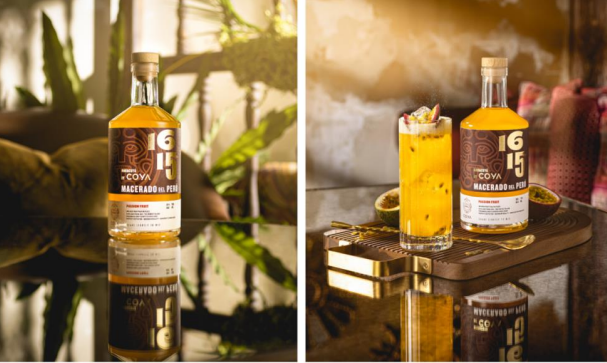 After a trip to Peru, COYA's Corporate Bar Manager, Sany Bacsi and Bar Managers from each COYA venue worked alongside the 1615 Pisco team to take part in several taste
tests during the yearly harvest – the Vendimia, where ripe grapes are picked for Pisco production. Sany Bacsi comments "we're so proud to have created the world's first
bottled infused Pisco, celebrating our signature and most popular homemade infusion – passion fruit. Working alongside 1615's master distiller we have brought a new level of
attention to the entire pisco category and the COYA 1615 Macerado is something that no other pisco brand has achieved – a perfectly balanced macerado, bottled and available to
purchase globally"
Raul Otero Roose of 1615 Distillery adds "the COYA 1615 Macerado not only marks a world first, but also celebrates our 10 year partnership with COYA. The launch of the
Macerado flawlessly encompasses what we both stand for – innovation, quality and surprise and we can't wait to see what's next.
A first for the industry, the new product allows fans of COYA and the Pisco category itself, to re-create the legendary Pisco Sour or a Chilcano at home, bringing a slice of the famous COYA Pisco Bar experience to their dining rooms. Bartenders around the world can also purchase the innovative product, allowing them to re-think their classics and create high quality, passion fruit cocktails without the need for purees or sugary liqueurs.
"Creating a Macerado seemed like a natural next step for COYA" says Yannis Stanisere, COYA Global COO "after launching COYA MUSIC, our in-house record label and the recent
launch of our ultra-lounge 'chanca by COYA' the Macerado reaffirms our positioning as a luxury lifestyle brand"
The new COYA 1615 Macerado is available for guests to try at all Coya venues including COYA Mayfair and COYA City as well as restaurants in Dubai, Abu Dhabi, Marbella,
Barcelona, Monaco, Paris, and Mykonos. The new blend is available to purchase now from Amathus.The Pisco Infusion is available to buy from Amathus, priced at £41.50.
To learn more about COYA, visit coyarestaurant.com