New PEPPADEW® Bites – The Ultimate Bite to Pep Up Menus & Profits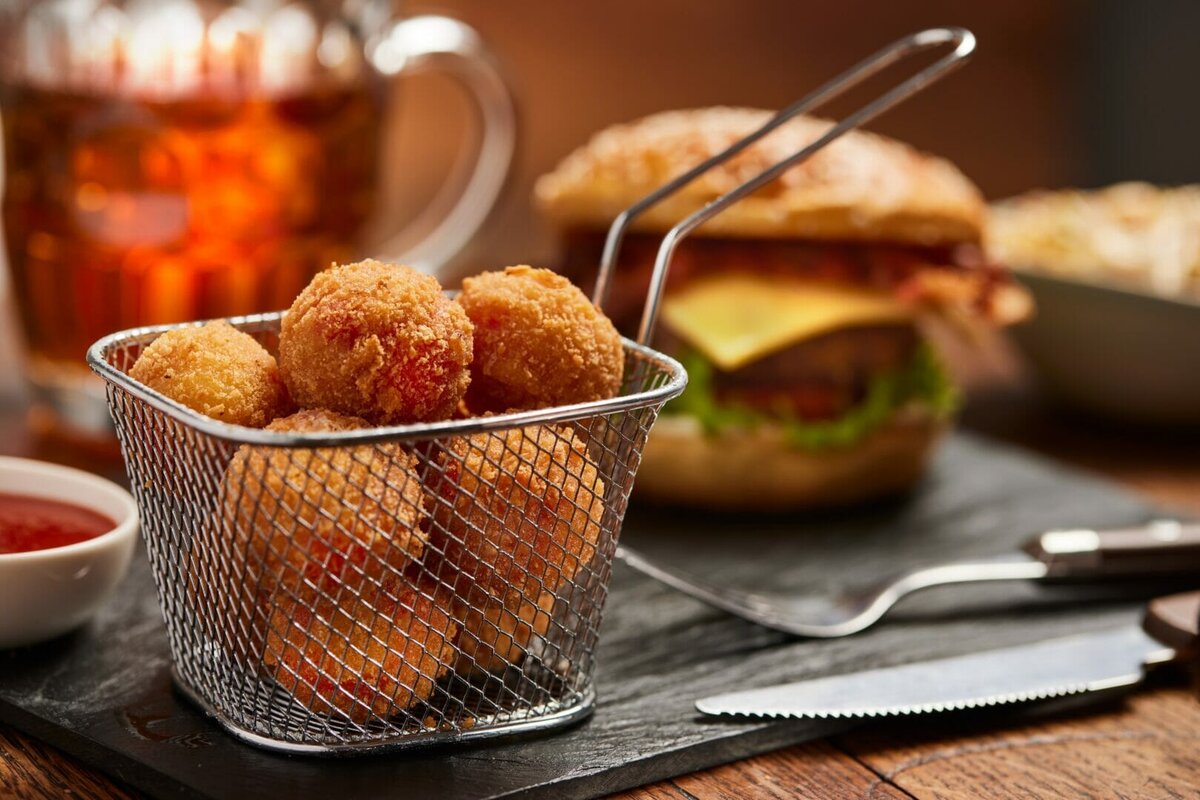 PEPPADEW® – the UK's No. 1 pepper brand[i] – has launched new PEPPADEW® Bites, a premium branded bite exclusively available for foodservice.
With 9/10 consumers looking to treat themselves when eating out[ii] and 87% of consumers saying they'd order new PEPPADEW® Bites[iii], this latest innovation from Peppadew® is set to take menus by storm. Made in the UK in their AA BRC accredited facility, these delicious new added-value bites balance the sweet, tangy flavour of their signature whole Piquanté Pepper, with a smooth, sumptuous West Country Soft Cheese filling, all coated in a crisp, panko-style crumb.
100% vegetarian, they meet the demand for tasty flexitarian options, as consumers continue to move away from meat[iv]. The ultimate in versatility, they're perfect for starters, sides, small plates/tapas, bar bites, or as an addition to sharing-platters. Not only that, they also come conveniently frozen and can be ready in 3-4 minutes straight from the fryer, making them the quick and simple way to pep up your menu.
Crucially, these delicious bites also offer an easy way to drive margin, as over half of consumers would pay more for PEPPADEW® Bites, than jalapeno poppersii, with each 5kg case serving up a substantial £200 return[v]. Whilst their frozen format, 18-month long shelf life and versatility help minimise waste, making them a sustainable and cost-effective choice.
Speaking about the branded PEPPADEW® innovation, Lukasz Lubasinski, Commercial Director, PEPPACO Ltd. said:
"Now more than ever every part of your menu needs to taste great, work hard and most importantly drive spend and margin. PEPPADEW® Bites is an exciting, flexible and premium new product that works across a range of eating and drinking occasions as well as major trends[vi] – from indulgence and meat-free to sustainability.
"Consumers love the PEPPADEW brand, indeed our consumer research has shown that 66% of consumers would be more likely to order if they saw the PEPPADEW® brand on menu. So operators can take advantage of our brand profile and number one status to premiumise their menu with a quality product that works on a practical and commercial level."
PEPPADEW® Bites are now available through leading wholesalers including Bidfood, Booker and KFF.
Visit www.peppadewfoodservice.co.uk for more inspiration and information.
Try PEPPADEW® Bites for Yourself This March!
This month the PEPPADEW® team will be showcasing new PEPPADEW® Bites at several foodservice events around the UK. Including the Northern Bar & Restaurant Show (14th-15th), Bidfood Big Food & Drink Show – Lee Mills (15th), HRC 2023, Excel London (20th-22nd) and the Confex Trade Show (23rd). Giving you the chance to try PEPPADEW® Bites for yourself and find out how they can pep up your menus.
PEPPADEW® Background
PEPPADEW® International has been the trusted global supplier to retailers and foodservice operators for over 25 years, in 25 countries. Famed for their sweet Piquanté Peppers, PEPPADEW® maintains a first-to-market approach with exclusive and unique offerings, including the Sweet GOLDEW® Peppers, PEPPADEW® Whole Sweet Piquanté Peppers and now the new PEPPADEW® Bites.
To find out more visit www.peppadewfoodservice.co.uk
---
[i] IRI SIG Grocery Olives and Antipasti MAT 18/06/22
[ii] Independent Toluna Insight with 1,000 UK consumers, March 2022
[iii] Independent Toluna Insight with 1,000 UK consumers, March 2022
[iv] Ecosia Research
[v] Based on £60.99/5kg purchase price & £6.99 recommended menu price per 6 Bite portion
[vi] Lumina Intelligence 2021 – PEPPADEW® Bites align to 5 out of the 8 Lumina Intelligence Consumer Megatrends – indulgence, value scrutiny, quality led, sustainability and customisation