FAT WALRUS PUB x WHOLE BEAST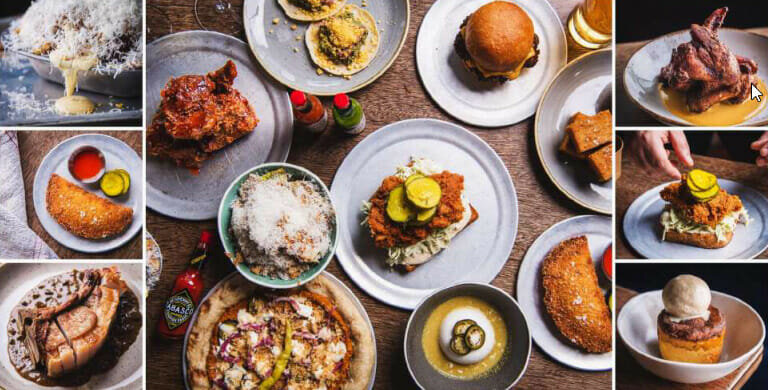 Chefs Sam and Alicja Bryant find a home for Whole Beast in South East London
After a series of pop-ups, The Fat Walrus pub and the nose-to-tail concept, Whole Beast, have officially joined forces, delivering great quality food cooked over fire at New Cross' favourite pub. Expect a weekday menu that celebrates British produce, alongside a cracking Sunday roast and a classic cocktail list.
Chefs Sam and Alicja Bryant are best known for their time opening Coal Rooms in Peckham, and now, returning to South London, the pair are "breaking down carcasses and loading the smokers in the garden" with an imaginative menu that encapsulates the very best in live fire cooking with top quality ingredients.
The concept's new home, The Fat Walrus, opened its doors in 2016 and, thanks to its friendly atmosphere and loveable resident dog, Trouble, has become a firm favourite with the locals of New Cross and South East London. The pub's outside BBQ and charcoal grill are taken full advantage of by Sam and Alicja while inside, the pub's comfy booths and leather seating provide a cosy atmosphere for diners. The pub also has an impressive beer garden that will host BBQs and al fresco dining in the summer months.
Sample dishes
St John Sourdough, smalec, bread & butter pickles
St John Sourdough, imperial stout molasses & rapeseed oil
–
Hash browns, whipped cod's roe
Smoked chicken wings, coronation sauce
Green chorizo tacos, crackling, pink pickled onion
Burrata, kosho
Oxford Sandy ham, mushroom, mozzarella & smoked garlic, crispy pancake, hot sauce
–
Smoked pork shoulder scrumpet, wow-wow sauce
Nashville hot fried chicken, comeback sauce, ranch slaw, bread & butter pickles, chicken fat fried potato
loaf
Aged cheeseburger, burger sauce, diced white onion, bread & butter pickles, potato bun
Ironbark pumpkin mole, flatbread, Rosary goats cheese, pickled chillies, lemon miso buttermilk dressing
–
Romaine & gem lettuce, umami dressing, parmesan, crispy onions
Massaman potatoes
Burnt hispi cabbage, peanut & kimchi rayu
–
Tiramisu, coffee syrup, milk ice cream, Madagascan chocolate
Apple sorbet, Bison Grass vodka
There's a brand new showstopper Sunday roast in town that is bound to become a favourite with South Londoners and those travelling from afar on the lookout for a weekend treat. Choose from mains of Smoked whole chicken (for two) and Sourdough sauce; Smoked mutton shoulder; Smoked ox cheek and roast rump cap; and Coal roast vegetable plate: Ironbark pumpkin, burnt leek and celeriac – all served with burnt hispi cabbage, carrots, roast potatoes, gravy and a Yorkshire pudding. Save room for dessert with Sticky toffee pudding; beer caramel and clotted cream; Walnut Tart and milk ice cream; and Apple & Cheddar pie with cinnamon toast ice cream.
Opening times
Wednesday – Thursday (3pm-11:30pm)
Friday (3pm-12:30am)
Saturday (12pm-12:30am)
Sunday (12pm-8pm)
The Fat Walrus, 44 Lewisham Way, New Cross, SE14 6NP
0208 378 6689
Keep up-to-date with news at @fatwalruspub on Instagram and Facebook and with Sam and Alicja at
@wholebeast