CafeCulture are suppliers to the outdoor hospitality industry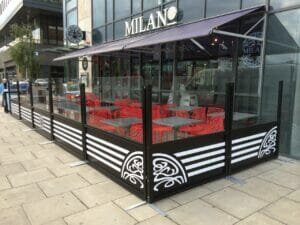 The brand is part of the JPR Graphics group established in April 2003 with a long background in corporate design and brand promotion. With workshops near Paddock Wood in Kent we operate UK wide with installations by our own highly experienced teams.
We have worked with major brands like Pizza Express, Wagamama, Relais Hotels and many independents and the person you first see will continue to be your contact and see the project though. All our staff have many years in the business, we don't believe in sending out slick salesmen to win a deal then passing it on to inexperienced members to do the work.
Site visits and surveys are free to discuss a project and make suggestions on site of what can be done and from here we can do drawings and costings all with no cost to you.
Outdoor seating areas are sometimes underrated or left neglected but have always been very important and are an important investment as they are the shop window to your business. We firmly believe that the nicer it looks on the outside the more the customers will come inside.
Open air hospitality have never been more important be it for short term use now or offering additional covers as the season progresses. A good looking al fresco area will not only enhance your visual appeal but bring more income to the business.
Planters are very popular these days and ours are made in house and we believe will be the most durable you can buy being made from waterproof, ever lasting artificial woods all built to order to fit your space. The wood looking planks are actually UK made from recycled industrial plastic waste that would otherwise have gone into landfill so carry genuine green credentials too.
When buying ready made items in we are not contracted to any one supplier and search independently worldwide, literally, for the best goods for our clients. Products are chosen for strength and longevity to last season after season rather just a base bottom price. Buy better and last longer will always be the best way to make any investment.
For an extra special look we also have our own in-house, real traditional neon sign making shop to offer the beautiful art of neon, a look unlike any other that will draw the maximum attention to your premises.
We'd love to hear from you so drop us a line at [email protected] or call us on 0800 917 5526.