READY TO 'PAR-TEA' AT FRIDAYS!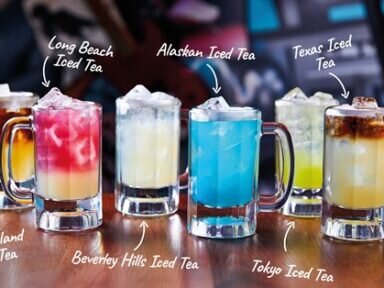 FRIDAYS LAUNCHES NEW LONG ISLAND ICED TEA BANK HOLIDAY SPECIAL MENU
28 April 2022: Fridays, part of newly listed Hostmore plc, has announced a new range of Long Island Iced Teas which will be available on every bank holiday weekend in 2022.
Rumour has it Fridays is up there as one of the original creators of first Long Island Iced Tea back in 1960s New York and our incredible bartenders have been working on developing and perfecting this classic recipe ever since.
The new range has been created so that everyone can find the perfect Long Island Iced Tea to suit their bank holiday plans throughout the spring and summer and is the perfect accompaniment to help make the long weekend even longer and celebrate the summer sunshine in style.
The new menu features six different new recipe cocktails, each inspired by different cities from across the globe. The new additions include the Texas Iced Tea with a Bourbon twist, Alaskan Iced Tea with blue curaçao, Beverly Hills Iced Tea topped with prosecco and the bright and colourful Tokyo Iced Tea with dash of Midori. Not to mention the Long Beach Iced Tea – a refreshing drink topped with cranberry juice and the classic Long Island Iced Tea, created and perfected by Fridays – the recipe you know and love!
Brendan Quinn, Head of Beverage at Fridays and creator of the range, commented: "We are really excited to be launching this new range of Long Island Iced Teas. The idea behind this new range was to celebrate the long weekend and we hope these new cocktails help to keep that Fridays feeling going, and really make the long weekends feel that little bit longer. We are really proud of what our amazing team of expert bartenders have created and cannot wait for people to try the range when it becomes available every bank holiday this year."
The Long Island Iced Tea special menu is available at Fridays:
Friday 29th April – Monday 2nd May
Thursday 2nd June – Sunday 5th June
Friday 26th August – Monday 29th August
Be sure to keep a look out for more exciting new cocktails coming soon to Fridays and our new limited edition Jubilee cocktail due to hit restaurants this June.
To keep up to date with our latest cocktail offerings this summer and full details of our new range of Long Island Iced Teas visit https://www.tgifridays.co.uk/ plus follow us at @TGIFridaysUK on social media to get that Fridays Feeling all day, every day!