EATALY LONDON CELEBRATES ITS 1ST BIRTHDAY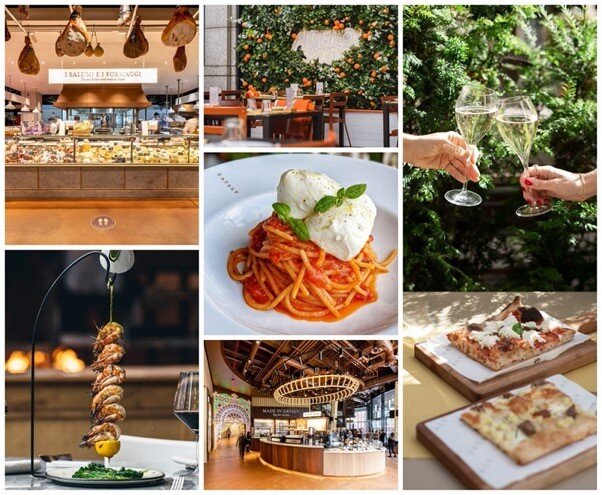 Celebrate one year of Eataly where you can eat, shop and learn with a whole host of events, classes, and special offers .
Opening its doors for the first time in April 2021, the highly anticipated Italian food hub, Eataly is delighted to be celebrating its 1 year anniversary this month. Making its way to the UK for the first time and settling next to Liverpool Street Station, Eataly is an impressive two floor food emporium. The marketplace boasts over four restaurants, a cooking school, food market with over 6,000 products from artisanal and local producers, alongside the largest selection of Italian wines outside of Italy in its winery Il Vino. As part of its 1st birthday celebrations, festivities begin with a three-day wine festival, followed by a two-week restaurant fest that will offer an array of exclusive two course set menus that start at just £19.50, plus limited-edition food and drink offerings across all restaurants. From April 22nd through to May 29th, customers will find their most loved products from the market, wine shop and fresh counters discounted by up to 50%, with special offers available both in-store and online.
In just 12 months, over 3 million guests have visited this new London hotspot, with 100,000 wine bottles, 95,000 pieces of focaccia and 30,000 units of their creamy in-house made burrata purchased, whilst at Christmas, over 21,000kg panettone graced festive tables across the country thanks to Eataly. Now, Eataly wishes to commemorate this successful first year to its valued customers.   
To kick celebrations off, customers are invited to be a part of the first birthday cake cutting, alongside a complimentary prosecco toast, available to all customers at 3pm on Friday 29th April.  Abiding to the true ethos of Eataly, guests are also invited to experience events and discounts inspired by the brands key pillars of eat, shop, and learn for the remainder of the month for a spectacular 1st Birthday celebration! 
Following the success of their Prosecco and Wine Festivals, Eataly will be hosting a three-day celebration of Italian Sparkling Wine over the May Bank Holiday weekend, from Friday 29th April to Sunday 1st May. Eataly's Italian Sparkling Wine Festival invites fizz fanatics to learn from the best, with 22 wine producers travelling from Italy especially for this unique event. Offering up to 60 different wines to choose from, guests can select either five or ten 75ml servings of wines to taste. All attendees will also receive an Eataly branded wine glass to use at the event and wine pouch to take home, making this event the ideal bank holiday treat for any wine enthusiast. Customers can purchase tickets to the wine festival online now.  
In the market, customers can enjoy a month-long birthday sale, offering up to 50% off customers most loved items from the past year at Eataly. Available in store and online from 22nd April to 29th May, discounted product highlights include spaghetti fromRigorosa, pelati tomatoes from Afeltra, taggiasca olive oil from Roi. In store, guests can find promotions from the fresh counters, such as pecorino, burratina, local ribeye and bresaola Wagyu, alongside reduced prices in Eataly's vast wine cellar, Il Vino.  
Eataly's Restaurant Fest is an opportunity to try an array of limited edition two course menus and offerings across all Eataly restaurants from Monday 2nd to Sunday 15th May. With summer of the horizon, dine on the terrace outside at Al Fresco and choose from refreshing starters such as Crispy Frisella Bread with Burrata, followed by comforting mains, from Ravioli with Aubergine to Pizza Alla Pala Diavola, all for just £19.50. Over in Pasta e Pizza, indulge in a Classic Caprese Salad before tucking into Fresh Spaghetti with Mussels and Clams for £22. In Eataly's wood-fired dining restaurant Terra, to start try the Celery, Fennel and Apple Slaw Salad then enjoy Spatchcock Barbeque Chicken for £32, whilst enjoying a glass of prosecco that is included in this unique menu. Relish in theatrics from the Gorgonzola Trolley, topping your serving with an abundance of walnuts and honey, at a special price of £5. To drink, discover premium glasses of wine from just £8 and exclusive bottles for discounted prices. Try one of Eataly's sharing cocktails such as the Rabarbaro Spritz, a joyful concoction of rose gin, pink vermouth and campari, that can be found exclusively at Pasta e Pizza.
Further birthday-exclusive offerings can be found in Eataly's cookery school, La Scuola. Two limited edition birthday classes are available during May only, which are dedicated to Eataly's most loved dishes, using the top products from the market over the past year. Learn how to master bruschetta with datterini tomatoes, followed by fresh pasta making, and finish with the true Eataly classic, Tiramisù. Tickets for this special class can be purchased now.
Key Dates
-Cutting of the cake and prosecco, available to all Eataly guests for free – 29th April, 3pm 
-Italian Sparkling Wine Festival – 29th April to 1st May 
-Eataly's Favourite Dishes at La Scuola – 27th May, 7pm 
-Birthday Sale – 22nd April to 29th May 
-Restaurant Fest – 2nd May to 15th May 
To book a table during the Restaurant Fest please visit the Eataly Website  
To book tickets for the Italian Sparkling Wine Festival visit Eventbrite