Inspired by modern living, Smeg UK releases innovative new oven accessories unlocking a host of new cooking techniques and potentials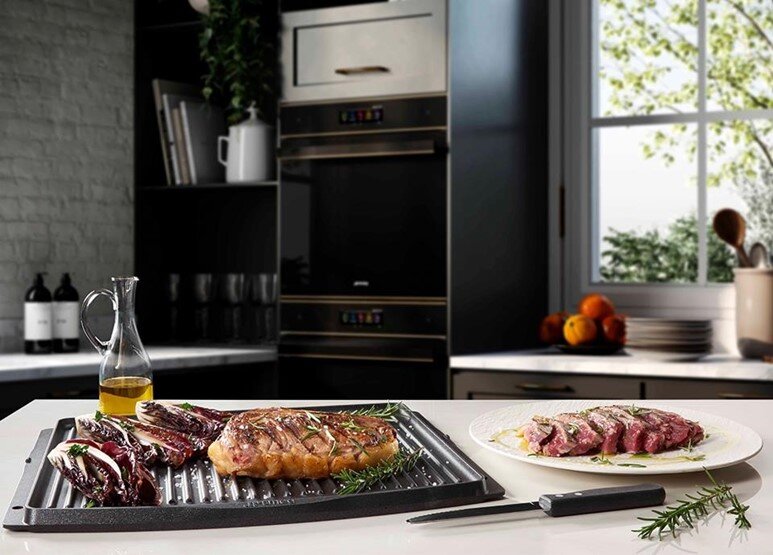 Following the highly anticipated announcement of state-of-the-art revolutionary cooking technology, Galileo, Italian appliance brand, Smeg, is pleased to announce the release of three new cutting edge oven accessories. A new double-sided BBQ plate, air fryer tray and pizza stone have been designed to fit inside any of Smeg's 60cm cavities within all built-in ovens and range cookers, amplifying their capabilities. For those who desire a more minimalistic kitchen look these products avoid the need for unsightly additional appliances that take up precious worktop space. The three accessories are the perfect solution for city living and compact kitchens alike, enabling the user to take their cooking techniques to new heights and perfect a range of delicious dishes.
An exciting new double-sided BBQ plate has been cleverly crafted so users can enjoy the taste of chargrilled cooking, and produce succulent and crispy dishes, without stepping outdoors. The ribbed side is perfect for meats and cheeses while a smooth side doubles as a teppanyaki plate, creating the ideal cooking surface for fish, seafood and chargrilled vegetables. For those who don't have the outdoor space, this product allows for that unmatched BBQ taste and cooking style. Made of Teflon coated aluminum, the plate offers an incredible non-stick surface on either side, making it perfect for chargrilling and easy cleaning. Simply wipe over the plate with a damp cloth and it is ready for its next use.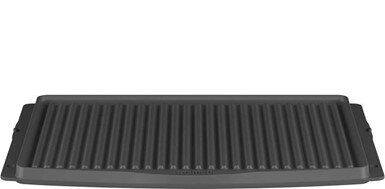 Smeg BBQ Plate, 60cm £149, available at shop.smeguk.com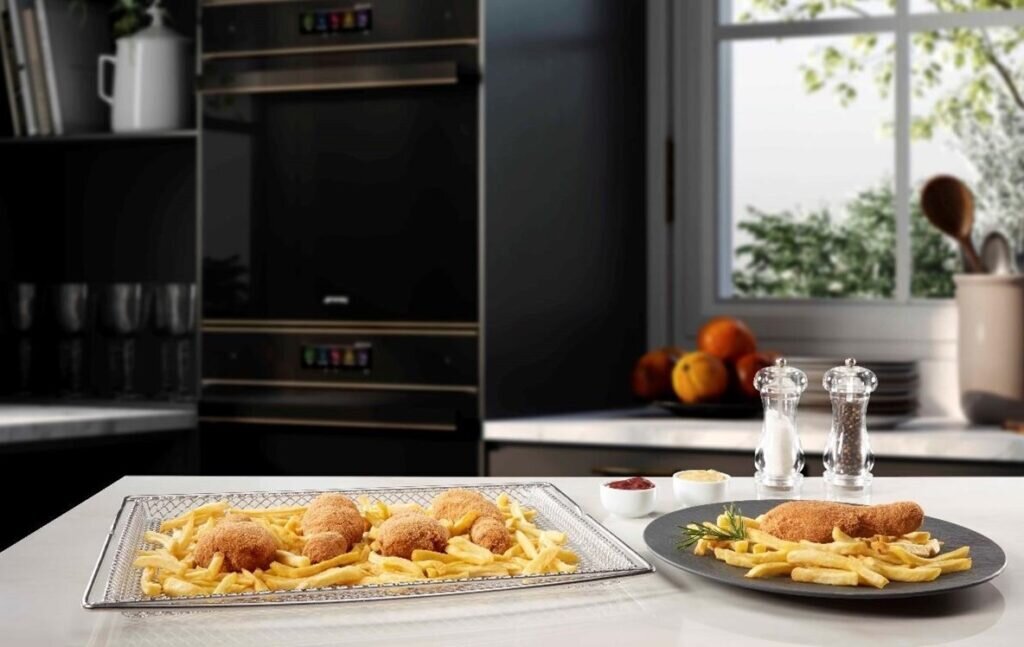 Due to its ability to recreate the crisp taste of traditional frying, but with less fat and fewer calories, the popularity of the air fryer has grown substantially. An enhanced airflow ensures perfect browning and crispness, making perfecting dishes such as tempura battered prawns, fried vegetables, and fish easier than ever. For those who don't have the worktop space available, this handy accessory sits within the oven as a shelf, yet still reaps all of a typical air fryer's benefits and enables the creation of tasty dishes. The air fryer accessory can be easily stored away, out of sight, making it a perfect option for the more style conscious. Additionally, any smells are kept inside the oven, ideal for open-plan living and entertaining.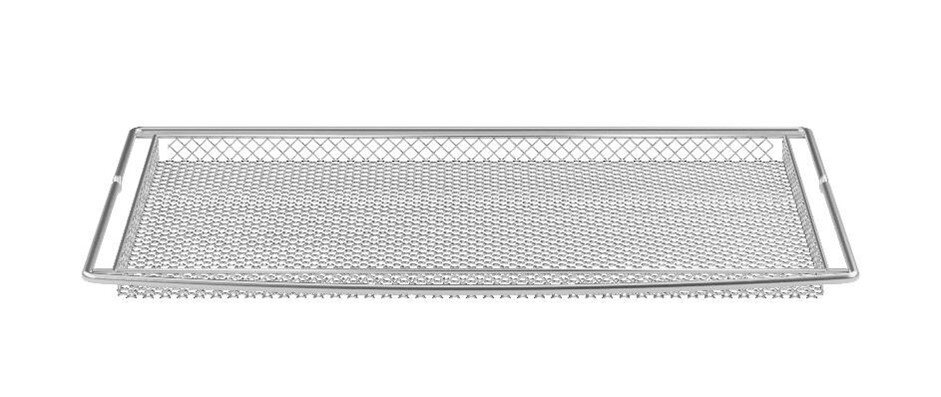 Smeg Airfryer accessory, 60cm £69, available at shop.smeguk.com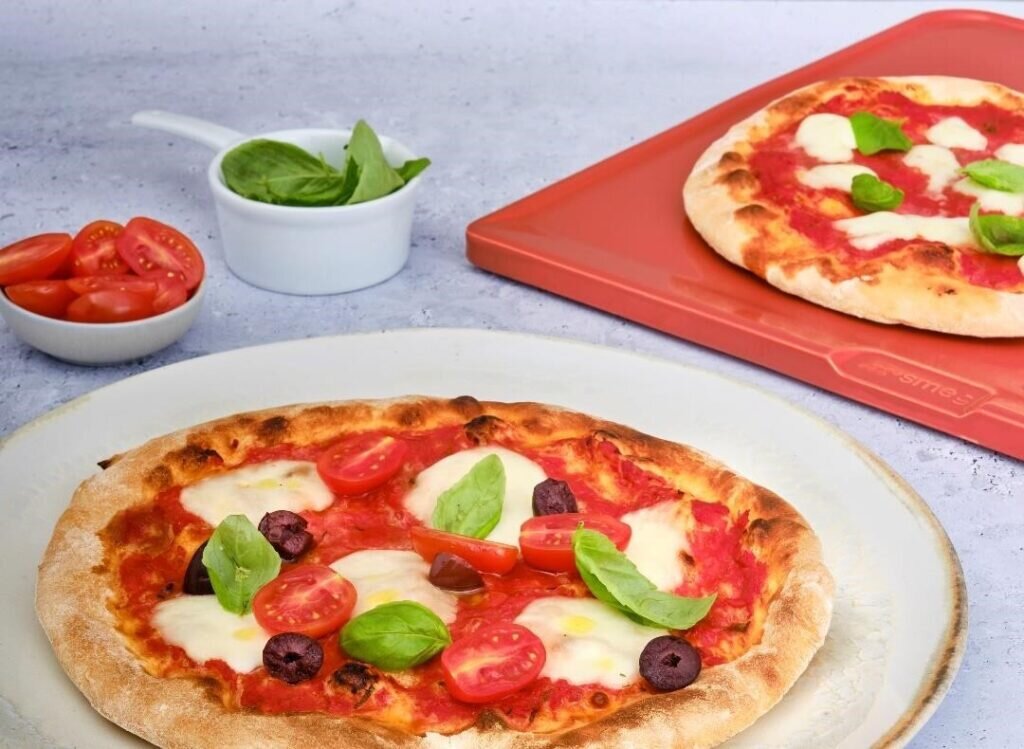 Smeg is pleased to also release a new and improved pizza stone, which allows the creation of evenly cooked pizzas in just minutes. Smeg's oven range is equipped with a system that places the heating element directly below the pizza stone, excluding the Galileo models where cooking is optimal when placed on the bottom wire rack. The pizza stone also allows for excellent results in cooking bread, pies, and flans by cooking the base thoroughly, without the need for blind baking. Made of a natural material, this large refractory stone absorbs flavors the more it is used. While the oven is pre-heating, the stone absorbs the heat and achieves temperatures over 300C, mimicking the mechanisms of a traditional Italian stone pizza oven, achieving the same delicious results from the comfort of a kitchen.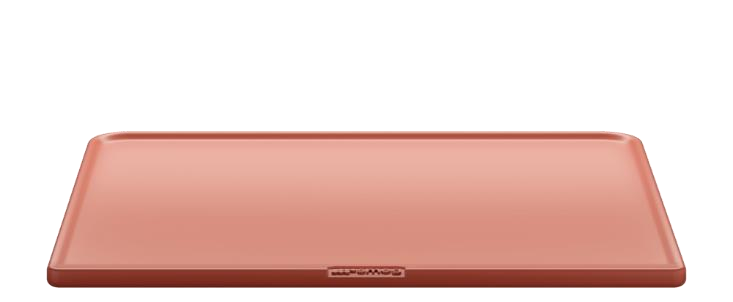 Smeg Pizza Stone, 60cm £149, available at shop.smeguk.com
Smeg's oven Airfry accessory will cost £69, the BBQ plate will cost £149 and the pizza stone will cost £149, and will be available to buy at Smeg's online shop https://shop.smeguk.com/. For further information, please head to www.smeguk.com