A Hotel Revamp: The 2022 Top Interior Design and Surface Trends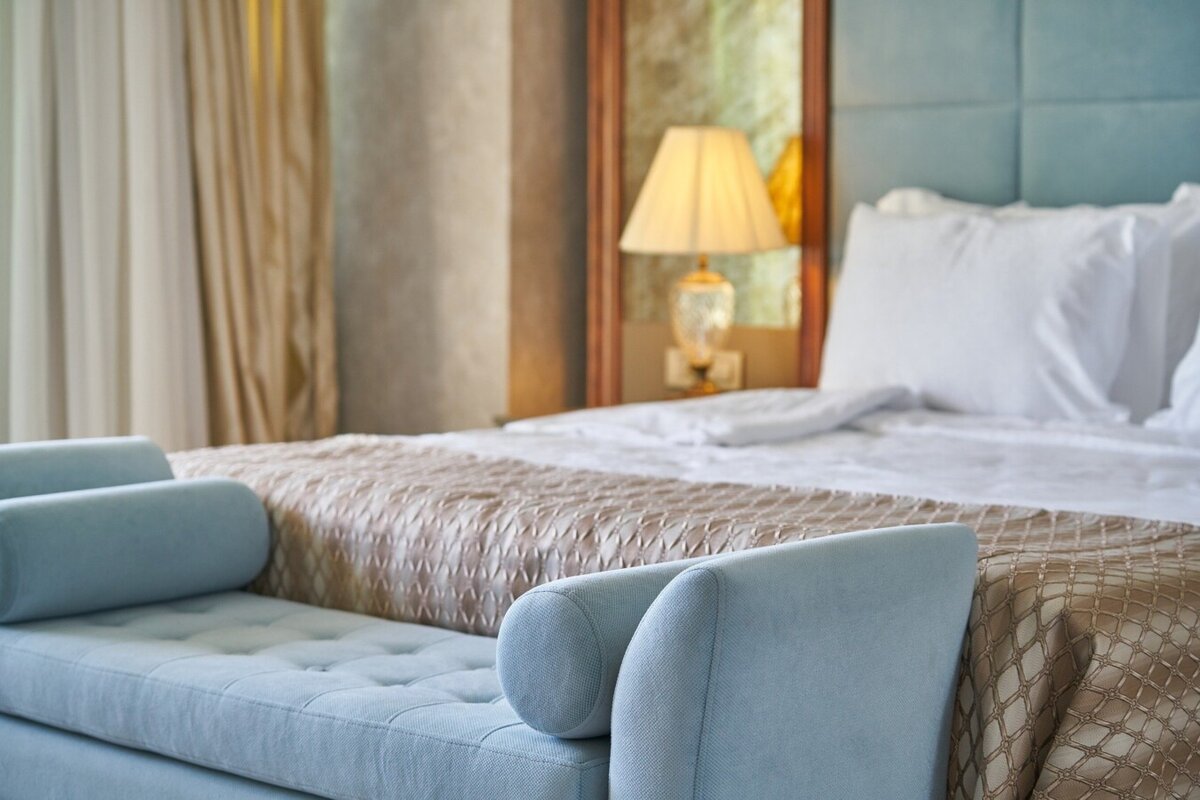 In 2022, the focus is back on hospitality. This is the year of the ultimate hotel experience that's elevated by unique interior design and surface trends. Biophilia, sustainability, homecoming, and artistry are the main themes, and it's all looking way too exciting.
Commercial outfitter Novograf shares the top interior design and surface trends that are prevailing in the hospitality sector throughout 2022. It's time for a spring hotel revamp!
Fusing biophilia with sustainability
2021 gave rise to the biophilic design, as people were longing for a deeper connection with nature. In 2022, the trend is here to stay. This design concept embraces design techniques that revive our contact with the natural world through the built environment. With sustainability in mind, we're designing spaces with= eco-friendly materials, natural textures, and lots of greenery.
Biophilia and sustainability go hand in hand. Michelle Ogundehin, a thought leader in interiors and trends, commented: "Even at the luxury end of the market, notions of repair, recycling, and re-use will predominate with the emphasis on the uniqueness of the remade product. There will be no loss of style or quality. It will be the same artisans crafting the products."
In the hospitality sector, surfaces are at the forefront, and they can significantly adhere to the biophilic design.
"Today's eco-conscious consumer is whom hotels need to cater to in 2022, and the design needs to reflect their target market's cravings for sustainability and biophilia. As a specialist in 3D surface designs, we attended this year's Surface Design Show in London and one thing became apparent: visitors were drawn to natural, uncut materials, such as our wood effect emulations. This is a simple yet effective design that perfectly matches the biophilic vibe and can easily be incorporated into any design concept," says Ross Campbell, Digital Business Development Manager at Novograf.
Cork flooring is also going to be big this year, due to its eco-credentials and natural thermal properties. Alongside surfaces, textures that come in the form of curtains, rugs, and organic bedding can also enhance the biophilic design.
One hotel that creatively incorporates the biophilic design into its living and commercial spaces is the Leman Locke hotel in East London. This is the first biophilic hotel in London that was launched on 19th October 2019 and has led by example. It features wooden flooring matched with soft, natural colours all around and lots of greenery.
Lobby with a new purpose
In 2022, we are seeing the "new normal" prevail in business ambience, and it's characterised by "bleisure". This refers to long-term business trips that fuse business with leisure and is an echo of the work-from-home model.
Wanting to extend their trips, business travellers are looking for spaces that support both their work and leisure needs. In hotels, the lobby can be that alternative office.
In order to turn the lobby into a top-notch co-working space, facilitate comfort by incorporating long tables that can be used as desks for business meetings and ergonomic furniture. Lighting is also of vital importance, so it's important to ensure that there is lots of natural light to help the guests focus, as well as tall ceilings with accessible controls.
Zoning can also help provide versatile room configurations, such as meeting rooms, media space, coffee breaks, etc. You can easily and affordably achieve that by using partitions and dividers, which are extremely convenient.
Elyza Falzon, Hilton's vice president, commented: "Locally inspired design elements such as artwork, millwork, and pops of colour are key." Add an artistic streak to your space by implementing an accent custom wall art or masterful paintings along the walls that facilitate a trendy yet cosy environment.
If you're looking for a home-away-from-home feel, the White City House hotel, located in the former BBC Television Center in London, has everything you need for your bleisure trip. It has a dedicated coworking space called Soho Works White City, which features bookable meeting rooms, a study, an area with hot desks and long tables with chairs, private phone booths, and even podcast recording equipment. The simple design fuses biophilia with accent art walls, and it's definitely worth a visit!
Welcome home
With a strong emphasis on our home environments, the welcoming home aesthetic is penetrating the hotel interior designs in 2022.
Recreating the comfort and serenity of a homely atmosphere without risking the appearance of novelty is much appreciated when designing hotel rooms. The layout needs to be expanded to feature fully equipped kitchens and bathrooms, as well as a warm colour palette and superb décor.
What guests are looking for in a bathroom is an atmosphere of wellness. Relaxation meets functionality through versatile plumbing, such as a bathtub and a shower area with a spa effect. The centrepiece of the bathroom is the tiles, so pick innovative tile designs, such as green crackled tile effect ones. To further enhance the bathroom design, match them with the décor, featuring bath rugs, vases, plants, lights, and even paintings. Technology is also important to today's consumers, so make sure to include a smart TV or a smart retro-looking shower radio.
This year presents you with the opportunity to paint the blank canvas of your hotel in all the shades of the 2022 interior design and surface trends. Make your guests feel at home and watch your business flourish!