McVITIE'S® IS GIVING AWAY THOUSANDS OF JAFFA JONUTS® AS PART OF THE NEW 'GIANT JAFFA JONUT HUNT'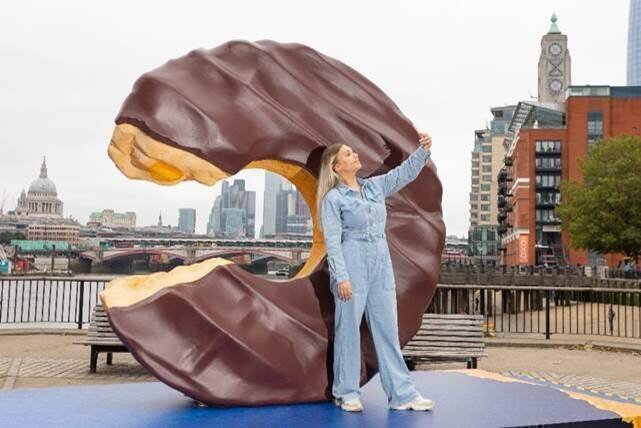 To celebrate their recently launched Jaffa Jonuts®– a delicious fusion of Jaffa Cakes and doughnuts – McVitie's® is giving away thousands of the new treats for those that spot their giant Jonut sculpture which will be hidden in three UK cities 
The cross-country Giant Jaffa Jonut Hunt kicks off today in London and then will travel to Birmingham and Cardiff in the coming weeks
Clues on the sculpture's location will be available on Jaffa Cakes social media channels to give Jaffanatics the chance of getting their hands on their free Jonuts
McVitie's are giving away thousands of free Jaffa Jonuts – the delicious new fusion between a Jaffa Cake and a doughnut – as part of the Giant Jaffa Jonut Hunt, which will take place in London, Birmingham and Cardiff over the coming weeks.
Launching today in London, Jaffanatics who can find the giant Jonut sculpture – which has been created as an exact replica of the more-ish treat – can get their hands on some free Jaffa Jonuts to enjoy.
Clues as to where to find the sculpture will be posted on Jaffa Cakes social media channels, to direct Jaffanatics to the popular location it has been hidden at in each city. In order to claim their free Jaffa Jonuts, those that succeed in spotting the giant chocolatey-cakey ring can scan the QR code on the sculpture to redeem their pack in-store*.
A unique twist on the original McVitie's Jaffa Cakes, the new Jaffa Jonuts are a combination of two snacks featuring the much-loved Jaffa Cakes' layers of crackly dark chocolate, light springy sponge and the tangy orange flavoured filling, now in a doughnut-shaped ring.
The giant sculpture of the new Jaffa Cakes snack took 4 weeks to build by a team of 10, to represent the layers of dark chocolate, sponge and orange flavoured filling similar to the edible version.
The Giant Jaffa Jonut Hunt will take place in London on 7th and 8th October, Birmingham on 9th October and Cardiff on 16th October, with clues available at @jaffacakesofficial on Instagram and @jaffacakes on Facebook and Twitter.
Sarah Babb, Marketing Manager for McVitie's Jaffa Cakes at pladis UK&I, said: "We're always looking for new ways to surprise our Jaffanatics – and what better way than gifting 1000's of Jaffa Jonuts?! We wanted to supersize the fun for fans, who we hope will like the giant version of our doughnut-fusion snack as much as we do."
Jaffa Jonuts joined the ever-growing and much-loved 'Jaffa-nation', alongside the Orange, Cherry, Passion Fruit and Blackcurrant Jaffa Cakes flavours and Jaffa Cake Bars and Mini Rolls.
Available in stores now either as an individually wrapped ring (RRP 60p) for the perfect snack on the go, or in recyclable sharing boxes of four (RRP £1.99).
For more info, visit mcvities.co.uk 
Instagram: @jaffacakesofficial 
Facebook: @jaffacakes 
Twitter: @JaffaCakes 
#GiantJaffaJonutHunt
*T&Cs available at https://go.jaffacakesplay.com/JonutsTerms