DESIGN AGENCY TONIK ASSOCIATES WINS RESTAURANT DESIGN AWARD FOR SYCAMORE VINO CUCINA RESTAURANT AT MIDDLE EIGHT HOTEL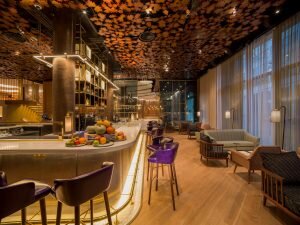 Tonik Associates, a leading London-based design agency, are thrilled to announce that they have won the Restaurant – Europe award for the design of the Sycamore Vino Cucina Restaurant, within the Middle Eight Hotel, at the International Hotel & Property Awards.
The International Hotel & Property Awards have been running for 10 years and celebrate world-class hospitality design, interior design and property design. The awards are hosted by leading interior design, architecture and property development magazine design et al.
Tonik Associates are a leading agency, helping businesses think, design and deliver – from concept through to completion and beyond. Founded over 20 years ago by Gary Marshall and joined 2 years later by co-founder Chris Harding, Tonik's multi-disciplinary offering includes interior design, strategic consultancy, brand design, concept development, build management, operational expertise and in-house marketing.
"We are thrilled to have won the restaurant in Europe award, within such a highly competitive category. To have been nominated for our designs on these two fantastic hotels was an incredible achievement and we're so delighted to have won within this category. Our designs are the fruit of years and years of working closely with the Shiva Group. We took our time understanding their goals and really embedding ourselves into their brands, and both hotels have turned out fantastically." Gary Marshall, Co-Founder of Tonik Associates
Tonik were nominated for an incredible six categories, for the work completed on two new central London hotels, Middle Eight in Holborn and The Guardsman in Westminster. The Guardsman and Middle Eight, designed and completed by Tonik Associates, both launched earlier this year and are part of the Shiva Group. The two hotels, which have very different stories to tell, were created as a result of five years of dedication by the full team at Tonik and they are delighted to have been recognised for their work through these nominations.
Middle Eight is a luxury lifestyle hotel, which has been transformed from a humble city hotel – with 12 unique suites, carved out of the windowless 1st floor space (formerly meeting rooms) to provide incredible light filled spaces via an internal courtyard. These suites complement the 168 guest bedrooms. Middle Eight is peppered with natural materials in its public spaces, including a stunning hand-crafted oak reception desk and bar ceiling sculpted from thousands of metallic sycamore leaves.
Middle Eight, 66 Great Queen Street, Covent Garden, London WC2B 5BX