30 years at Pied à Terre, a history in fine dining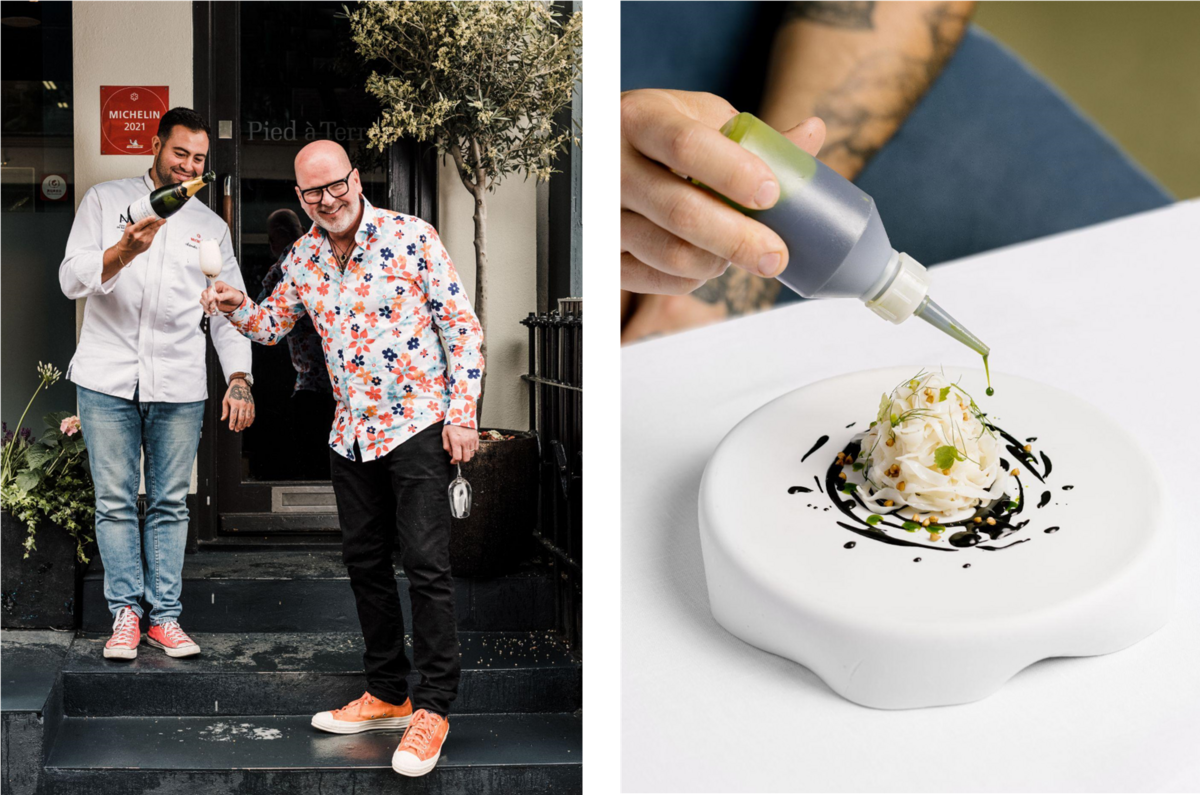 Celebratory menu brings back the best-loved dishes from over the years from some of the world's most renowned chefs including Tom Aikens and Richard Neat
On 16 December, Pied à Terre, one of London's oldest Michelin-starred restaurants, will celebrate its 30th Anniversary with historic dishes making a comeback and a limited edition memoir cookbook. Conscious of the enormous difficulties placed on his restaurant and the hospitality industry in general by Covid19 these last 18 months, the restaurant's owner and founder David Moore, saw it an opportune time to reflect on the crazy and heady experience of running a Michelin-starred restaurant in London since 1991.
Since its inception, the restaurant's evolution has tracked the changing face of haute cuisine, iconic in its food, design and hospitality. Now with Greek chef Asimakis Chaniotis at its helm, Pied à Terre's kitchen has seen some of the UK's best chef talent – Richard Neat, Tom Aikens, Shane Osborn, Marcus Eaves, Andy McFadden – cut their culinary teeth, and welcomed some of the world's best-known celebrities, including Robert De Niro, Sir Tom Jones, Tim Minchin, Pixie Lott, Jamie Cullum, Dynamo, Wham and Queen.
Greatest Hits Menu:
The restaurant will be showcasing some of the best-loved dishes from its history by serving a rotating selection of signatures each month in the lead up to the jubilee. The dishes will culminate in one ten course 'Greatest Hits' tasting menu (£130), along with a whole vacherin Mont d'Or to share and handmade petit fours, available from 30 November until Christmas.

July: Seared Squid Tagliatelle with Squid Ink, Noilly Prat and Pine Nuts (Andy McFadden)
August: Terrine with Artichoke, Celeriac and Black Truffle Vinaigrette (Tom Aikens)
September: Seared Scallops with Parsley Gremolata and Ibérico Ham (Marcus Eaves)
October: Pan-fried John Dory with Pea Sauce and Deep Fried Leek (Richard Neat)
November: Smoked Quail with Celeriac, Hazelnuts, Confit Egg Yolk and Black Truffle (Asimakis Chaniotis)
December: Crème Cassonade (Richard Neat); and Red Wine Poached Pear with Panna Cotta (Shane Osborn)
Commenting on the upcoming anniversary, David Moore said:
"We're ecstatic to celebrate thirty years on Charlotte Street, especially following a year that has been so tough on our industry. We can't wait to revive the old favourites and showcase the talent we've had in the kitchen over the decades both through our new book and the historic menu we're showcasing at Pied later this year."
Address: Pied à Terre, 34 Charlotte St, Fitzrovia, London W1T 2NH Opening Times:
Lunch: Thursday – Saturday 12pm-2.30pm
Dinner: Tuesday – Saturday 5.30pm-10pm
Instagram: @piedaterrerestaurant
Website: https://www.pied-a-terre.co.uk/
For more information, please contact Jess Corrigan, Tom Rogers or Tess Berry on [email protected].
Follow @crabcommunicatons, visit www.crabcommunications.com