WHAT WILL THE HOTEL ROOM OF THE FUTURE LOOK LIKE? … designed by Two's Company for the Independent Hotel Show 2018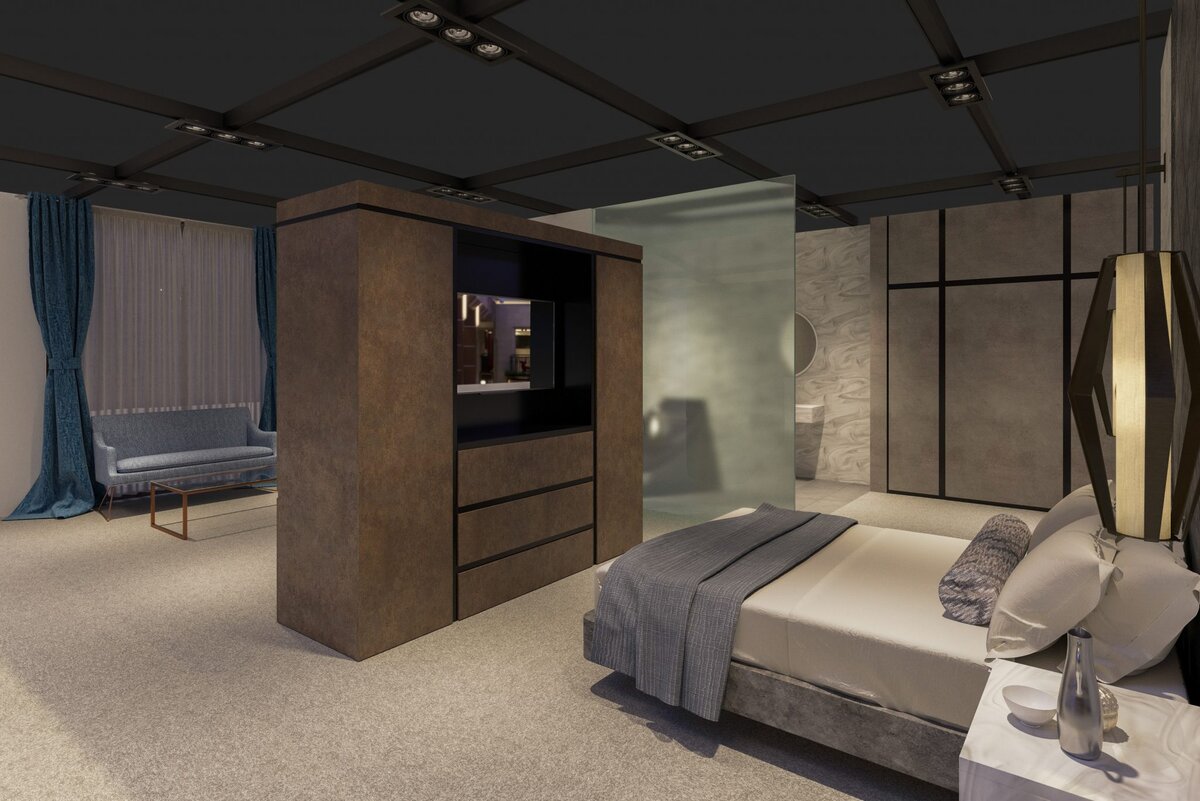 Two's Company Interior Design has created a stunning Hotel Room of The Future for the innovative stand at The Independent Hotel Show, October 16 and 17, 2018. https://www.independenthotelshow.co.uk/the-hotel-room-of-the-future.  It has worked with leading soft furnishing suppliers, furniture designers and cabinet makers to create luxe elements throughout to bring the showstopping Hotel Room of The Future to life.
Founders of Two's Company, Nick Sunderland and Gilly Craft, President of The BIID, talked to industry pioneers, specialists and futurists to determine what the ideal Hotel Room of The Future should encompass. An immersive representation and report, the concept for the room incorporates trends and schemes that the designers predict will be key for the boutique hotel industry. Its aim is to inspire, excite and educate hoteliers to offer ideas to improve the guest experience.
The room has an interconnected lounge area, bedroom and bathroom where guests will be surrounded by intuitive design. There is an abundance of carefully chosen, sumptuous interior features; from British designed sofas and chairs to a stunning headboard and lashings of top-quality fabrics.
'The future of hotel interior design will continue to have the luxe factor with opulent fabrics taking centre stage,' says Nick Sunderland. 'Customers are wanting to experience 6* comfort. Hoteliers tell us that it's all about the detail for their guests, be it stunning sofas and chairs, beautiful curtains, baby soft towels or sumptuous linen, all these aspects have to be considered.'
Stylish sofas and chairs from Knightsbridge Furniture
The recently launched ultra-modern Nexus range will be featured in the Hotel Room of The Future from award-winning British furniture designers and manufacturers, Knightsbridge Furniture. The sleek range has been designed with a stylish wire frame available in satin black, powder coated gold, chrome and a variety of bespoke colours. It includes the Nexus Armchair and the Nexus two-seater settee, both with a higher back and generously cushioned seat for guest comfort and style.
The beautiful collections are perfect for the hospitality sector and celebrate stylish, British design.
Fabulous fabrics from JAB
Fabric designers and manufacturer, JAB Anstoetz has worked with Two's Company on the furnishing materials – seen in the curtains, sofa, chair, headboard and bed cover – for the Hotel Room of The Future. The new JAB Contract collection, Hideaways, features in the room and comes in 11 flame retardant and easy-care fabrics available in 91 colours. These textiles embrace "back to earth" concepts pulling on nature's colour palette for inspiration. Shades range from creamy Dune Sand, to limestone Birch Grove and walnut Driftwood. Strong grey shades are shown in Stormy Sky, whilst Deep Sea is a silvery azure, Grape Harvest a deep rosé and Herbal stream a delicate sage/ olive green. Matt optic fabrics look like linen or wool and the dry grip make the fabrics uncomplicated. Discreet wave motifs and ikat optics come together with a mélange yarn and surfaces as soft as wool.
Bespoke cabinetry from Waites…and fabrication from mrf design and Corian®
Simon Waite from Waites Furniture worked on bringing the design concept from Two's Company for the outstanding, quality cabinetry in the room, including the media wall, to fruition. With Two's Company, Waites skilfully designed a piece of furniture that could house the technology; supremely functional but beautiful to look at. The fabrication of the integrated headboard was by MRF design. A combination of a full height, faux-leather full bed width, it has two Corian® side panels which feature wireless Corian® Charging Surface technology that enables smart devices to be powered up directly through the table top.
It's all in the detail… well designed lighting can really set the tone of any hotel room, creating an ambience that can instantly soothe a guest's frayed nerves. Two's Company chose elegant, brushed antique brass and satin black light fittings from the Veletto range by Heathfield & Co. The statement lights with brushed brass tone shades are pre-programmed, but can be adjusted by the guest. Cloud soft duvets, high thread count bed linen and the softest bath towels from The Fine Cotton Company and beautiful carpeting from Cavalier add the extra premium finishing touches for the ultimate guest experience.